Update: 28 Nov, 2017 (5:00 PM IST)
As a result of favorable trading conditions and market sentiments, Bitcoin has managed to cross the magical $10,000 mark for the first time. As per Coinmarketcap's data, this digital currency is currently trading at $10,019. It would be interesting to note the final Bitcoin price by December end.
Original Story on $9,000 mark continues from here:
While you might be still struggling to recover from all the goodies you gulped over the Thanksgiving dinner, Bitcoin has continued hustling to make its way towards the magical mark of $10,000.
As a result of a continued rise in the price, Bitcoin has crossed $9,000 mark for the first time. As per Coinmarketcap data, currently, this digital currency is trading at $9642.67.
As a result of these gains, the market value of bitcoin has reached another high of almost $150 billion, which takes the combined value of all digital currencies to $258 billion.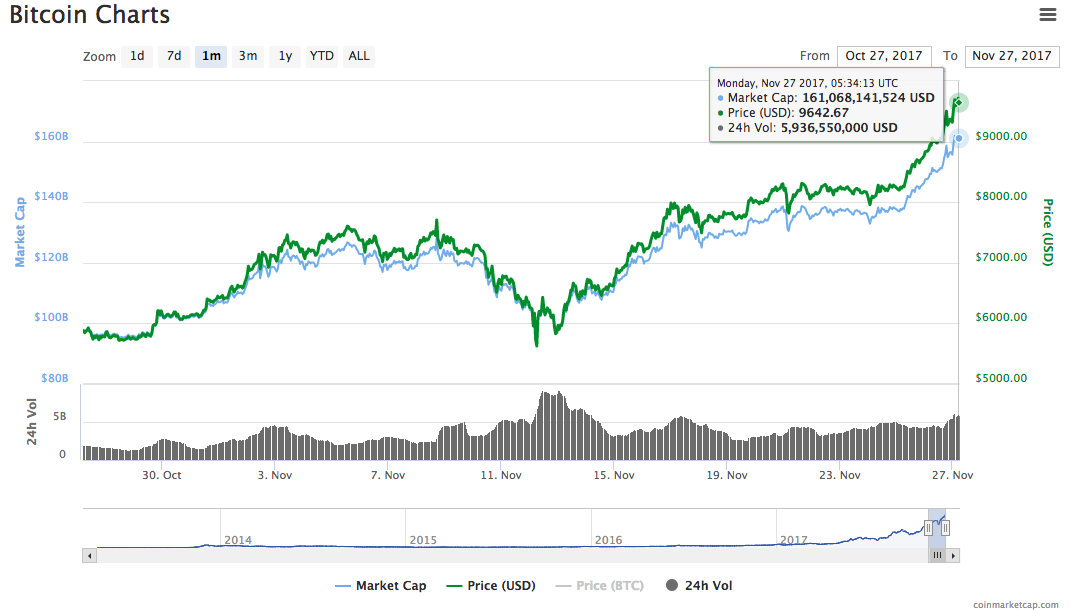 It's also worth noting that Ethereum, the #2 digital currency, which recently crossed $400 mark, is also making moves to reach $500 target.
Lately, some financial experts made predictions that Bitcoin would cross $10,000 mark before the end of this year. As the recent developments are indicating, it could even reach higher and pass $12,000 as well.
What do you think? Do you still consider Bitcoin a bubble? Share your views with us and become a part of the conversation.