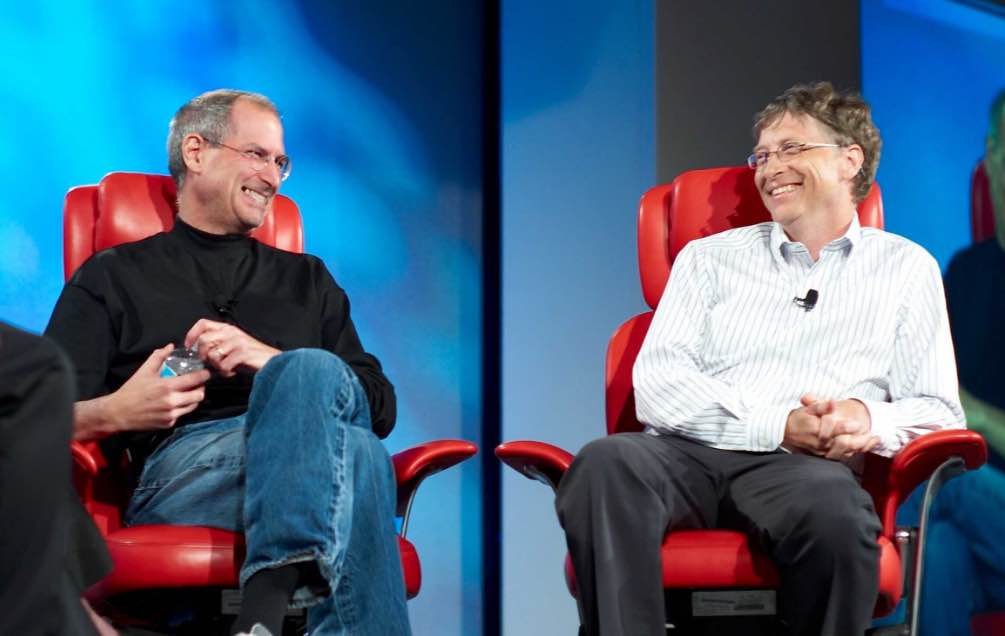 Short Bytes: Covered by the clouds of harsh comments, market, competition and products, we, hardly, are able to see the human life and a great friendship between Bill Gates and Steve Jobs. Here is an account of the events that redefined the friendship between Bill Gates and Steve Jobs.
T
he rivalry between the Bill Gates and the Steve Jobs has been known to all. But that's the inherent nature of the competition, products, and the market. It's inevitable.
When we compare the two individual tech giants, Bill Gates, and Steve Jobs, both seem to be standing at the opposite end of a tunnel.
While one of them is defined by the frugality he endures throughout his life, other, is defined by the opulence and sheer force of innovation and marketing which brought out a not-lesser-than a revolution in the technological domain.
However, a mass with more gravity settles down easily while some keep them afloat and that's the scene when philanthropy is talked or discussed.
Ask about Bill Gates' possession and most of his money has been invested into philanthropy. He has not only become a force to reckon with in the recent years in terms of donation but he has also guided others on the path of philanthropy.
Bill Gates has already persuaded around 70 like-minded Americans, including Warren Buffett, to give up a large chunk of their wealth in the well-being of others.
He has asked others to co-invest in the philanthropy as well. He often makes sure that his money has reached the needed or not. For that, he would not hesitate to go there himself in person and see the development.
But one of the most important persons who played a very influential role in the life of Bill Gates was Steve Jobs and here are some personal accounts that depict the scenario. They depict the stormy yet a very long friendship that they had.
After the death of Steve Jobs in October 2011 due to cancer, the world saw a flood of books, documentaries, and articles which further heated the bazaar of speculations and the lesser known facts about the Steve Jobs. This happened because everybody was so interested in knowing the unknown truths behind a great marketer.
Also Read: How Successful Is Steve Jobs' Patents Legacy Even After His Death?
However, later, Bill Gates broke the ice and came up with some of the interesting chronicles about their friendship. Bill Gates said in 2012,
Steve was an incredible genius who contributed immensely to the field I was in. We had periods, like the early Macintosh, when we had more people working on it than they did. And then we were competitors. The personal computers I worked on had a vastly higher [market] share than Apple until really the last five or six years, where Steve's very good work on the Mac and on iPhones and iPads did extremely well. It's quite an achievement, and we enjoyed each other's work.
When Bill Gates and Steve Jobs were into a very harsh competition, Steve Jobs often jibed about Bill Gates. Sometimes, it appeared that the taciturn nature of Bill Gates held a superior view over the Steve Jobs' comments.
However, things changed in 2007, when Bill Gates left Microsoft and set up the Bill And Melinda Gates Foundation with his wife. Before the death of Steve Jobs, in his last years, Bill Gates paid him long visits and according to Bill Gates, there was no truce that was left to be made in between them.
Bill Gates said that Steve Jobs devoted his life in following his dream. Bill Gates had the same passion but later he realized that he had extended his dreams in serving the humanity.
Capitalism has brought out a great revolution and Steve Jobs was a perfect example of that. There was nothing wrong in what he was doing. When Steve Jobs died, Bill Gates received a phone call from his wife, Laurene.
Look, this biography (the latest book on Jobs) really doesn't paint a picture of the mutual respect you had.
And, she also said to Bill Gates that Steve Jobs had appreciated his letter and kept it by his bed.
Also Read: Who Is The Greatest? Dennis Ritchie, Bill Gates, or Steve Jobs?