Short Bytes: Back in 1999, when Bill Gates hit his all-time high worth of $100 billion, financial and media groups called him the world's first trillionaire. If their predictions were true, Gates would've achieved this feat in 2004. But, due to the bursting of dotcom bubble and Microsoft's failure to hop on the internet and mobile train, the company was unable to maintain the growth. 
L
ast month, I came across a story based on the 
Oxfam's study
that predicted that Bill Gates is on the path to becoming the world's first trillionaire in the next 25 years, when he would be 86. The study used the average growth rate of Gates' investments, which have been increasing at a rate of 11% since 2009.
According to Forbes
, Gates has a net worth of $85 billion.
This prediction inspired me to dig a little deeper into Bill Gates' history. I was surprised to know that Bill Gates hit the $100 billion mark for the first time in 1999. How did it happen long back in 1999? Why is he still worth $85 billion? Let's tell you more about this.
How did Bill Gates hit his all-time high in 1999?
In 1986, Microsoft's headquarters was moved to nearby Redmond, which was followed by company's IPO. The very next year, Gates became the youngest billionaire ever and went on to become the world's richest man in 1995, with a fortune of $12.9 billion. Microsoft hit the peak of its success in the middle of 1999, thanks to the dotcom bubble and some rumors. Let me tell you more about how things exactly happened.
On July 19, 1999, the rumors started making rounds that Microsoft might spin-off its internet business into a separate company that'll soon have its own IPO. The shareholders went crazy and the shares of Microsoft increased by 5.4% and closed at a record high of $99.4375. That time, Bill Gates owned 20% shares in Microsoft and his net worth hit $100 billion. After adjusting the inflation, this amount becomes $140 billion. Later that year, on Dec. 30, Microsoft hit its all-time-high of $613.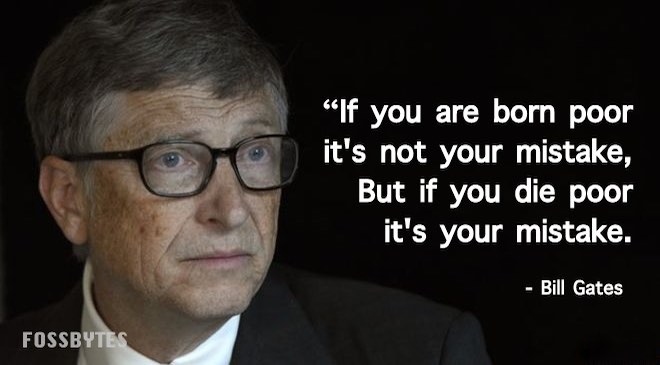 "Bill Gates will soon become world's first trillionaire in 2004"
After peaking in 1999, many media houses and financial institutions predicted that Bill Gates would soon achieve trillionaire status. According to NYTimes, Lewis D'vorkin, an executive editor at Forbes, said — "The key is when he reaches a trillion. If Microsoft share price grows in the next five years as fast as it has in the last five, he hits the big one in 2004."
A similar prediction was also made by Wired, which said — "Of course, it's (world's first billionaire) Bill Gates, provided his monopolistic heart keeps beating for another 20 years or so." The website listed 4 different scenarios and even predicted that Gates will become "a quadrillionaire (1,000 trillion) before he hits retirement age." That ins't going to happen. Obviously.
What went wrong? Why isn't Bill Gates a trillionaire yet?
As Celebrity Net Worth rightly points out, the "dotcom bubble was just that, a bubble." After trading in the $90+ range for late 1999, Microsoft's share price dropped more than 60% by December 2000. As a result, Gates' net worth dropped to $40 billion. But, that didn't stop Gates from donating his wealth and investing billions in charity.
After 2000, Microsoft failed in every possible manner. Even though its operating system and Office business were still profitable, the company completely missed the internet and mobile revolution. Well, Microsoft's blunders are large enough to be discussed separately in another article.
Coming back to Bill Gates, even after witnessing a drastic drop in his net worth and Microsoft's sluggish growth, he managed to remain the richest person in the world for 14 years in the row. As of Feb. 22, 2017, his net worth is $85.5 billion and he is still the richest man on the planet.
But, the question is–Can Gates become the world's trillionaire? Well, he has age on his side as he's 61. But, today, his interests have changed. As Investopedia highlights, Gates will need to find a "new thing" to invest in as Microsoft isn't showing strong signs of helping Gates reach the $1,000,000,000,000 number. Also, his priorities have also changed. Still, according to me, he's the #1 contender in the race.
Well, what do you think? Will Bill Gates become the world's first trillionaire? Or, it'll be someone like Mark Zuckerberg? Don't forget to share your views with us.
Bonus Video:
https://www.youtube.com/watch?v=IkkX6yHk58Q