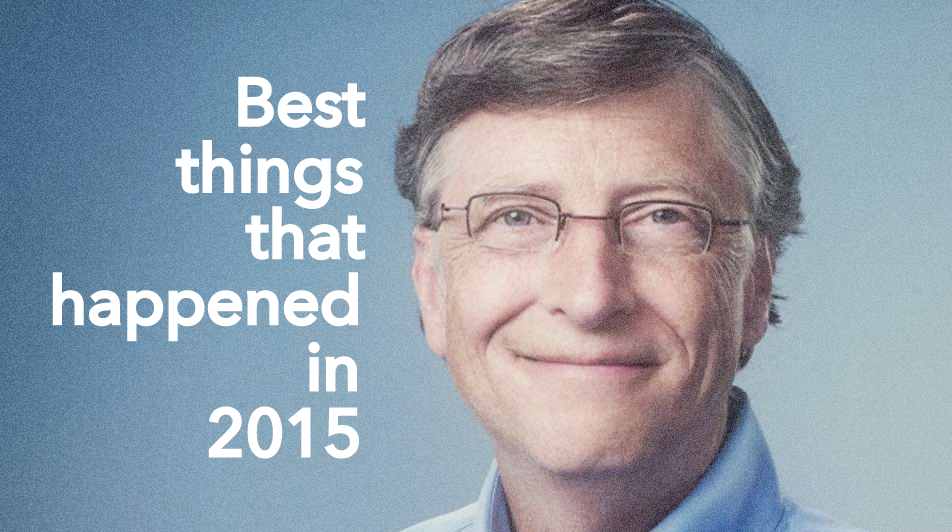 Short Bytes: Bill Gates has just released the list of this year's best news on his blog. Ranging from the eradication of polio from Africa to the growth of mobile banking, he has included many positive takeaways from 2015. Take a look and share your views.
J
ust like each year,
Bill Gates
has revealed his annual list of the year's best news on his websites
GatesNotes
. Bill Gates writes that even though it's a tough time to feel optimistic about the future, some great things happened on the way. On one hand global threats like global warming, terrorism and energy crisis grew uglier, multiple countries and researchers expressed their commitment to improve the conditions.
"For three years now, I've ended the year by sharing a short list of good-news stories that you might have missed," Gates writes on his blog. It feels good reading his blog post and sets your mood ready for happy holiday season.
Let's take a look:
The 6 best things that happened in 2015, according to Bill Gates
6. America is the first region to eliminate rubella
The health officials declared that America has become the first region in the world to eliminate endemic rubella. This has been possible as a result of 15-year-long vaccination campaign. The disease, also known as German measles, causes death and sever birth defects during the pregnancy.
The Gates Foundation itself is fighting measles by developing cheaper vaccines.
5. Huge growth of mobile banking
Stressing on the importance of mobile banking, Bill Gates has called it one of the best tools to eradicate poverty. While more than 2 billion people have no access to banking services to save and invest, mobile banking is changing the scenario.
"A new report by scholars at the Brookings Institution shows that many countries are making national commitments to financial inclusion and helping mobile banking reach critical mass. Kenya is a good example of what's possible. Today 75 percent of adults there have accounts with a bank or mobile-money provider, up from only 42 percent in 2011. Other countries that are making huge strides include Brazil, Rwanda, Tanzania, Bangladesh, and India," writes Bill Gates.
4. SAT college prep is now free
The SAT creating company partnered with the Khan Academy to launch a free learning portal to student preparing for SAT or PSAT. The online studying tools are filled with interactive videos and lessons.
3. Nobel Prize to researchers fighting disease of the poor
This year's Nobel Prize in Physiology or Medicine was awarded to William C. Campbell of the United States and Satoshi Ōmura of Japan for making the drug Ivermectin to fight a range of diseases causes by parasitic worms. Tu Youyou of China was awarded the prize for developing Artemisinin to fight malaria.
2.Neil deGrasse Tyson's argument in favor of science
The renowned astrophysicist Neil deGrasse Tyson accepted the National Academy of Science's most prestigious award back in April. Gates included this on his list as Neil gave a brilliant speech that day. Bill Gates called it the best argument ever for ensuring the role of science in policymaking.
Watch it here:
1. No new cases of polio in Africa
"On July 24, Nigeria marked one full year without a single new case of locally acquired polio, the crippling and sometimes fatal disease," Bill Gates said. Nigeria is the last country in Africa to stop the transmission of wild polio.
"When the global campaign to eradicate polio began in 1988, polio was endemic in 125 countries. The list is now down to just two: Afghanistan and Pakistan. We've come more than 99 percent of the way to eradication. I am confident we can finish the job," writes Gates.
What was the best news of 2015 according to you? Tell us in the comments below.
Also read: Bill Gates And Mark Zuckerberg Join Hands To Change The World With Clean Energy Tech