Xbox Game Pass is an amazing service that offers you access to hundreds of high-quality Xbox console games on a small monthly subscription.
For those of you who don't know, Xbox Game Pass allows players to download games from the Xbox store right on their consoles. These games can be played offline without any internet connection, unlike the PlayStation now which only offers players to stream their games, with a few exceptions.
Over time, the Xbox Game Pass has evolved into a really great service with loads of games added on a regular basis. There are also several different versions of the Xbox Game Pass service available at the moment. So, today we're going to go through all of them to find the best one for you.
The Best Xbox Game Pass Version
Currently, the Xbox Game Pass is divided into three versions:
Xbox Game Pass PC
Xbox Game Pass Console
Xbox Game Pass Ultimate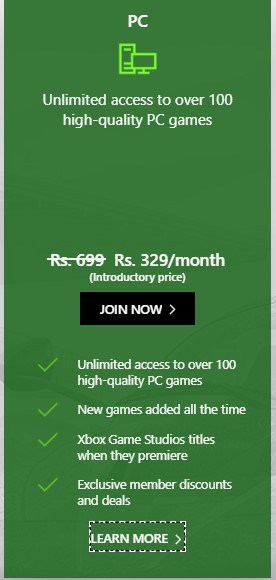 The Xbox Game Pass PC gives the player unlimited access to more than 100 games. These games include Middle Earth: Shadow of War, Gears of War 4, Metro Exodus, Hollow Knight, Tomb Raider and a lot more. You can check out the entire list here.
The Xbox Game Pass PC costs Rs 329/month ($9.99 per month regular price/$4.99 per month introductory price). Mind you that it is an introductory price but the library of games being offered is really great. Additionally, you'll also get exclusive member discounts on several titles and DLCs along with a chance to play Xbox exclusive titles on the first day.
Currently, the Gears of War 5 technical test is underway. So anyone who has an Xbox Game Pass on PC can enjoy it.
Now, moving on to the answer to the question — Is an Xbox Game Pass PC worth it? Yes, absolutely! If you own a gaming PC then you should definitely get this subscription. It is only Rs 329/month but adds tons of games to your library.
In order to join the Xbox Game Pass PC program, you'll need to download the official Xbox Beta App. Within the app, you'll need to join the Xbox Game Pass for PC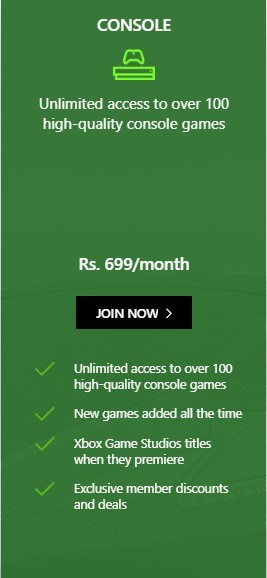 Now let's talk about the Xbox Game Pass console subscription; it costs a little more at 699/month ($9.99 per month). However, similar to the game pass on PC, the console version also offers similar advantages. You'll get access to blockbuster titles like Arkham Knight, Surge, Metal Gear Solid V: Phantom Pain, etc.
Just like the Xbox Game pass on your PC, you'll also be eligible for exclusive member discounts and day 1 access to Xbox Studio titles on your console.
So is the Xbox Game Pass on Console worth it? No, actually. The answer revolves around the lack of multiplayer in the Xbox Game Pass for the console. While PC players aren't restricted to paying for online multiplayer gaming, the Console players are.
Which is why just by getting the Xbox Game Pass for the console isn't worth it. For example: If you play the Gears of War 4 available in the Xbox Game Pass library, then you'll only be able to play the single-player campaign. To play the multiplayer mode, you'll need an Xbox Live with a Gold subscription service, which is not included in the Xbox Game Pass for consoles.
Which brings us to our next question…

Before I tell you the answer, let me take you through some of the advantages of the Xbox Game Pass ultimate version.
First of all, the Xbox Game Pass Ultimate for Rs 999/month ($14.99 per month) gives you access to the game pass service on PC as well as Console. It means that if you own an Xbox One and a PC, then by using Game Pass Ultimate, you can access hundreds of games on both platforms, along with all the additional benefits I mentioned before.
Secondly, the Xbox Game Pass ultimate also includes Xbox Games with a Gold subscription, which on its own costs Rs 699/month. It means that you'll be able to access multiplayer mode in all games that support online co-op and you'll also get four free games each month, as a part of the Xbox Games with Gold initiative.
There's also a third reason why Xbox Game Pass Ultimate is the best deal in gaming and that is Gears of War 5. If you join the Game Pass ultimate today then you'll get the Gears of War 5 Ultimate Edition on the day of the launch.
So, to answer the question 'Is Xbox Game Pass Ultimate worth it?' Absolutely yes! Not only will you get more than 100 games in the Game pass but you'll also get a number of additional benefits like day 1 access to exclusive titles and heavy discounts.
So, in conclusion, if you own a PC then the Xbox Game Pass PC is enough for you. However, if you own a console then Xbox Game Pass Ultimate is the right option because of the bundled Xbox Live Gold subscription.
Xbox Game Pass Service Makes Xbox One Better Than PS4
Just on the basis of Xbox Game Pass services alone, the Xbox One console is better than PlayStation 4. Now don't get me wrong because Sony has some really great exclusives like God of War, Horizon Zero Dawn and Spiderman but Xbox Game Pass adds a level of accessibility to the Xbox One and makes console gaming as worth it as PC gaming.
If Microsoft wishes to dominate the markets where console gaming is still in its infancy, for example in India, then doubling down on the Xbox Game Pass would be a step in the right direction.
Not only will this showcase that console gaming isn't as restrictive as the public perceives, but it'll also highlight the intended nature of consoles that both Sony and Microsoft want to showcase — its simplicity in gaming.