Word games have been a part of my life (or anyone else's) since school when my English lessons involved such word making adventures. Coming back to 2019, the very essence of the word-making games lives in me, and I, much like various other grammar Nazis, have a thing for expanding our vocabulary.
So, I thought, why not present you guys with the best word game apps, so that you can install some or the other and start binge word-making.
As a disclaimer, the list contains apps I have used and have good ratings on the Google Play Store. However, you may still opt for other apps as per your wish.
9 Best Word Game Apps For Android And iOS
1. Alphabear 2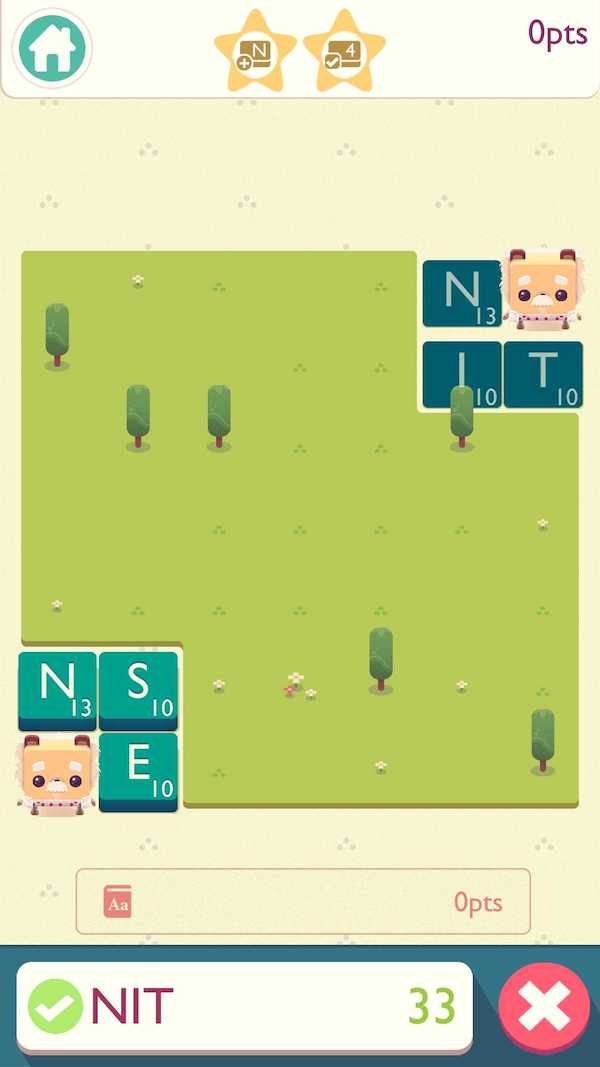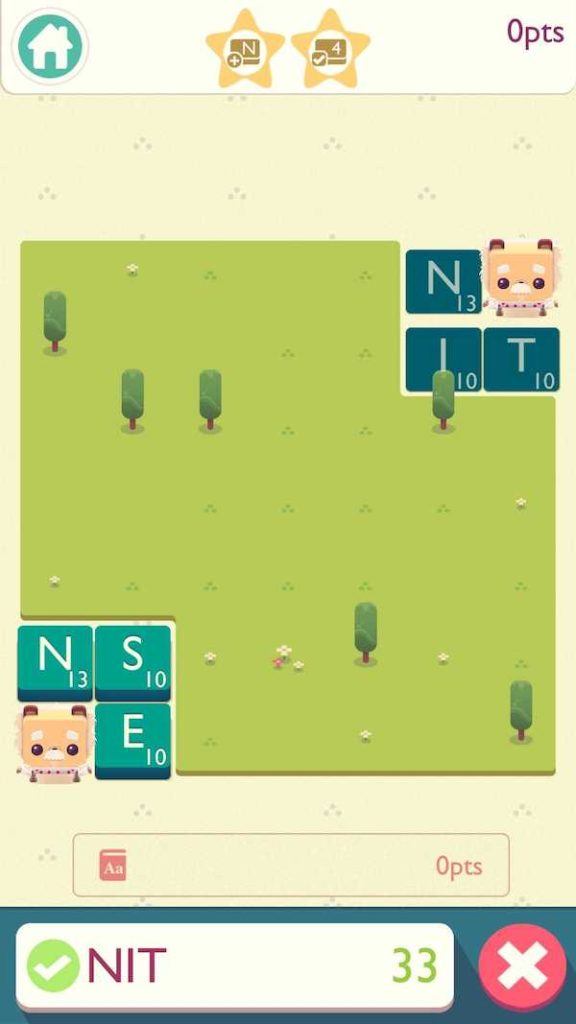 The Alphabear 2 word game app is different than an ordinary word-making scenario. The game has various Chapters and three levels to choose from — Normal, Hard, and Master. The game begins with a story in which the bear you selected has to restore all the words and objects in the history and that's when the Chapters begin. Each chapter earns you points and rewards and an added bear.
Unlike regular word-making from a couple of letters, this Android word game app has a box-like structure where letters are spread and you have to make words and hurry up because the words can turn into rocks. With every valid word, the bears present in the box grow and earn you points.
The app is easy to play, and the best part is the absence of ads that tend to enter every other game.
Pros: No ads and a new concept
Cons: It takes a while to get a hang of it
Availability: Android
2. Words With Friends 2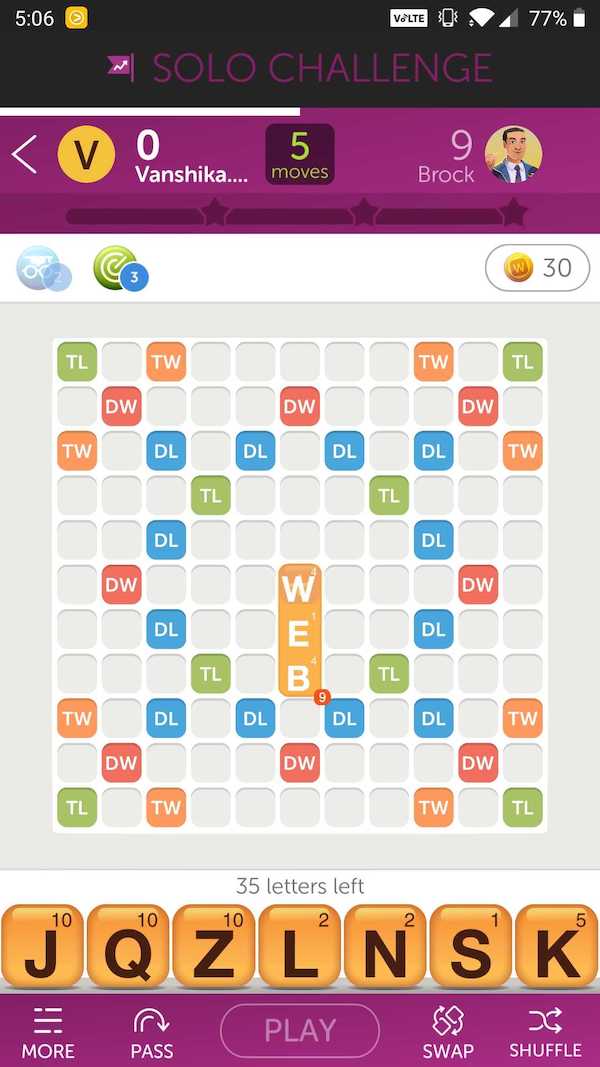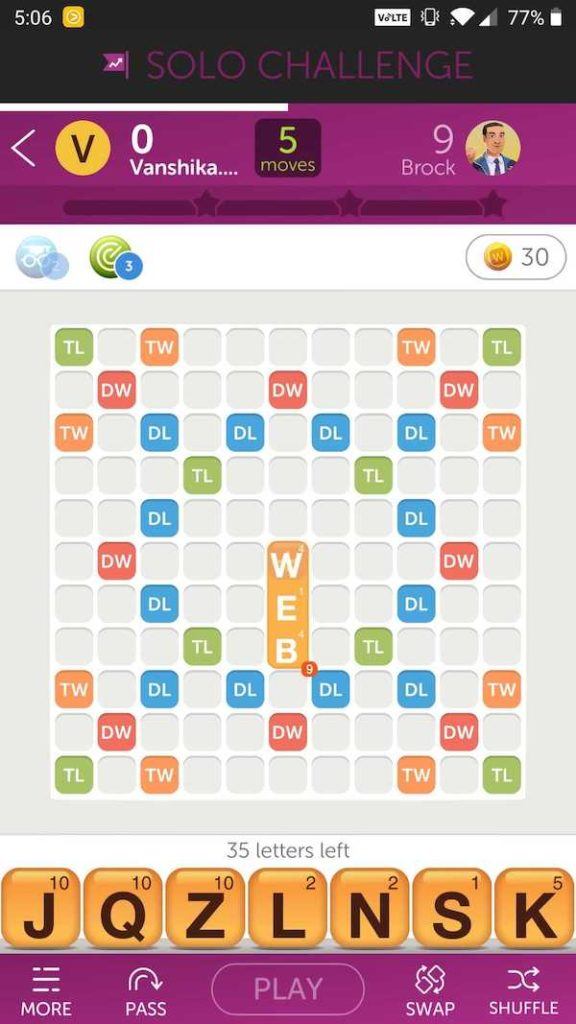 The popular Words With Friends 2 by Zynga is the ideal digital Scrabble which lured me to the core as I am a Scrabble person. A game which can be played with friends or any other person online requires you to log in first before you start.
The app follows a simple process wherein you are required to make words turn after turn and the one with the highest score wins. If you are not satisfied you can also go for a rematch.
While the game keeps you glued to your screens, the annoying elements are the constant long ads along with a cluttered UI which causes a lot of confusion and irritation.
Pros: Intriguing
Cons: Loads of ads
Availability: Android and iOS
3. Word Collect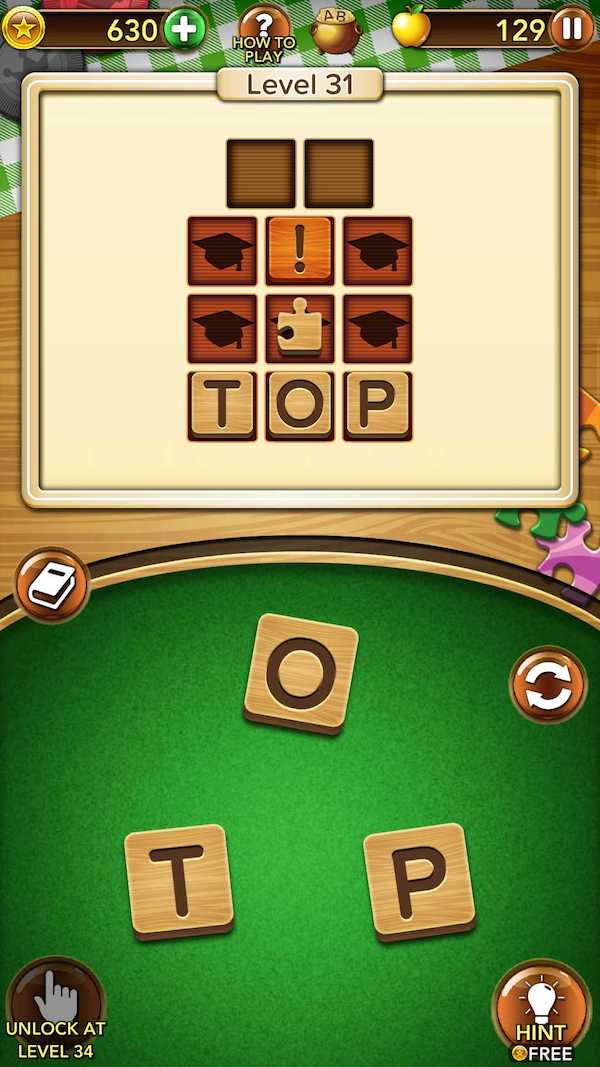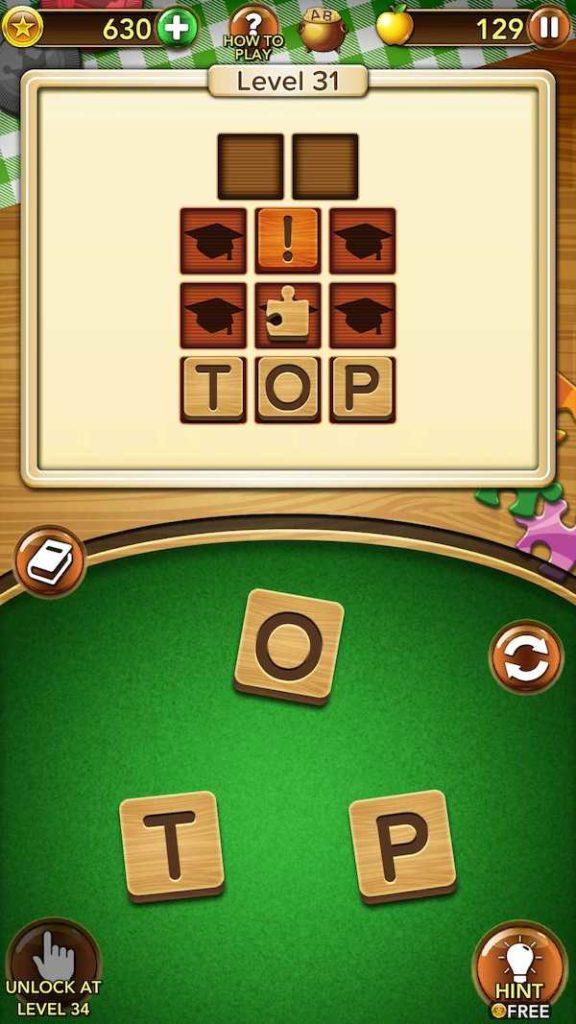 The Word Collect app is similar to the Word Connect app, which is mentioned later in the list, and follows the same drill of finding words from a cluster of letters provided. The ease of playing this word game app is similar to Word Connect and the initial levels are really simple to play. There is the Settings option, the option to play Mini-Games within the app, points for bonus words, and no ads — which is a great thing.
One downside to the game is that when it makes suggestions about a particular feature on the game, it doesn't allow you to dismiss the option which gets annoying at times.
Pros: Easy game
Cons: Not a new concept
Availability: Android
4. Word Nut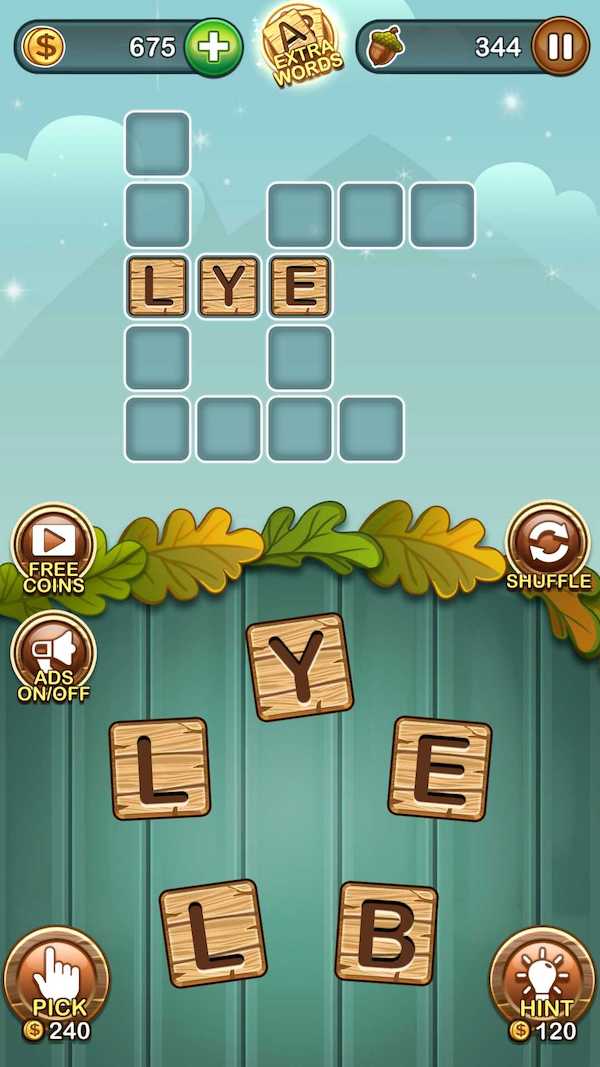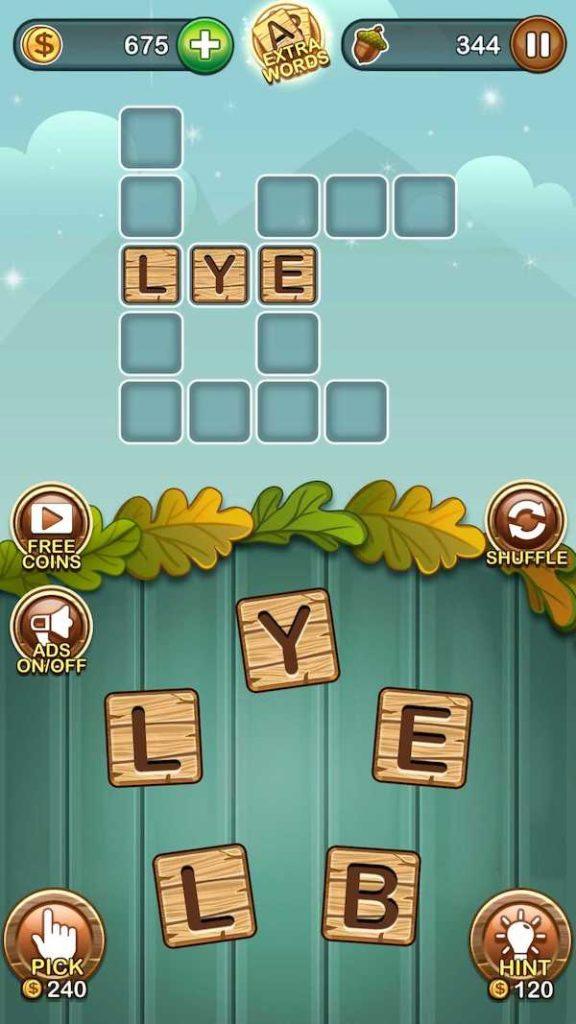 Word Nut app is a crossword game in which you have to form words out of the provided few letters. The concept is similar to most of the word game apps I have talked about previously; you get hints, you get to make bonus words that will get you extra points, free coins for watching videos, and more.
However, one thing which is different is the ability to turn off ads by making purchases or watching a video which is a helpful feature.
Additionally, the level of the game is quite easy due to which the game-play becomes addictive with each increasing Level under each Chapter.
Pros: Option to switch off ads
Cons: Tends to get monotonous
Availability: Android and iOS
5. Word Cookies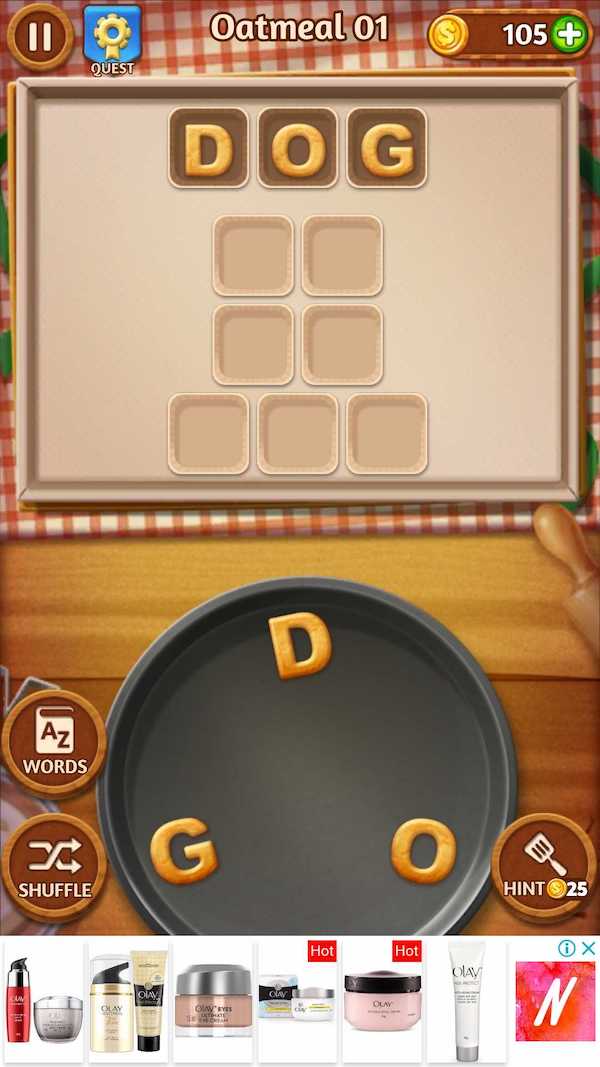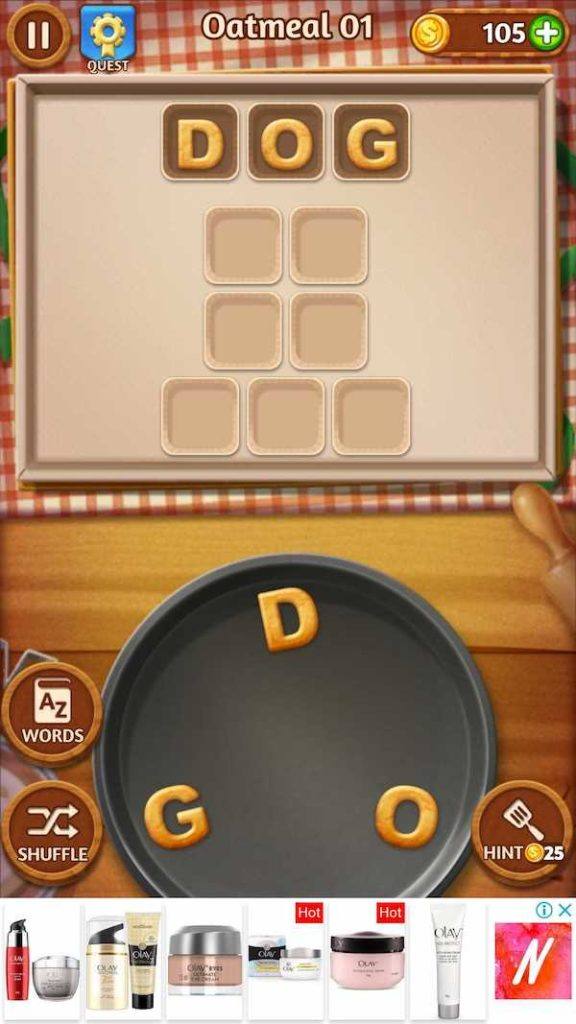 With a baker's theme, the word game is all about the formation of words from provided letters and once the words are formed, they turn into cookies. The app has various stages: from Home Baker to Monumental (with loads of levels at each stage) — trying to make you the finest word chef ever.
Apart from the interesting theme, Word Cookies has the option to shuffle, to get hints, and of course — adverts.
While retaining the traits of a usual word game, the Word Cookies app is interesting for its theme.
Pro: Interesting theme
Cons: Word-making similar to other apps
Availability: Android and iOS
6. Word Connect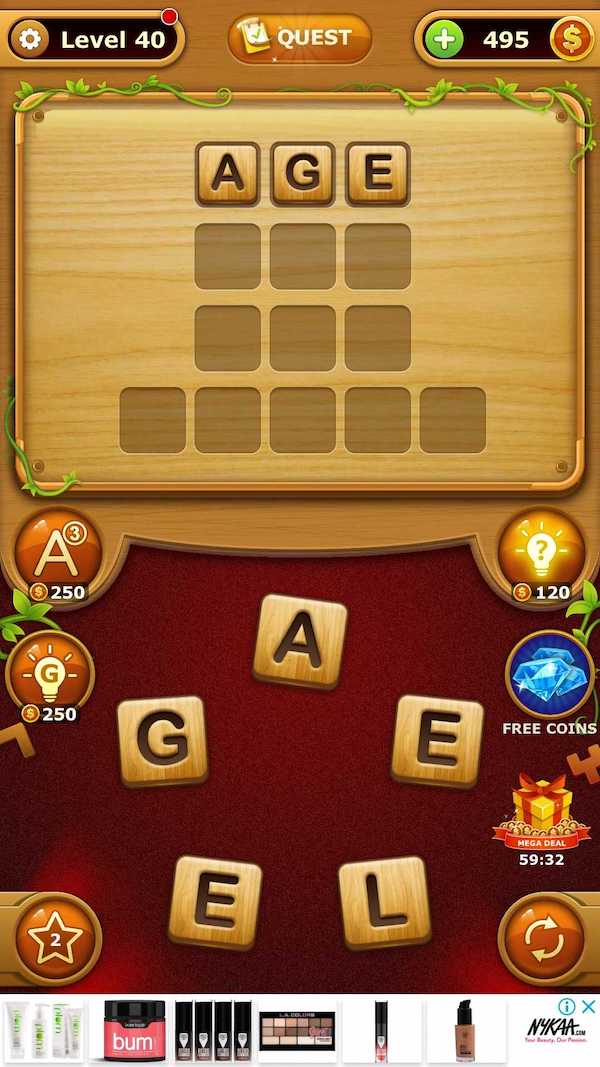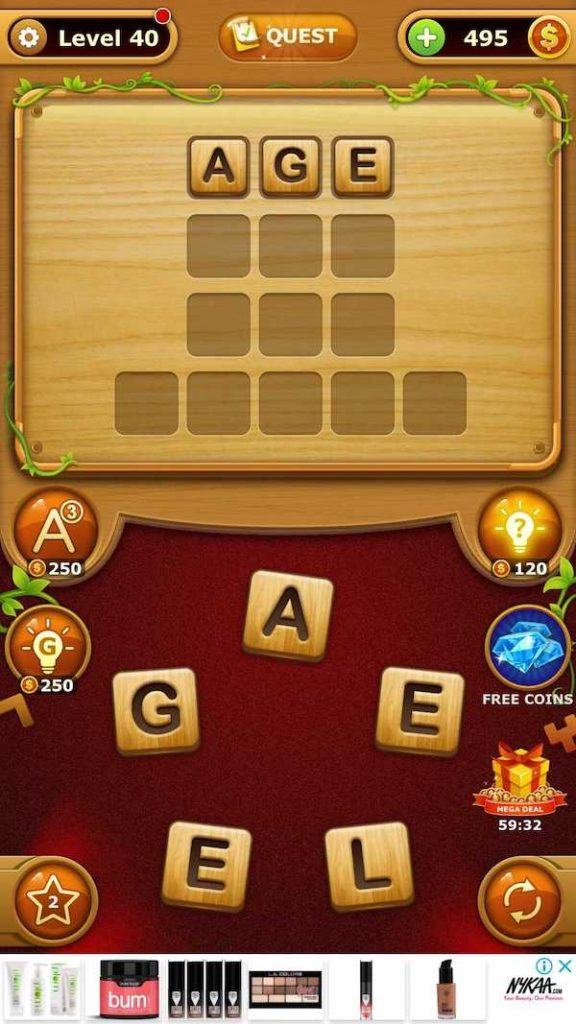 The app follows the lines of Word Trip wherein you are required to make words from letters. The concept is similar and consists of various levels, hints, free coins, and more. However, the game is more on the easier side and starts off on a really easy-to-crack note. With a constant wood-like theme, this Android word game app also provides you with free time-to-time gifts and has Quests to follow which involves various achievements and rewards for you.
While the game is an easygoing one, what makes it irritating is the appearance of ads in short intervals; you make two correct words and an ad pops up.
Pros: Ease of playing
Cons: Ads every now and then
Availability: Android
7. Word Trip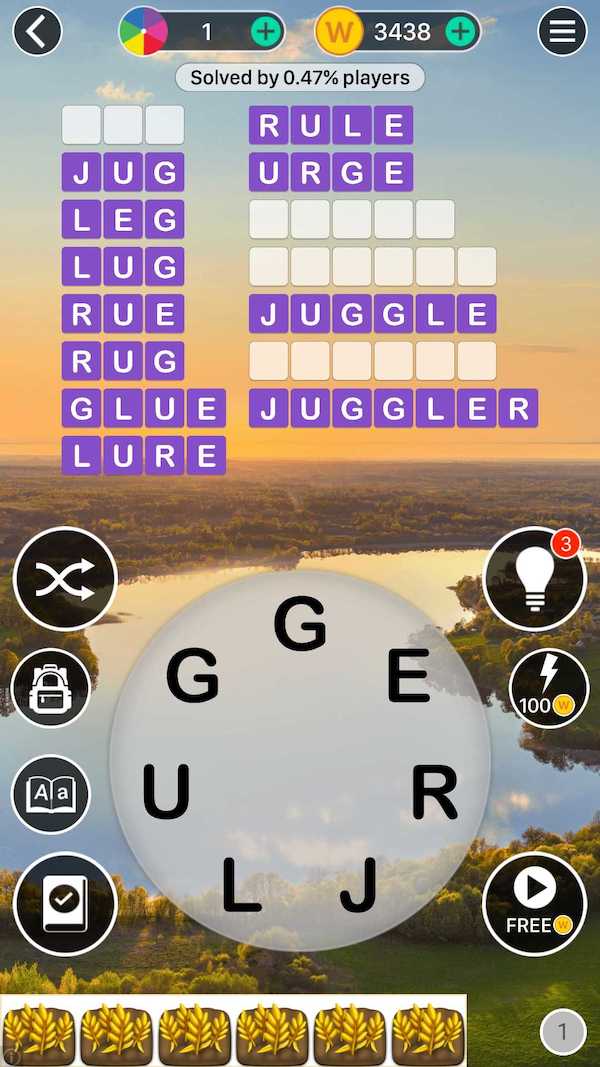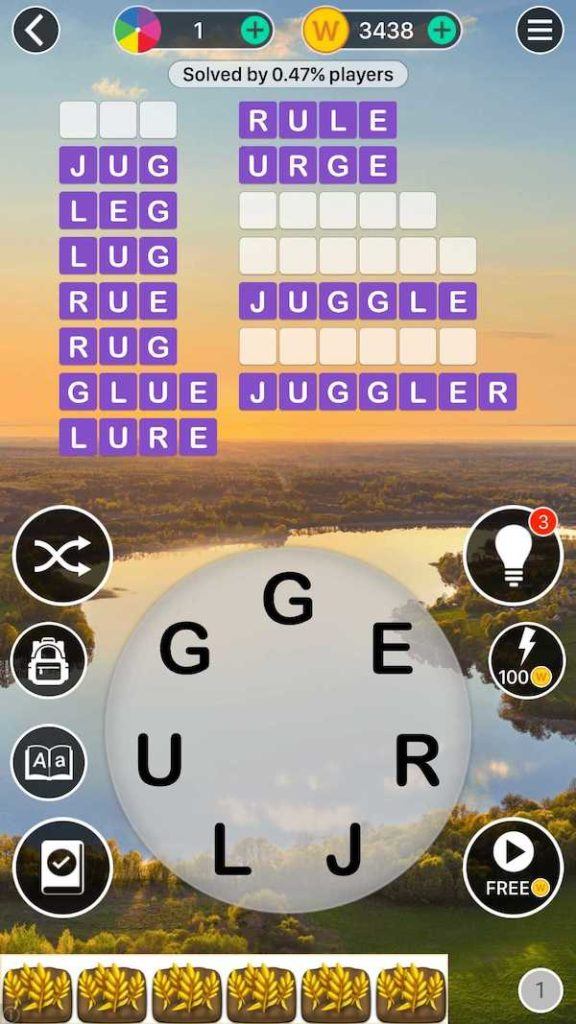 Word Trip follows a basic concept of work-making; it provides shuffled letters and you are required to form possible words out of it. With various levels and sub-levels, the competition in the game increases. The word game app comes with added features such as daily bonuses, an in-built dictionary, points for bonus words, a spin wheel for added benefits, and more.
In addition to this, the UI of the game is pretty simple and pleasing, following the theme of various countries and the theme of the game changes with every country. However, ads make the usage annoying.
Pros: Ease of playing and the presence of a dictionary
Cons: Adverts and toughness of the game
Availability: Android and iOS
8. Word Search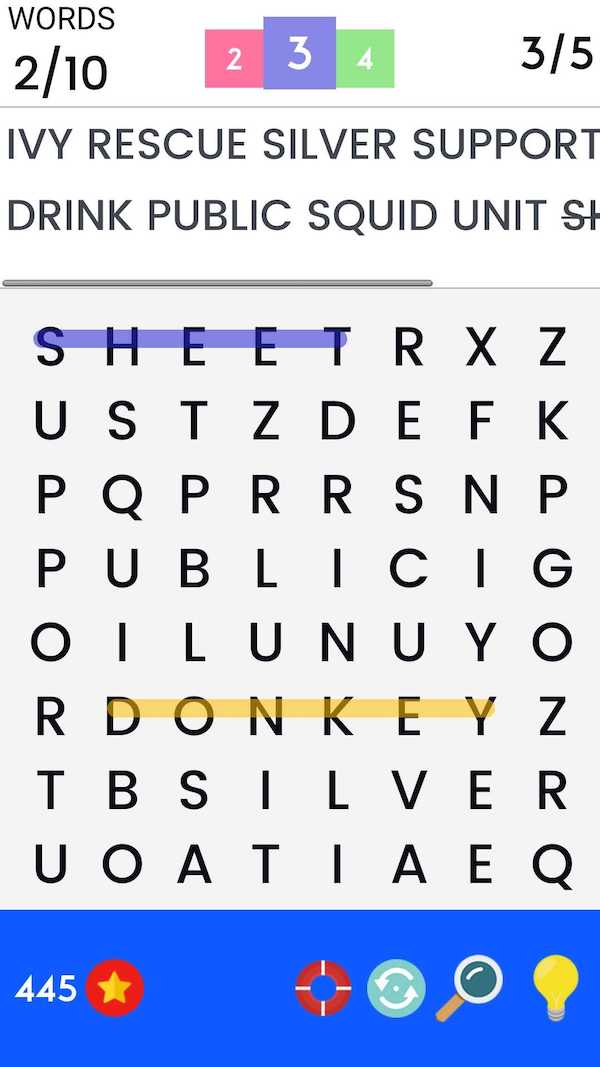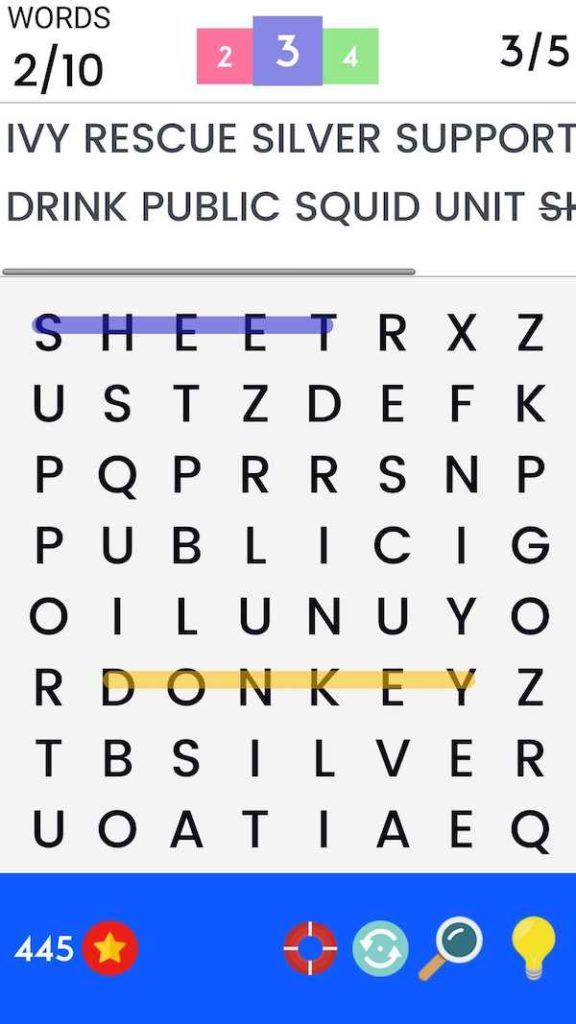 The Word Search app is a type of crossword wherein you have to look for words amidst many scattered letters. The app's UI is a simple one where you have to look for provided words, you can take hints, or solve the entire game by giving away your points. The game, like most games, has levels and the number of words along with the difficulty level increases with each level.
The game has a smooth flow and you will love enjoying it. However, ads and the sound of the game even while listening to music is a turnoff.
Pros: Easy to play
Cons: Sound doesn't shut
Availability: Android
9. Word Champ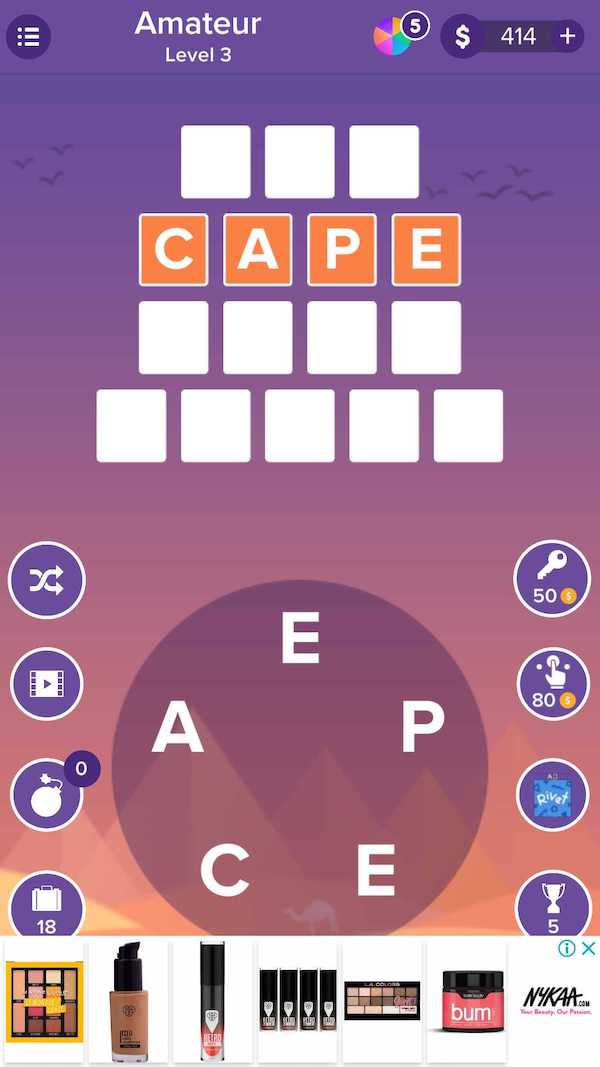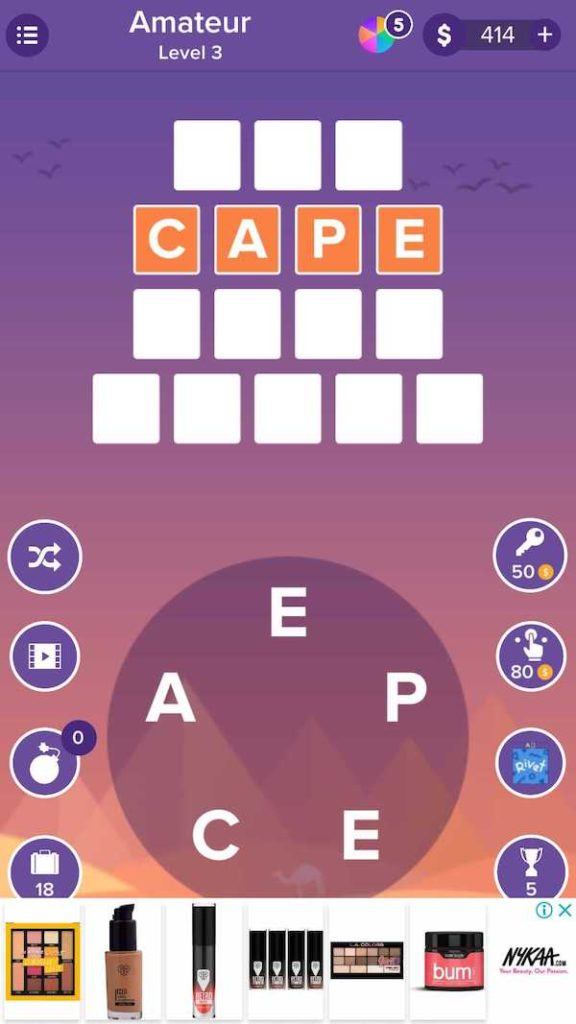 Trying to make you a 'word champ', the Word Champ app offers you an array of letters to form words. It starts off with the Trainee step and goes up till Lord, with each stage containing various levels and sub-levels. Each level shows the 'Solved by x number of players' to let you know how difficult or easy the game is.
The app too has the usual word game elements in it — there are hints, extra points for watching videos, the shuffle option, bonus words, and so on. Another attractive element in the game is the encouraging remarks you get when you make a word.
Pros: Engaging game
Cons: Ads, ads, ads
Availability: Android
While all the word game apps mentioned above have ads and monotony in common, they are a good source of entertainment and knowledge. Do give these games a try and let us know which ones you liked. Also, keep reading Fossbytes!