Many of us struggle to keep up with the numerous tasks we need to complete every day. The task of maintaining to-do lists doesn't have to be that complicated. Some people manage it just by using pen and paper. However, for the rest of us, keeping a to-do list app on your Android device or iPhone makes it much easier.
You can quickly jot all your tasks in the app to keep a track of them and get reminded of tasks on time. In this article, I have compiled a list of 10 best to-do list apps that will help you plan and get your chores on time. All of the task management apps mentioned below are free and do not show ads. Before that, here are some other lists you might want to check out to boost productivity:
Top 10 To-Do List Apps To Use In 2019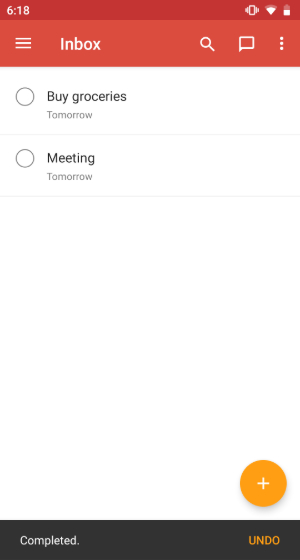 Todoist is hands down the best to-do list app in 2019. It has a simple and elegant surface that lets you focus on the tasks at hand. Setting up new task lists is also quite easy with Todoist. Just type the work you need to get done, set a due date, and give a priority label which ranges across four different levels. The app reminds you of approaching deadlines and lets you see a quick overview of your pending tasks by day, week and month.
So far, Todoist has helped me keep a track of my daily chores and what I like the best about this app is its integration with the Google Calendar. I can easily keep a tab of tasks and events both at office and home at one place. It is also useful in sharing grocery lists with your roommates or splitting it up. Apart from task management, you can simply use Todoist for making lists such as movies to watch, shopping, or anything personal.
Best Todoist Features
Add recurring due dates and subtasks
Prioritize tasks
Several preset templates available to get you started
Available on: Android, iOS, Mac, Windows, Browser extension, Wearables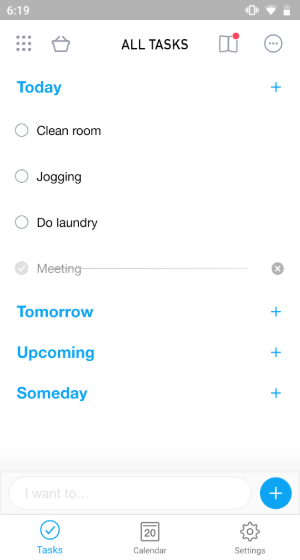 You can install the best to-do list apps and still not get any tasks done on time. This is where you need Any.Do app to help you overcome procrastination or forgetfulness. This app makes it very easy for you to add tasks, organize them into lists, and assign due dates. But the most brilliant part of this app is the "Plan my Day" feature, which forces you to schedule your day with various tasks each day so that you actually remember to do things.
You can integrate Any.Do with Google and Outlook calendars to see all your appointments and tasks in one place. It really helps in keeping track of what needs to be done and when. There is one minus point when it comes to the desktop version — it isn't as slick as the mobile version.
Best Any.Do Features
Plan My Day feature
Subtasking feature
Accepts voice input to create tasks
Easy drag and drop option to add files
Available on: Android, iOS, Mac, Windows, Browser extension, Wearables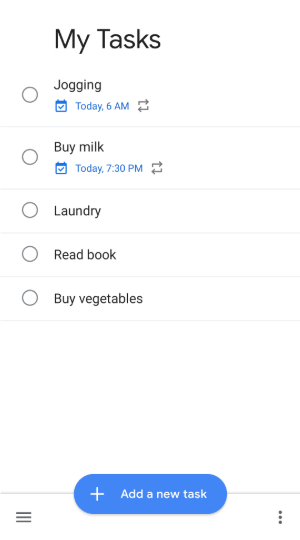 I have come across many people who use Google Keep both as note-taking and to-do list app. However, I would recommend Google Tasks over Keep since it is a dedicated task management app and offers more features for making lists. Google Tasks maintains the same minimalistic touch in its UI and can easily create lists, add subtasks and then set due dates.
Subtasking is a feature you don't get to see in every task planner app and trust me it's a handy feature. The best part about Google Tasks is that it can create tasks from emails as well. Being a Gmail user myself, this feature helps me a lot in both work and personal use. The reason I have placed it in the third rank is just because of its simplicity, however, if you love having tons of features, you should keep reading
Best Google Tasks Features
Access integrated tasks list from Gmail and Calendar in one place
Tasks sorting filters to find anything
Easy tasks and subtasks management
Very easy to use
Available on: Android, iOS, Browser extension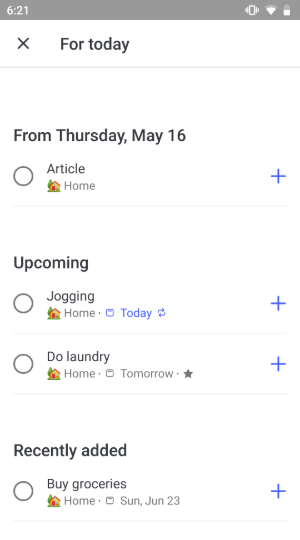 Microsoft To-Do has been created by the makers of Wunderlist (I know I haven't mentioned it yet on the list but it's there). So you will find bits and pieces that resemble Wunderlist. This checklist app is cloud-based and integrates completely with Office 365. You can create tasks from scratch or choose to import from others like Wunderlist or Outlook.
The UI is pretty clean and user-friendly. Adding tasks in the To-Do app is quick and easy, and you can customize the task list with different themes and colors. It also lets you organize and prioritize tasks, add notes and set reminders for the same. The only negative thing I found about the to-do list app is that you must have or create a Microsoft account to use the app.
Best Microsoft To-Do Features
Smart suggestion tool to suggest tasks based on the previous record
'My Day' focus list
Sharing and invites
Sync options over multiple platforms
Available on: Android, iOS, Mac, Windows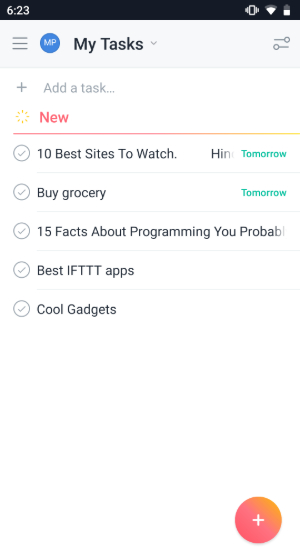 I use Asana on a daily basis so I can vouch for the app. However, I mostly use it for work purposes because it's the best task management app if you have tasks that need to be shared with a number of people. But you can use it for personal stuff too. It has tons of features which might seem a bit confusing at first and not all the features are relevant if you are looking for a basic to-do app.
So I would recommend this application to those users who require advanced features in their task planner app. Like any other good to-do list app, Asana lets you create subtasks and recurring tasks. It also has a set of project templates which you can customize to create lists that involve long term planning and execution like health goals or diet chart.
Best Asana Features
Flexible, fast, and visually pleasing
Easy collaboration and syncing options
Advanced task search
Subtasks and recurring tasks
Available on: Android, iOS, Web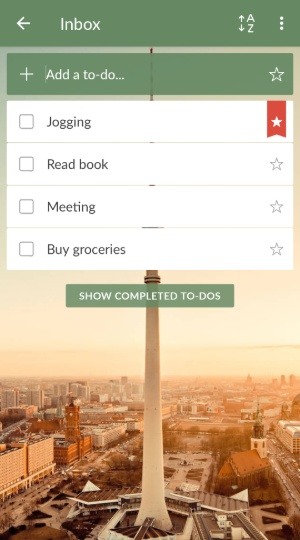 Wunderlist is the most visually appealing to-do list app among the ones I have mentioned. The reason I have mentioned it this lower in the list is Microsoft has already bought this app and it could shut down at any point in the future. Nevertheless, the clean interface makes it user-friendly and you can add tasks, sub-tasks, and put a due date or reminder for the same. As a checklist app, Wunderlist offers a greater degree of control and lets you organize lists into folders and insert more items.
Moreover, you can sort the tasks and keep track of your schedule. The best part is that you can share those lists with family and friends. This little feature comes handy when you have to work on group projects or organize an event — making it one of the best to-do list apps. Everyone can share the same list of activities and whenever a task is complete, the concerned person can mark it as complete and others will be notified of the same.
Best Wunderlist Features
Share lists
Create folders and group
Cross-platform support
Available on: Android, iOS, Mac, Windows, Chromebook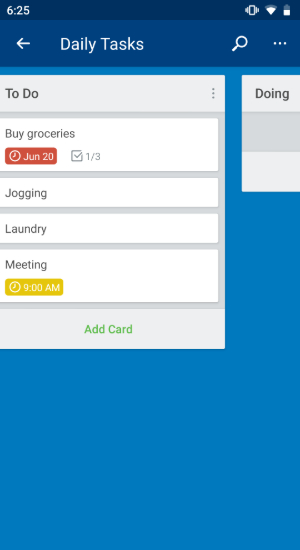 Trello is more popular as a project management app, just like Asana. But it works equally well as a to-do list app. You can use the card-based format to create your to-do list and keep track of it as your tasks progress from To-Do, Work in Progress and Done. Each task card can be expanded to add more subtasks and put a due date or add comments on them.
However, it lacks the recurring task feature which is present in Asana. You can share the list with other members though. The best part is that you can maintain both short and long term projects along with your daily tasks in one place.
Best Trello Features
Time tracking
Recurring tasks
Calendar integration
Available on: Android, iOS, Mac, Windows, Web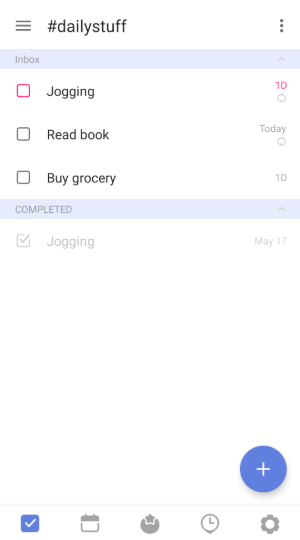 TickTick is the best to-do list app for those who procrastinate. Apart from offering the traditional task planner features that have been mentioned in the previous points, this task management app acts as a virtual supervisor that ensures you complete your task. You can turn on features like Annoying alert (alerts every 2 minutes until task is completed), Stick on Status Bar (notification stays until completion of task), Countdown Mode (shows days left to finish a task), etc. for the same.
The best part about this task management app is the Pomodoro timer feature. So not only does it help in keeping a tab on your goals, it actually helps you in focusing on it. Just in case you are trying to improve your habits or develop new ones, TickTick has a feature called "Habit" where you can keep track of your progress. If you begin to slack, this little app is always there to nudge you.
Best Features
Annoying alert, Stick on Status Bar, Countdown Mode
Pomodoro timer and Habit tracker
Voice input
Available on: Android, iOS, Mac, Windows, Chrome extension, Web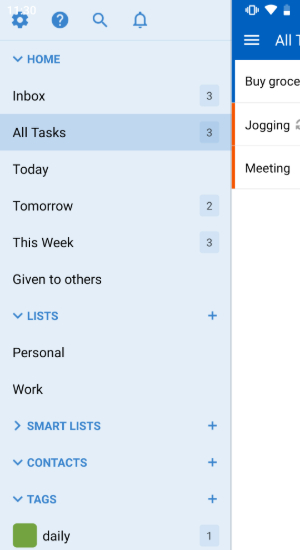 So this one is probably the oldest app among the to-do list apps mentioned here. It is also one of the easiest task planner apps that one can use. You can create tasks, organize them based on priority level, and check off from the list once they are completed.
Tracking your due tasks is quite simple on this app. You can use the smart list feature to highlight the most important tasks of the day so that you never miss a deadline. When it comes to sub-tasking, this tool is quite powerful as it breaks down your tasks to the most basic level — to make them more manageable.
Best Features
Subtask management and Recurring tasks
Sharing and assigning lists
File attachments and search filters
Multiple third-party app integrations
Available on: Android, iOS, Web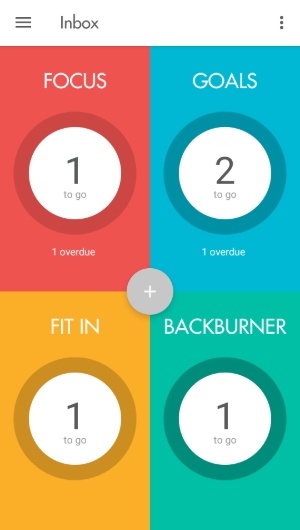 "What is important is seldom urgent and what is urgent is seldom important"— Dwight Eisenhower.
Ike uses the "Eisenhower Method" to help you prioritize tasks based on two criteria: urgency and importance. It has a simple and colorful layout with four sections that let you stay organized with minimal distraction. You can add tasks into four quadrants by importance and urgency. This gives you a better idea of what needs to be done first when you have tons of work left.
Ike lets you manage tasks using intuitive gestures. You can also set due dates and location reminders so you can never forget a thing. The app plays customizable animations to mark the celebration of getting a task done. This seems like a fun way to do our daily and sometimes mundane tasks.
Best Features
Quick and easy checklist management
Attach files and additional notes to tasks
Customized themes for backgrounds
Eye-catching animation
Available on: Android, iOS
How to choose the best to-do list app?
Even though a basic checklist app could be sufficient for a lot of people, I'd recommend choosing an app which not only helps you create task lists but also keep a tab on and further helps you develop a habit of getting tasks completed on time. Here are a few must-have features that you should look for in a to-do list app:
Setting reminders
Subtasking and Recurring tasks
Tracking due dates
Sharing and assigning lists and tasks
Many apps just try to limit you into doing a certain way of things without flexibility. So make sure that whatever app you choose lets you take control of how you want things to be done. Also, don't forget to tell us which task management app worked best for you. If you happen to use some other good apps, do let us know in the comments below.