Call of Duty Mobile is undoubtedly one of the best battle royale games on mobile. One of the factors that make this game so good is its Sniper guns. But players often wonder which is the best Sniper gun in Call of Duty Mobile, especially if you're a beginner in the game.
That is why in this article, I am going to list down all the Sniper guns in COD mobile Season 10 and rank them according to their abilities. Before we take a look at the list, please note that attributes of the firearms, such as damage and accuracy, are the default ones without any attachments.
List Of Sniper Guns In Call Of Duty Mobile Season 10
| S. No. | Sniper Guns | Damage | Accuracy | Fire Rate | Range |
| --- | --- | --- | --- | --- | --- |
| 1. | Locus | 84 | 70 | 28 | 90 |
| 2. | Outlaw | 83 | 68 | 28 | 85 |
| 3. | DL Q33 | 80 | 62 | 28 | 91 |
| 4. | Artic .50 | 83 | 62 | 31 | 90 |
| 5. | M21 EBR | 72 | 73 | 35 | 85 |
| 6. | XPR-50 | 69 | 84 | 37 | 85 |
You can always tweak your Sniper gun with attachments to improve these abilities even further (Let me know in the comments if you want a separate article on that).
Also Read: Best Assault Rifles In Call Of Duty Mobile Season 10
Top 3 Sniper Guns In Call Of Duty Mobile Season 10
If you are still unsure about the numbers mentioned above then I am going to discuss the best 3 Sniper guns you can rely on in COD Mobile.
1. Locus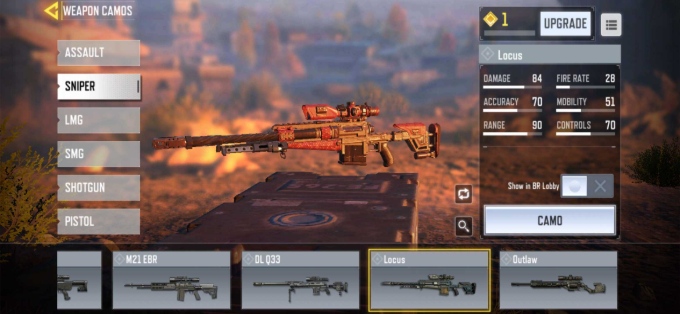 In my experience, Locus is the best Sniper gun in Call of Duty Mobile, although many would debate why I have placed it higher above others. For starters, let's talk about the most crucial factors for a Sniper gun — Damage, Accuracy, and Range. In these three aspects, Locus fares way better than other guns. It has a whopping 84 damage, which players can further increase with attachments like Underbarrel, Muzzle, or Perks.
The gun that comes closest to Locus is Outlaw, but the former trumps the latter in terms of Range, which is 90. One might find Locus to be a bit slower in terms of firing speed, but hey, we are talking about Sniper guns here, and sometimes all you get is one shot. So the aim here is to deal with the maximum amount of damage in a single shot.
While testing Locus, I found that a headshot can bring down the HP of your enemy from 150 to 7, and in case of a body shot, it went from 150 to 55 (without the bullet-proof vest).
Of course, the intensity of damage once again varies on the distance and movement of the enemy, but I couldn't find another Sniper that could do this amount of damage in one shot.
2. Outlaw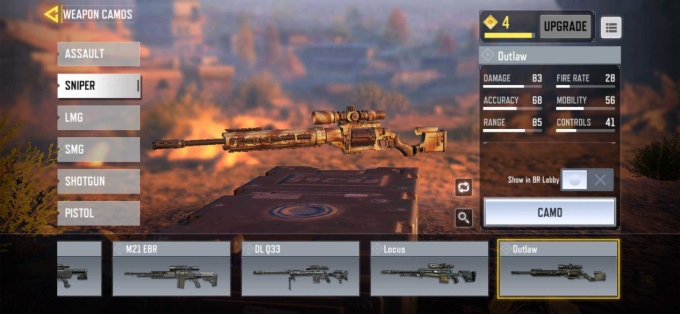 The second best Sniper gun in Call of Duty Mobile is the Outlaw. It has a Damage of 83, Accuracy 68, and Range 85, which brings it pretty close to Locus. However, Locus still outruns Outlaw in terms of recoil. In my opinion, if you cannot find a Locus, look for an Outlaw, which you can easily find in the green weapon crates lying around buildings.
And a word of advice here: if you want to master the Outlaw and control its recoil, do no forget to attach the Stabilizer Mod in the gun, which can be found in any location in the battle royale map. If you are using it in a multiplayer mode, all you need to do is customize it with the right attachments to control the Sniper gun better.
3. DL-Q33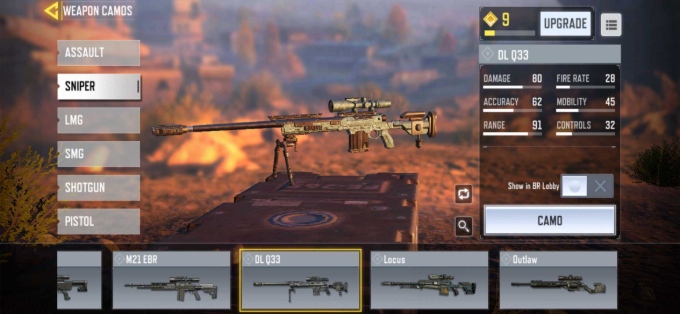 So, the third one on the list is DL-Q33, and as expected, this one too is a bit debatable. If you look at the stats, Artic.50 seems to have better numbers than DL-Q33, on paper. But I have had my fair share of matches with both the guns, and trust me, DL-Q33 is the one you'd want to use for Sniping in COD Mobile.
DL-Q33 boasts a maximum Damage of 80, with an Accuracy of 62, and 91 Range. Now, let's talk about what makes DL-Q33 the third-best Sniper gun in Call of Duty Mobile! The biggest reason would be its stability and range. The DL-Q33 comes with a stand by default, which significantly reduces its recoil, especially when you're prone during sniping.
The bullet drop we experience in this Sniper rifle is also much less than others. And as far as damage is concerned, a single headshot from DL-Q33 drops the HP of the enemy from 150 to 10, whereas a body shot reduces it from 150 to 30, without the vest, of course.
Best Sniper Guns In COD Mobile: Which One Would You Pick?
So these were the top Sniper guns you can play within Call of Duty Mobile. I hope this article gave you an idea of the best guns in COD mobile. Please keep in mind that guns aren't the only thing you'd need to win battles as multiple other factors influence the gameplay. Nevertheless, I certainly hope that this article will help you next time to eliminate enemies from far away! Also, tell us in the comments that which is the best Sniper gun according to you.