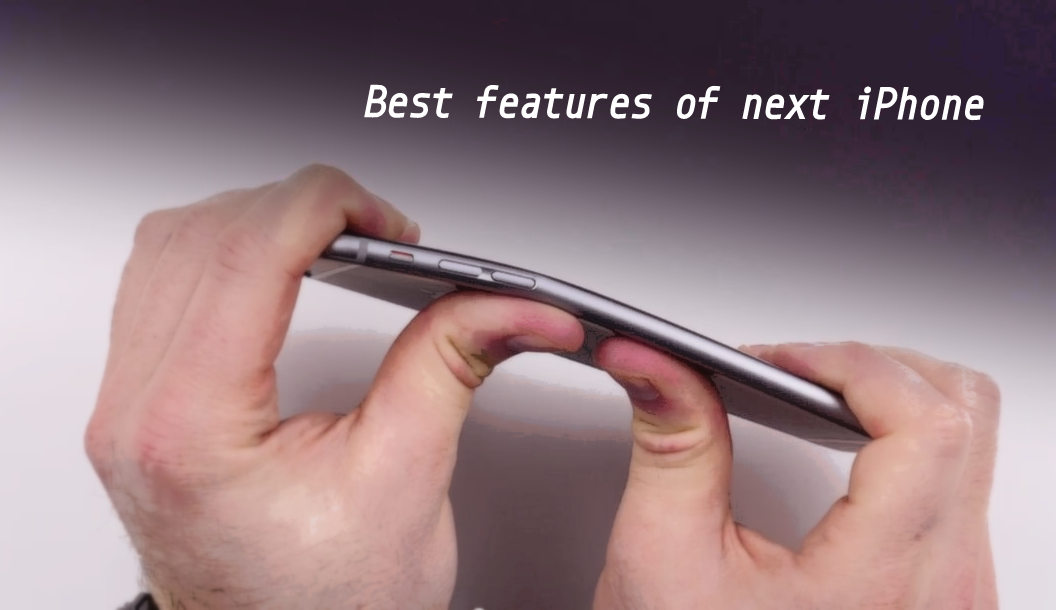 Short Bytes: Another Apple event is around the corner and we'll be meeting the new iPhones on September 9, when Apple will launch them along with the new iOS 9. To know what features are expected in the new iPhone 6 features, read ahead.
A
pple is going to announce its new set of devices at its
iPhone launch event on September 9
in San Francisco. The rumored iPhone 6S and iPhone 6S Plus are expected to come with tons of improvements. These phones will be an upgrade of the current lineup of the existing iPhone 6 and 6 Plus phones. With these phones, Apple aims to retain the charm it created with the older devices and bring some new features to the users.
In my previous post as a part of the iOS 9 and new iPhone launch coverage, I told you about my experiences with iOS 9 Public Beta and the features I loved the most. In this article, I'll be telling you about the features I'm expecting to see in the next iPhone. According to various sources and leaks, Apple will possibly bring Apple's best camera that will enable you to take higher-resolution pictures. Other new iPhone features include Force Touch, 4K videos and more. Let's take a look at them one by one:
Apple's Best Camera Yet | Best new iPhone features
Soon to be launched new iPhones will feature a boosted camera that will ramp up the megapixel to 12 from 8. Thus, you iPhone's digital eyes will be able to capture snapshots in a far better way. To be honest, after buying my iPhone 6, I was a little bit disappointed when I snapped some pictures that were less detailed. However, the newer iPhones will possibly solve this issue.
Talking about the selfies, iPhone 6 Plus and iPhone 6 have a 1.2-megapixel camera and iPhone 6S is expected to get an upgrade, probably with a flash and other hardware improvements.
Force Touch | Best new iPhone features
It's a feature that was reported to make the final cut in new iPhone features list back in early June. The new iPhone 6S will be getting a front screen with Force Touch and haptic feedback.
For those who want to know how it'll change their iPhone experience, whenever you'll press the iPhone 6S screen harder, the sensors in the screen will measure the pressure and respond with haptic feedback i.e. a tap. Thus, it will give you the feeling that you've pressed a physical button. This technology has already been included in the MacBooks. It is expected that Force Touch will introduce newer interface concepts and make iPhones thicker.
Fastest Processor and more RAM | Best new iPhone features
I'm satisfied with the performance and speed of my iPhone 6, but Apple seems to be luring me into buying the next iPhone that will come with Apple's new A9 processor.
It's called A9 processor, so it'll be faster than A8 chips of iPhone 6 (no cookies for guessing this). The present day iPhones still feature a humble 1GB RAM that doesn't compromise on the performance front. However, in iPhone 6S, I'm expecting to witness a 2GB RAM.
4K videos and a brighter display | Best new iPhone features
I've already written about the camera upgrade in iPhone 6S but here's something more. The rear camera will have the capability of shooting 4K HD videos. The iPhone 6 camera shoots 1080p videos.
Well, if your shoot 4K videos and capture better pictures, you'll need a better screen to watch them. Right? According to our sources, Apple has been working on a much brighter OLED screen that I'm expecting to experience it in the new iPhone 6S.
Better battery life | Best new iPhone features
No matter how long your phone runs on a single charge, you'll always be expecting more. But, iPhone 6S is reported to feature a slightly smaller-in-size battery that will be featuring a new generation technology and improved performance. Fingers crossed.
More colorful iPhones with harder Aluminum | Best new iPhone features
Yup, I know you didn't forget the Apple iPhone 6 Bendgate and the endless trolls that flooded the internet. The new iPhone 6S will feature the strengthened metal in the inner walls of the back plate. Other smaller changes too have been incorporated to make the iPhone 6S Bendgate-proof.
Last but not the least, the rumors suggest that new iPhones will feature two new colors- a darker Space Gray and Rose Gold.
The new iPhones will be unveiled on September 9 along with iOS 9, newer iPads, and Apple TV. We'll be covering all the developments and bringing you the freshest bytes of Apple news. Stay tuned.