I still remember the days when sending money to someone was a hell of a task; you had to go to the bank, follow a tedious process, and then finally you could send the money. With technology, the job became easy, and with mobile payment apps (or digital wallets), it became easier.
Most of us are used to the process of money transfer via e-wallets. But for those who still aren't and have inhibitions for the same, I am here to help.
So here, I will list down the best mobile wallets in India so that you can conduct transactions in minutes, that too, while Netflixing or just randomly lazing around on your couch.
For those who don't know about a mobile wallet, here's some basic information:
What Is Digital Wallet?
As evident from the name, a digital wallet lets you store money and pay for services digitally. A digital wallet, known as an e-wallet, lets you conduct various online purchases as well.
An online payment app, on the other hand, allows you to send or receive money, which could be either with a business or an individual.
While both lead to online transactions, the latter transfers the money directly from your bank account. This lack of storing money makes a digital wallet and an online payment app slightly different from one another.
However, the list of free digital wallet apps we have right now mostly includes both functionalities.
5 Best Mobile Wallets in India (2019) — Android and iOS
1.
Paytm
Paytm is a popular digital wallet, which offers more than just sending or receiving money. The mobile wallet helps you pay bills for utilities such as electricity, DTH, Wi-Fi, Mobile, and a lot more. Apart from this, the app allows you to buy movie tickets, train tickets, bus tickets, and even flight tickets — with each purchase resulting in vouchers and cashback.
This mobile wallet app also has a shopping section (called PayTM Mall) and supports UPI-based transactions and QR-code scans. Additionally, there's the Paytm First credit card, Paytm Payments Bank option, and so much — making it the best digital wallet.
Furthermore, Paytm requires you to get your KYC done by linking any of your IDs, and has an Inbox section with trending news, games, and more for further entertainment
2. FreeCharge
The popular digital wallet app Freecharge comes with a plethora of options, allowing you to conduct a lot of functions. The app asks you to sign up with your number and create an account, much like various other mobile wallets out there.
Once you open the app, you will get the first options to send, receive, or add money at the top. The rest of the app has options to pay bills, recharge options, investment options, and other exclusive offers to go for.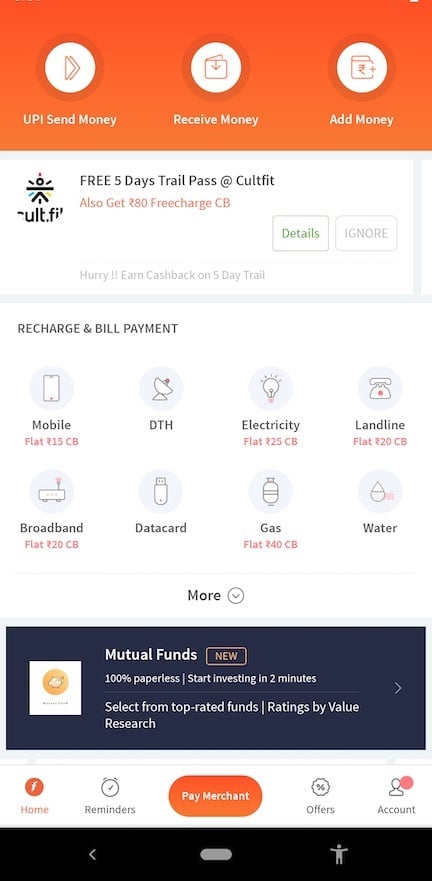 One exciting feature about the app is the mutual fund section to help you invest in them and the various coupons and offers it comes with. In addition to the Freecharge digital wallet, you can also send and receive money using UPI-based payment options.
3. PhonePe
Being one of the best payment apps, PhonePe is known to everyone in India. The app performs the same task of letting you send or receive money, pay for bills or recharges, and more. It also allows you to set reminders, shop online and split the bill with your friends.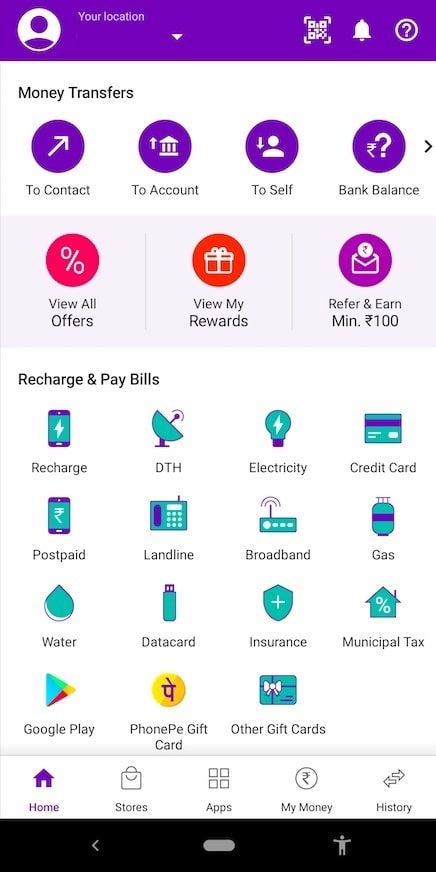 The app has the top two sections for money transfers and bill payments, respectively. There's also a section for the various offers and rewards available on the app. Much like other e-wallets in India, PhonePe can also scan QR codes and conduct UPI-based payments.
It has an Apps section that lists different apps like Ola, Dominos, Box8, Faasos, etc. You can access these apps from within the PhonePe app and make bookings. Additionally, the Stores section enlists all offline stores that accept PhonePe as a mobile payment option.
4. MobiKwik
MobiKwik is another great mobile wallet app for Android and iOS; hence, it ought to be on my list. The app shares all the abilities as other apps I have talked about, such as to send and receive money, make payments for bills, recharges, DTH, and more. I would consider as one of the best bill pay apps due to the level of easy it provides.
The app allows you to shop and provides you with loads of offers and deals to go for. One highlight of the app is the ability to apply for instant loans and track your expenses, which acts as a differentiating factor from other mobile payment apps.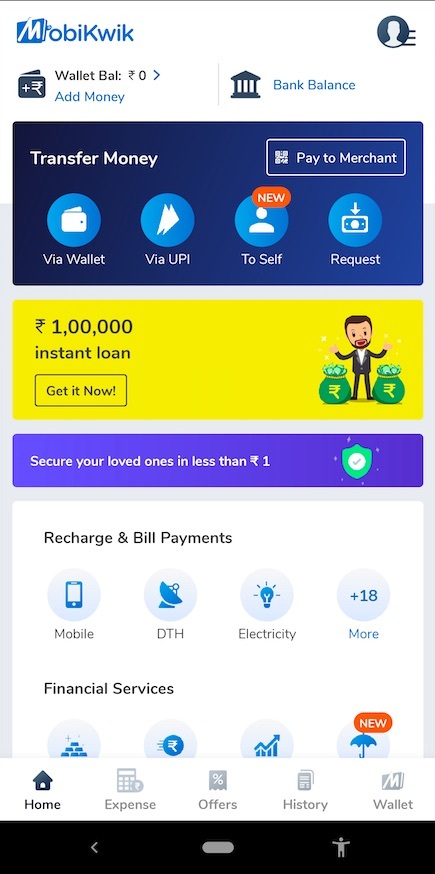 There's a History option to check the history of your transactions. Additionally, the app includes UPI-based payments, and much like other digital wallets, your Mobikwik account needs to be KYC-verified to levy all the benefits.
5. Airtel Money
The Airtel Money mobile payment platform is part of the Airtel Thanks app. To access the service, you have to fill in a couple of your details, and by selecting the Get Wallet option on the app.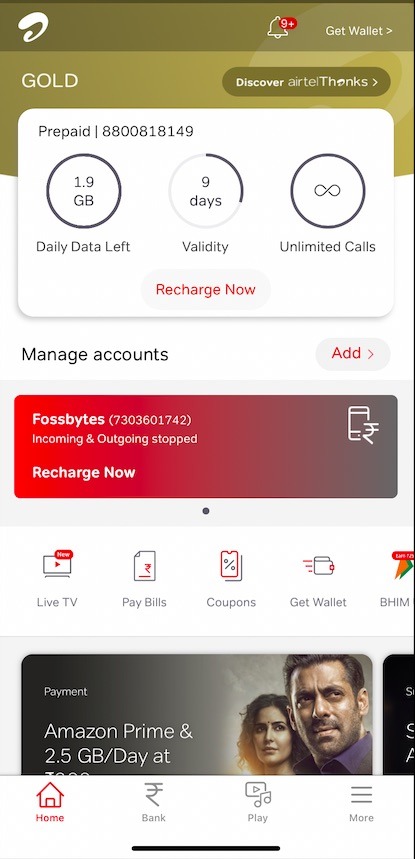 The sign-in process requires you to provide validation documents such as Aadhaar card, PAN card, or any other ID. The digital wallet allows you to pay bills, make recharges, and of course, transfer money to other people.
One thing worth noting is that the app doesn't allow you to send money without registering for Airtel Wallet. However, you can recharge your mobile number and pay for bills via the Airtel app. One downside of the app is that it works better for Airtel users in India. However, others can also use the app.
Additionally, the app provides you with coupons, UPI-based payments, and the ability to watch movies and TV shows as part of your Airtel prepaid or postpaid plan.
So, which of the best online payment apps in India do you like?
With online payments becoming more common and easier to perform, the need for digital wallets has increased. I hope my list of the best payment apps, e-wallets, or whatever you like to call them, helps you choose the right one for you for happy transactions.
Do let me know which mobile wallet is your favorite from my list. To clear the mist, my list includes all the popular ones. Do let me know if you have any other options that I might have skipped. Until then, keep making money transactions simple!