Meditation is good for you. You have read about it and you know its positives. Yet, you have failed to reap its benefits. For many, getting started is the most challenging part. For others, the biggest obstacle is remaining consistent with the new habit.
This is why people are gradually turning to meditation apps on smartphones. Although meditation music on YouTube is helpful, users are looking for an overall package — A one-stop Android app for guided meditation, meditation music, mental health, and more.
In this article, we will look at the best meditation apps in Android, which can help you in your journey towards mindfulness. Before we dive into this list, do check out our other popular list of Android apps:
Best Meditation Apps for Android in 2019
1. Headspace
Headspace is one of the initial pioneers of meditation apps on smartphones. Today, we have more than 2000 applications, but Headspace remains one of the best meditation apps on Android. Headspace utilizes enticing graphics and user interface to capture first-time learners. There are even short-animated videos to help you along your journey.
Headspace app includes various meditation courses on a range of topics such as personal growth, work, and productivity, stress and anxiety, etc. Single meditation courses are my favorite since they are usually small and target a specific issue — Losing your temper, Stressed, Fear of flying to name a few.
The quality of guidance, along with the melodious voice of the narrator, makes it one of the best-guided meditation app. The only catch is that nearly all courses require the premium subscription. Only a handful of resources are free such as the basic course, few Sleep Casts: ambient music for better sleep.
Why HeadSpace?
3-5min single meditation sessions
Enticing UI and animation
2. Calm
Calm meditation app can truly provide you calm and mindfulness in any situation, thanks to its design and features. The Android app's homescreen is a beautiful live imaginary, coupled with ambient sounds. You can choose a different scenery in the settings.
The relaxing background sound continues throughout the app, even during meditation sessions. This mindfulness app has sessions for anxiety, stress, self-esteem, happiness, etc. I like the sleep section, where you can listen to bedtime stories.
Calm meditation app includes a long list of free ambient music that you can tune into. It also has a dedicated section for kids that provides sleep stories, lullabies, etc. Hence, it's not only the best meditation app for sleep, but also it is the best meditation app for kids.
Calm vs Headspace
If we compare Calm with Headspace, the latter has several speakers whereas the former has merely two narrators. Ambient music running behind a meditation session is only available in Calm. The mindfulness app even offers cheaper plans with a 7-day trial
Another strong point of Headspace over Calm is that it offers different time lengths. Headspace also has a visually appealing user-interface.
Why Calm?
A quick breathing tool to relax
Includes non-guided meditation sessions
3. Simple Habit
Simple is the best meditation app if you have trouble finding time for mindfulness. The jewel of Simple Habit is the circular dashboard. Choose your current scenario such as commuting, sleeping, etc. Set the time (5min, 10min or 20min) and the meditation app will start a session immediately.
If you are looking for something specific, Simple meditation app has several sessions on different topics. You can even choose a particular expert that might even turn into your favorite. Having diverse voices is definitely a plus point.
If we talk about free meditation apps, Simple Habit certainly offers more resources than Calm and Headspace. The design is snappy and straight forward. Just like Headspace, there are few short meditation sessions to get you through certain situations.
Why Simple Habit?
Time flexibility in sessions
Many speakers
4. Insight Timer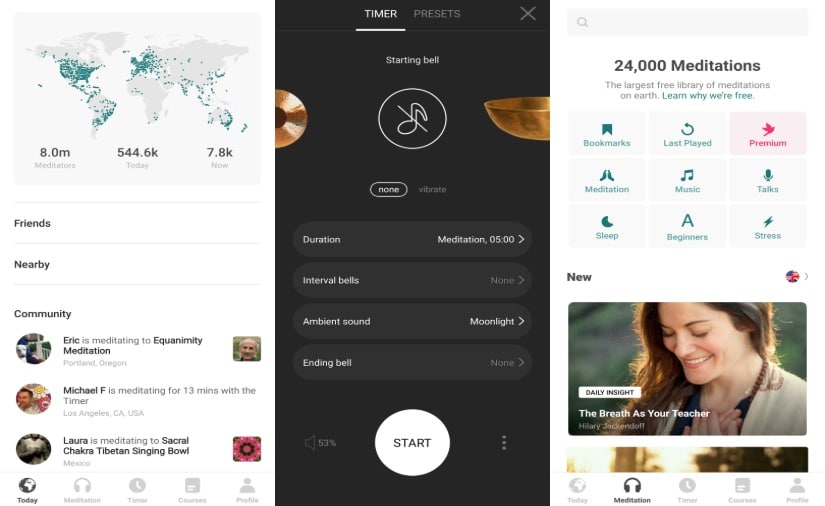 Insight Timer is one of the best free meditation apps of 2019 because of its vast collection of free guided meditation sessions. You can choose from a long list of guided sessions countering specific problems.
There is a community section where you can see what others are listening to. You can add friends and track their progress. Insight Timer even has paid meditation courses from renowned experts.
The best part about Insight Timer is that there is a dedicated "Timer" section for non-guided meditation. Just set the duration, Interval bells, choose an ambient sound, and get started.
If you go for the paid feature, you can also unlock the dark mode for the meditation app and an advanced player mode. But this also puts the free version of Insight Timer at a disadvantage. The free meditation app doesn't allow users to fast-forward a session or jump to a specific timestamp.
Why Insight Timer?
Best non-guided meditation features
Take notes with in-house journal
5. Meditation & Relaxation: Guided Meditation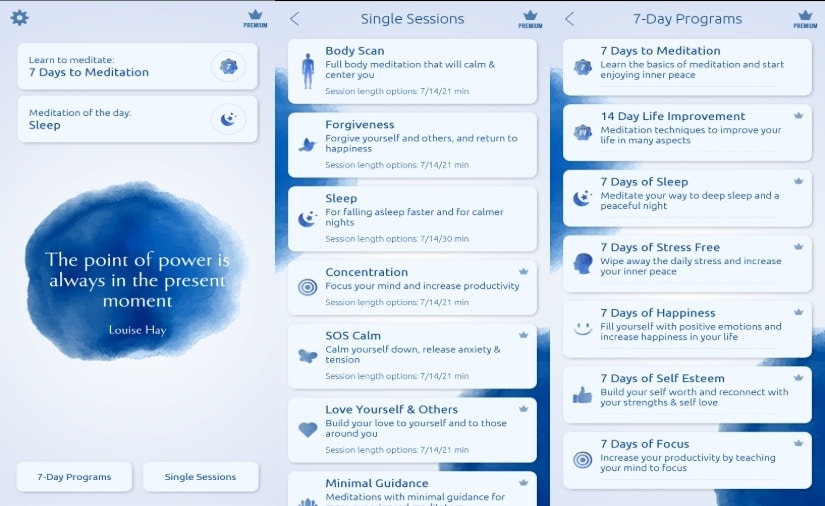 Where other meditation apps can be overwhelming, this Android app is pretty straightforward. You have 7-days guided meditation programs and you have single sessions titled Body Scan, Forgiveness, Concentration, etc.
The meditation app for Android has a few meditation sessions, but each is very focused and insightful. Different session length is available only in the single meditation sessions.
Given the fewer meditation courses, you might feel that the content is limiting after using other apps. One major issue with the meditation app is that 90% percent of the sessions require a paid subscription.
Why Meditation & Relaxation
6. Let's Meditate: Guided Meditation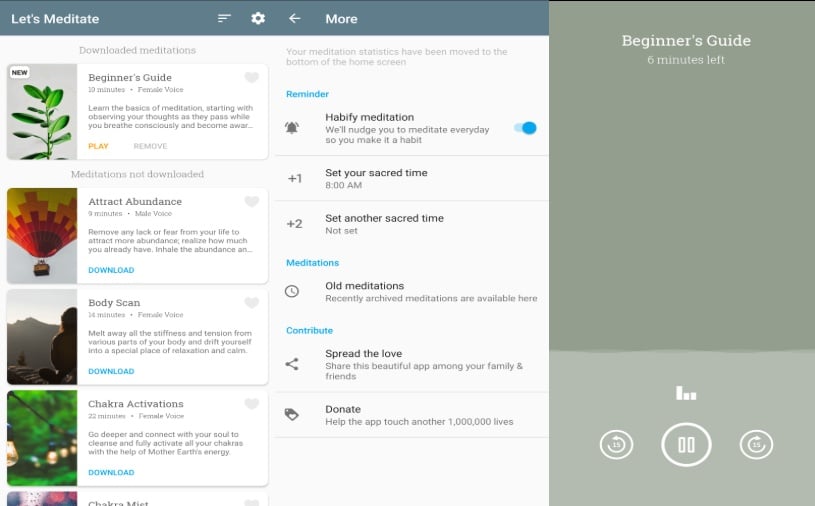 Let's meditate is another one of the best free meditation apps. The Android app includes a curated list of guided meditation sessions that cater to a variety of issues such as sleep deprivation, anxiety, stress, and others.
To attend a session, you will first have to download the meditation course. Meditation sessions are fixed in length but allow users to jump to a specific timestamp. The app also enables adjusting an everyday reminder. In fact, you can set two more reminders.
I like the fact that this app doesn't throw any obtrusive ads, even when the app is entirely free. While the meditation app is enough for first-timers, some users might feel limited after using meditation apps such as Calm and Headspace.
Why Let's Meditate
Free meditation sessions
Snappy UI
7. Deep Meditation: Relaxation & Sleep Meditation App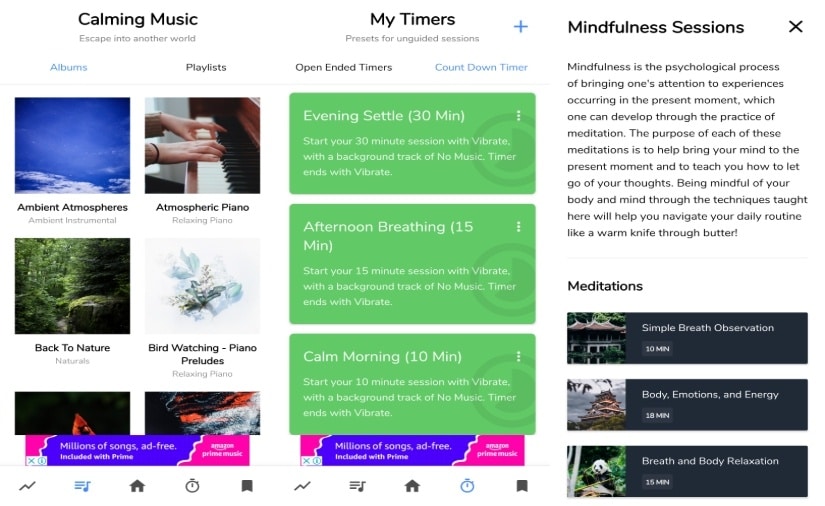 This is also one of the best meditation apps if you are looking for non-guided meditation sessions. The meditation app includes short open-ended timers as well as long count down timers. However, the non-guided sessions lack the inclusiveness of ambient sounds.
Deep Meditation mindfulness app has dedicated an entire tab for ambient sounds. You can choose from a lot of relaxing and calming sounds of nature, instrumental, chill music and more. Guided meditations are few in number but offer insightful and quality content. All the meditation sessions are free, which makes it a resourceful app, among others.
However, this is the only meditation app till now that is laced with ads, sometimes full-screen ads. Interestingly, the premium subscription is mostly to remove the ads since all the other content is completely free.
This is one of the few free apps that also allows journaling. While putting in a new entry, you can choose a smiley for your current mood, a great feature seen in great mental health apps.
Why Deep Meditation
Dynamic timer for unguided sessions
Journaling
8. Stop, Breathe & Think: Meditation & Mindfulness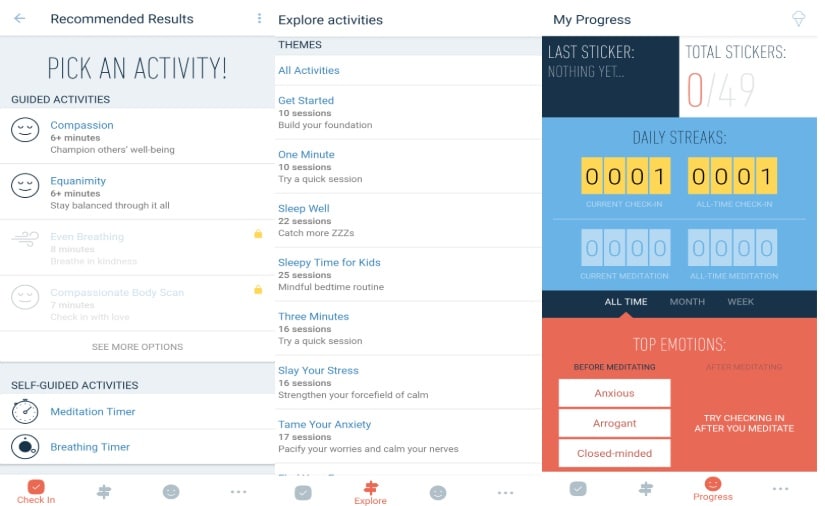 If there is one thing that this app does right, it's suggesting the best meditation session that you need in your current situation.
As soon as you jump in, the mindfulness app asks you to dim the display and take a deep breath for ten seconds. After filling up your mental health and emotions you're going through, the app suggests a meditation activity. Most meditation sessions offer different session lengths. The app provides many video sessions as well.
Stop, Breathe and Think is one of the best free meditation apps because it includes a lot of sessions, and many of them are free. The "my progress" part is beautifully laid out. If I think about it, the entire Android app has an enticing and easy-to-navigate user interface.
The only thing that troubled me in this mindfulness app is the lack of playback features. You can't go ahead of the session. Also, ambient music is absent from nearly all the guided meditation sessions, excluding the ones that are dedicated to it.
Why Stop, Breathe & Think?
Offer personalized mindfulness activities
Massive library of free sessions
What is the best meditation app on Android?
Well, all of the above are the best meditation apps in 2019. But in the end, they are just helpful tools and nothing more. Sure, they will help you in building a meditation habit but the journey is yours. Once you instill the habit of taking out a few minutes every day for mindfulness, any meditation app here will benefit you.