While today's generation is self-sufficient in many ways, having a companion in one's life doesn't appear like a bad idea. Our life might be full of things, but we do need a person to share those things with. Finding the right people (around the globe with the population crossing billions in number) is not as easy as we think. Therefore, there are tools (specifically online dating) to take care of your dating life.
Hence, I am going to present you with the best dating apps so that you don't miss out on the opportunity of meeting new people and possibly find the love of your life (if you get lucky!)
To clear the mist, both the Google Play Store and the App Store have loads of dating apps and I have picked up mine on the basis of popularity. You can, by all means, go for the ones other than my provided options.
11 Best Dating Apps 2019: Android and iOS
1. Tinder
When it comes to free online dating, the one name that comes to anyone's head is Tinder. Being one of the most popular dating apps, it is pretty easy to use. All you have to do is create your Tinder profile with either your mobile number or email ID.
Following this, you have to fill in a couple of details such as your sexual orientation, date of birth, name, photos, and more. Once all this is done, you can start swiping away; you can left-swipe to reject the suggestions made by Tinder (based on location) or right-swipe to accept the suggestions. If it's a match (meaning both of you like each other), you can begin with your conversation and see how it goes.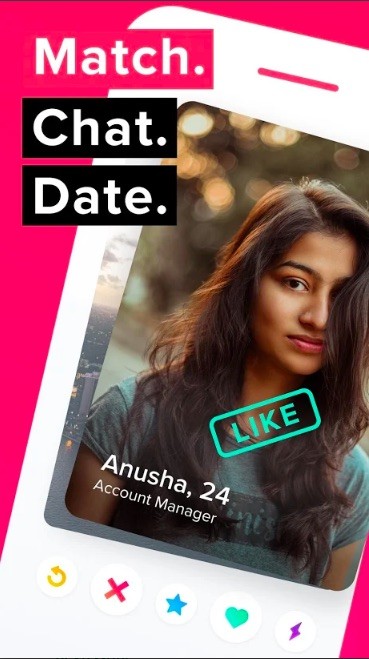 In the suggestions presented by the app, you can tap on the image of the person to view the profile and more images to make your choice easier. Another interesting feature is that each chat head (once you match with someone) has different one-liners, encouraging to break the ice
The app has three sections above the main page: your profile, the page to swipe profiles, and the messages and feed section. Furthermore, you can upgrade to Tinder Gold (by paying, of course) to access loads of new features. There are three price ranges to choose from. 
2. Badoo
Badoo is another dating app that is a renowned one for online dating and hence my list includes it. While you use the app, you have to select your gender and choose whether or not you want to use your Facebook to sign up.
You have to enter your basic details — the date of birth, name, photos, your reason for using the app, and more. Following the usual procedure, you are good to use the app. The app also makes use of your location for recommendations. Much like Tinder, you can like or reject the suggestions made by the app, and eventually, choose to initiate a conversation if you want.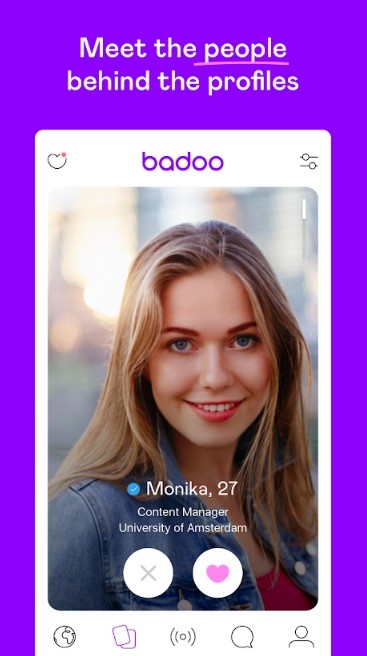 The app has five sections: the messages section, the explore section, the live streaming section, the like/reject section, and your profile. Each time someone likes you or texts you, the app will notify you. The messages section also displays the number of profile visits, likes, and times when people marked you as favorite.
Additionally, you can easily view a person's profile to know more and can even track your popularity on the app, to make it one of the dating apps that work and find you whatever you want.
3. Happn
Happn is among the free dating apps that are pretty popular in India. The app has a similar way of working as other best dating apps in this list. It asks you to log in using either your number or social media and requires you to add all your necessary details. 
Apart from the birthday, name, photos, preferences, and more, Happn asks you certain questions such as cooking skills, partying ways, and more to better understand you.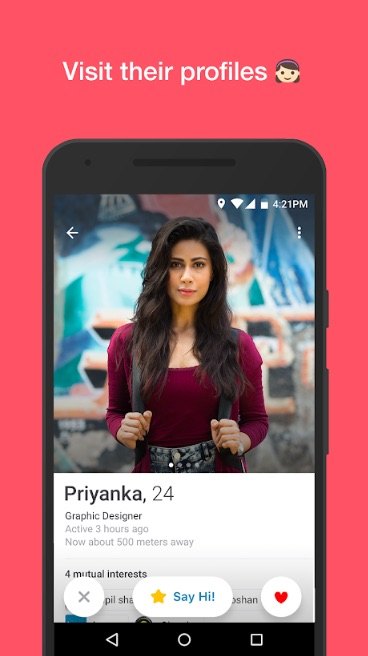 The app (which offers location-based suggestions) has a simple UI with four segments: to explore, to receive notifications, to message, and your profile. Once you are a part of Happn, the app messages you with tips to use the app efficiently.
Looking for people is pretty easy and follows the same drill of rejecting or liking a person. You can swipe a person's profile and photos to find out more. Furthermore, you can call people or send voice recordings if messaging is not what you want anymore.
4. Plenty of Fish (PoF)
Once you open up the Plenty of Fish (PoF) app, you will have to sign up first and fill in a couple of details such as username, password, email ID, and more to commence. Once this is done, you have to answer a couple of questions that will help you better in online dating. This unique feature is the reason it is present in my best dating apps list.
Once you fill-up the long list of questions and verify your account, you can now start looking for dating on the app. The app's home page has various options to select: Messages, Will Respond, Search, Nearby, My Matches, Viewed Me, Meet Me, Profile, and Favorites.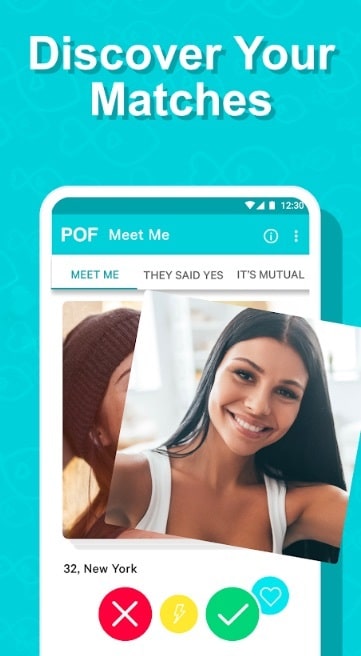 Additionally, there is a strip running at the bottom part of the app that lists down more options for you to choose from. You can tap on the picture of the person to view the profile or start a conversation. POF is part of the dating services that help you find a person you can get along with.
5. Bumble
Bumble is one of the top dating apps you must have come across. After following the usual login process, you have to let the app know of your sexual preferences, the reason for joining Bumble, and now you are good to start.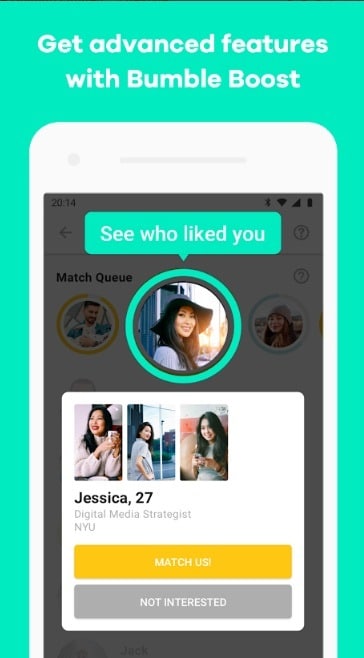 The app's home page lets you decline or select the suggested person. You have to left-swipe to reject a person and right-swipe to start a chat. Swiping is pretty easy. The top left corner has your profile icon and the top right corner has the messages section.
The Bumble app, as compared to other best dating apps in this list, has an easy-to-use interface and encourages women to strike a conversation with guys, instead of a vice-versa scenario.
6. OkCupid
OkCupid is another one that can be considered one of the best hookup apps for online dating. The reason for joining the app could be hookups, long-term relationships, friendships, and more.
The dating app involves the usual process of signing up, filling in details, granting access to location, and asks a couple of additional questions to understand you better and find people who share the same interests.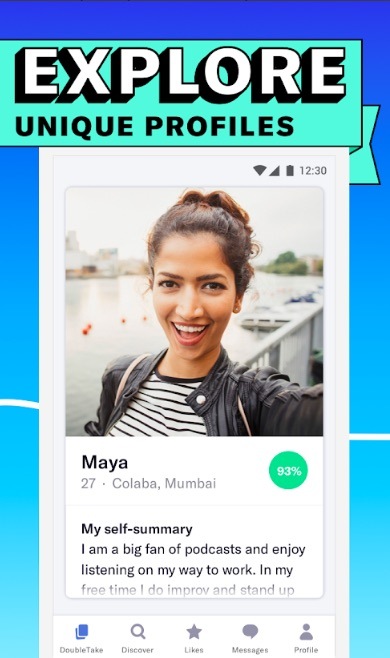 Another similarity between OkCupid and other dating apps on my list is the swiping nature of the suggestions made by the apps.
The app has five major categories: Double-Take to conduct the swiping, Discovery to find more options, Likes to see who likes you, Conversations for all the chats, and your profile. Additionally, you can boost your profile by subscribing to three types of boosts (paid feature).
7. Grindr
While Grindr is one of the popular gay dating apps, it also allows people with other sexual preferences, making it one of the best dating apps. With five sections (Profiles, Inbox, Videos, Faves, Store), the app allows you to look for people around you and lets you watch videos from the Videos section.
For added benefits and features, the Grindr app can be upgraded to two options: Xtra and Unlimited, each having three plans.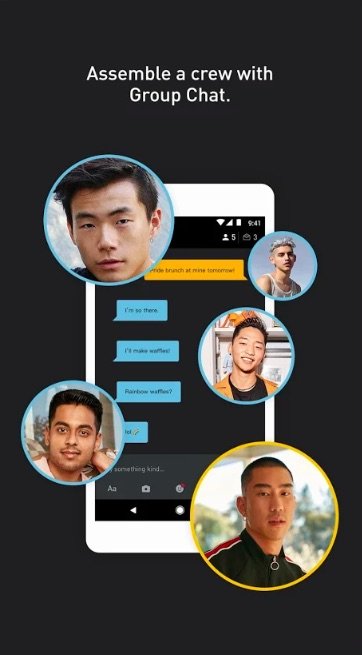 The Messages section also has a 'Taps' section that displays all the people who have liked you on the app. Additionally, you can form a group on the app for group chats.
While the dating app has various features for online dating, the dark theme of the app clubbed with advertisements is not something I liked.
8. eHarmony
The eHarmony app allows you to go for free online dating by signing up and answering a detailed questionnaire to look for the right thing you want, making it a casual dating app as well as for serious relationships.
Once you are logged into the app, fill in the questions (pretty simple one-word questions), and set up your profile, you have to look for the right matches and see whether or not the people recommended are compatible with you.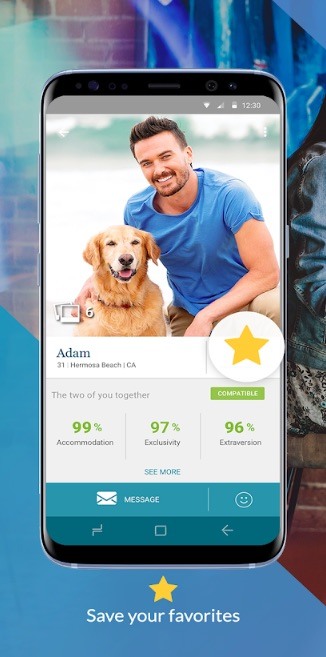 While the questions asked appear intriguing and possibly good for finding the right person, the time it takes to finally complete it and start using the app is annoying. The app has an organized interface that comprises sections such as Activity to know your app activities, Matches to look for people, Messages for all the messages, What If to upgrade the app and your Profile section.
While I used the dating app, it did not display a lot of options to choose from as compared to others on my best dating apps list, which appears to be its drawback.
9. Coffee Meets Bagel
Coffee Meets Bagel follows the simple concept of free online dating, trying to bring forth good dating options for you. The app follows a simple process of logging in and creating a profile, following which you can start with the process of looking for people as per your choice.
The app has three sections: Suggested, Discover, and Chats — to look for people and finally talk to them if you like. The fact that the app doesn't involve a tough procedure to use it is the reason it features on my 'top dating apps' listicle.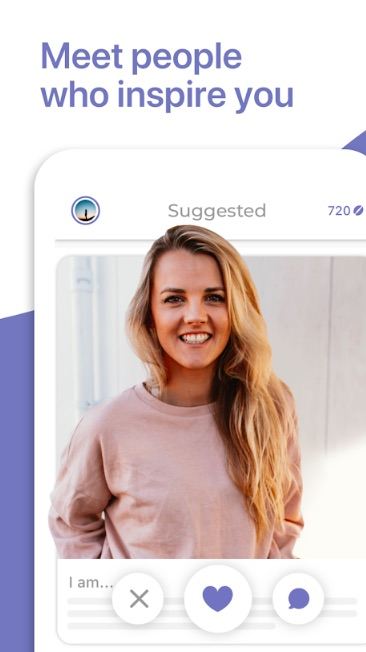 To find people, you just have to head to the Suggested or Discover sections and like the ones you want to talk to. You can reject them or start a conversation directly by choosing the cancellation or chat icons below their profile. Additionally, you tap on the displayed people to view more about them.
You can access more features by upgrading the app and purchasing any of the provided plans.
10. Hinge
The Hinge dating app is trying to create an online dating experience, which is different from other apps.
The fact that it gets away from the usual 'swiping' nature of a dating app is the reason it is present on my best dating apps list. If you want to talk to a person, you just have to like the profile and start building a connection.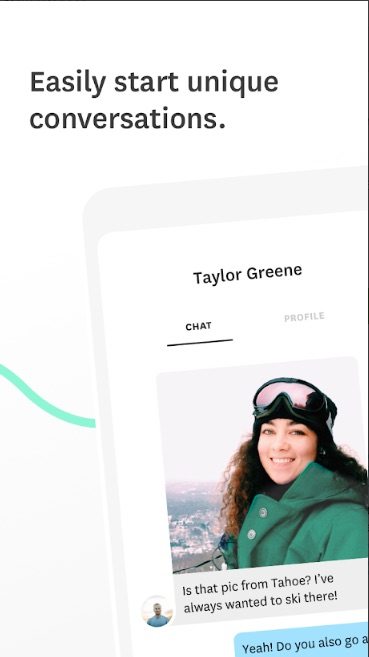 After a brief introduction and a simple sign-up process, the app asks you certain questions for a better time on the app. One thing that is good about it is that the questions are not huge in number and you get the option to skip the ones you don't want to answer.
The app has a simple UI with four sections: one to discover people, second to view the likes you got, third to see the matches you got, and the fourth includes your profile and settings.
11. Her
As the name suggests, Her is one of the top dating apps for women, meant for lesbians and bisexuals. However, the app can still be used by anyone and doesn't have restricted usage.
With a simple setup process and UI, the Her app allows you to find people by swiping: right-swipe to like someone and left-swipe to reject someone.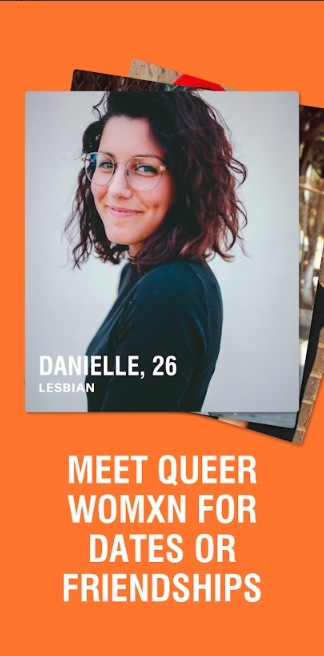 One thing worth noting about the app is its open-mindedness, which is why I have included it in my best dating apps 2019 list.
There are five sections in the app: Meet, Who Liked Me, Chats, Notifications, and Feed. Additionally, the app can be upgraded to Her Premium for added features.
Top Dating Apps: Which one is better?
While all the apps on my list featuring the best dating apps seem different and have qualities of their own, my personal favorite was Tinder due to the wide range of options available.
I hope my list proves useful and you get to start your online dating with ease. Do let me know which one you like out of the aforementioned dating apps.
Additionally, feel free to recommend apps other than the ones mentioned here.