One of the best weather apps, Dark Sky, has now acquired been by tech giant Apple. The app's website has been modified, and it now says Dark Sky by Apple. However, the iPhone-maker was faster than the speed of light in discontinuing the Android version of the popular weather app.
The users who have previously installed Dark Sky on their Android phones can use the same until July 1. And the people whose paid subscription's validity extends beyond July 2020 will get a refund.
Eventually, Android users will switch to other weather apps that can serve as a suitable Dark Sky alternatives. However, it is quite a complex task to find out the best weather apps for Android out of a plethora of options available on the Play Store.
So, here we have made a list of six best weather apps for Android that you can try out on your device. If you want, you can also refer to the best weather websites for real-time weather status on your PC.
Best Dark Sky alternatives for Android
Today Weather
Weatherbug
Accuweather
1Weather
Weather Live
Yahoo Weather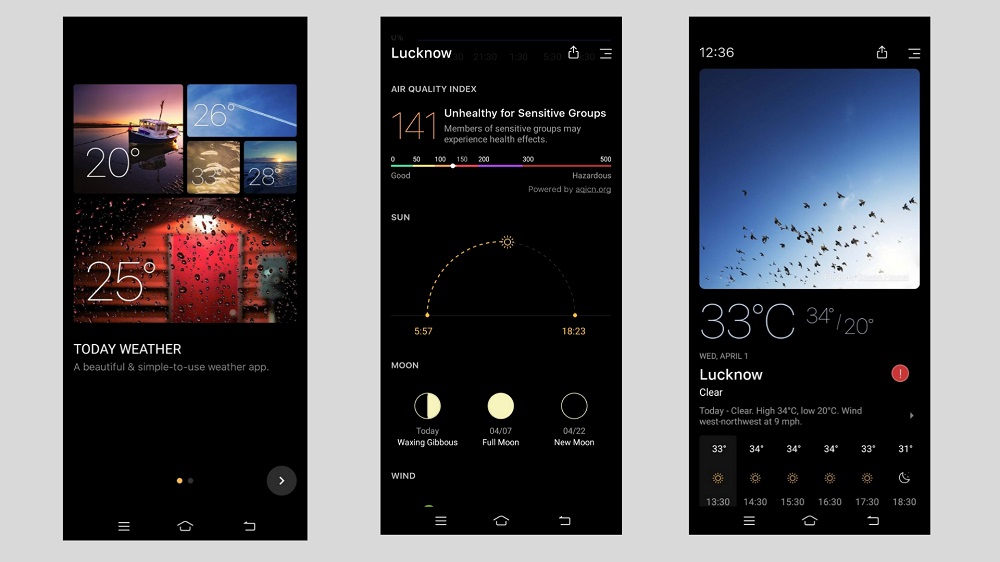 Today Weather is one of the best weather apps for Android available on this list. With more than 10 data sources, the app provides accurate weather forecasting.
Today Weather also provides alerts for strong winds, heavy snow, and rainfall. The best part about the app is it provides relevant information about the air quality index (AQI) also.
Other features of the app include actual temperature and the feel like temperature, air pressure, humidity, wind speed and direction, dew point, and visibility.
Price: Free
Appy Awards placed WeatherBug at the topmost position in the list of best weather apps for 2019. The app features 18 weather maps and news clips of weather changes in the local condition.
WeatherBug allows the user to customize the weather data and adjust tabs as per their priority. It can serve as one of the best Dark Sky alternatives as it provides all the major details regarding upcoming weather conditions in a region.
In WeatherBug, users can see the local weather condition via the radar feature. The app supports different languages, including Japanese, Spanish, French, German, English, and Portuguese.
Users can also view the air quality index in their region via the maps provided in the app. However, users will encounter a lot of annoying ads while running the app which is a major drawback.
Price: Free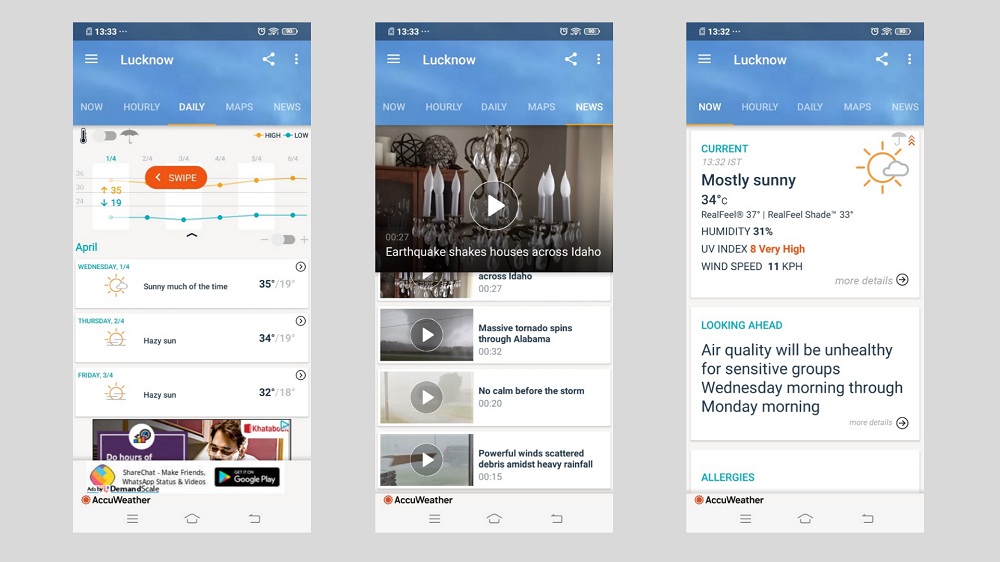 AccuWeather, with more than 50 million downloads, stands as the most trusted app on the list. The app provides on-demand forecasts and real-time alerts.
AccuWeather provides a 15-day weather forecast. It also gives elaborated day-to-day temperature stats via the RealFeel Temperature technology.
The app also updates the user with the latest news related to any major weather disturbances. These include heavy rainfall, snowfall, earthquakes, hurricanes, and other stuff.
Price: Free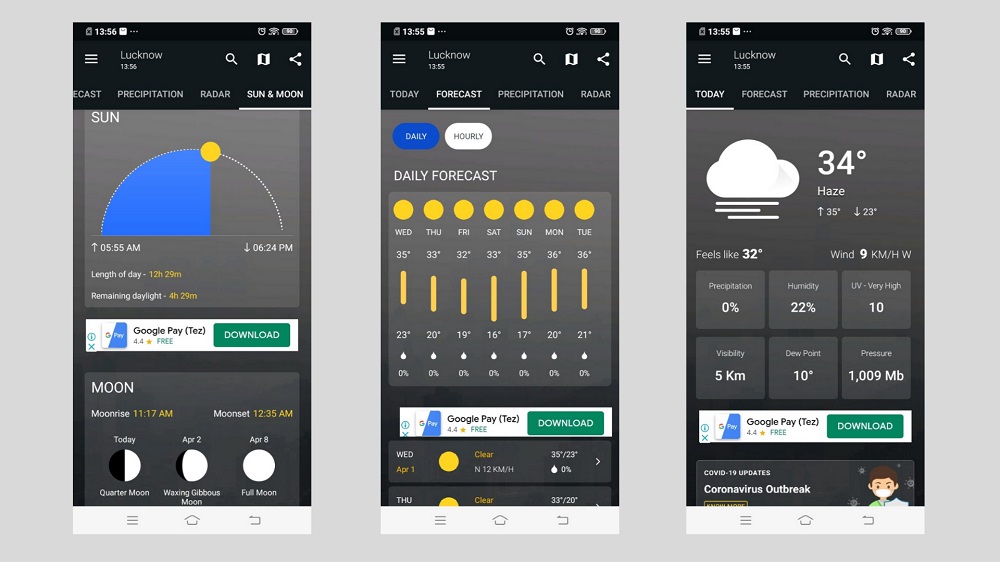 1Weather is recognized as the best weather app for Android by CNN. The app is one of the most interactive apps available on the Google Play Store.
Major natural and man-made calamities like earthquakes, hurricanes, fire, and blizzard can be tracked on the live radar. 1Weather also gives accurate readings related to temperature and precipitation.
The best part about this Dark Sky alternative is that it features 1Weather TV. Users get to know a lot of facts related to weather changes and terminologies. Also, answers to numerous questions like what causes rain, thunderstorms, and other things are available on 1Weather TV.
Price: Free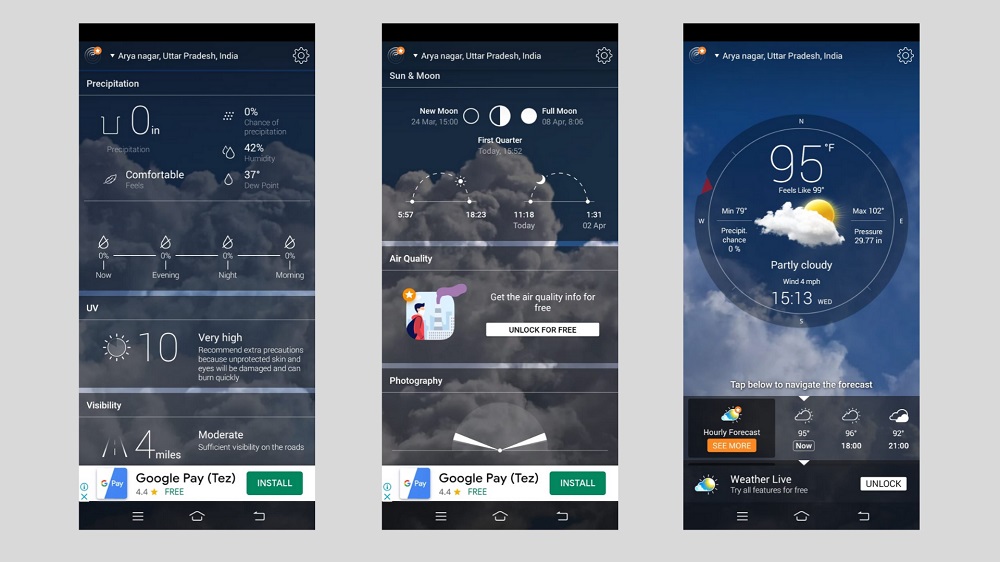 Weather Live comes with unique animated weather backgrounds and accurate weather forecasts. The Dark Sky alternative provides the observed temperature reading along with the 'feels like' temperature.
Weather Live also provides other information like weather radar, rain maps, sunrise and sunset time. The app also features a lightning and hurricane tracker.
Other major features of the app include Air Quality Index, lightning tracker, and interactive weather maps. You can use these features only if you buy the premium version of Weather Live. However, you can go for the 5-day free trial period and use the prime features of the app.
Price: Paid (Rs 999 annually)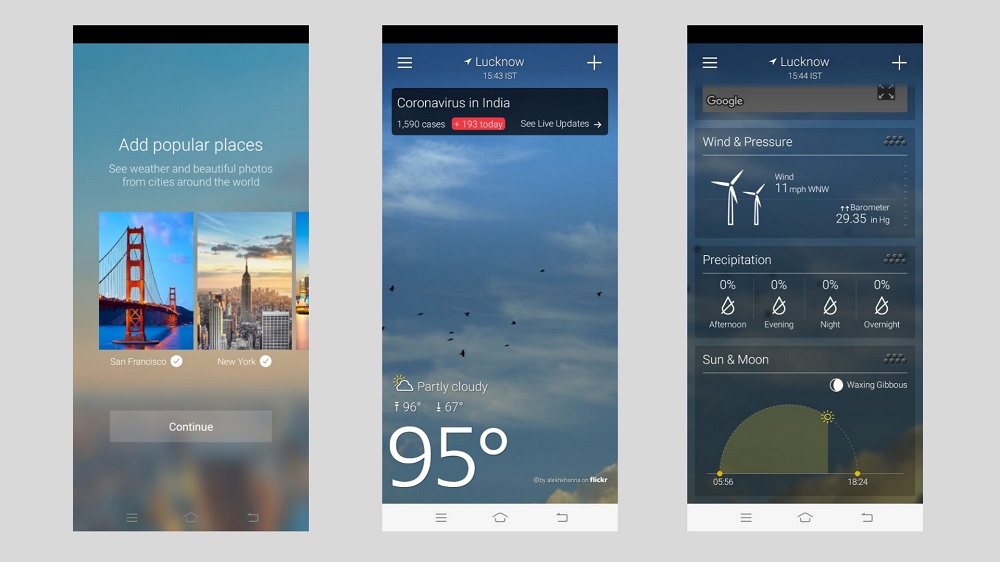 Yahoo Weather gives hourly, 5-day, and 10-day forecast numbers along with stunning Flickr photographs to match the location's weather. The app also provides animated readings of wind, sunrise, sunset, and pressure.
You can also keep track of the weather in a city you need to visit or will visit in the future. Yahoo Weather also provides a link to major news of the day. You can see a real time table of coronavirus cases on the home screen of Yahoo Weather.
However, a major issue with Yahoo Weather is that it also displays a lot of ads when you scroll down to know the detailed weather forecast. These pop-ups can irritate the user at times.
Price: Free
These are some of the best Dark Sky alternatives for Android that you can install to get accurate weather forecasts. Not only live weather updates, but these apps also provide major alerts related to weather disturbances due to a natural or man-made calamity.
In the future, we'll have more amazing Android weather apps to this list, so don't forget to check back in a while. Also, if you have any suggestions, drop them in the comments.