There are a lot of people who love reading different types of books. However, due to tight working schedules and lack of time, most of the readers are unable to complete their favorite ones, and the books become showpieces.
What if you get the opportunity to listen to your favorite book while working or doing any other stuff? Amazing, isn't it? You can listen, purchase, and download several audiobooks by paying minimal or no fee. So, here we have compiled a list of the best audiobook apps that will help grab all the audiobooks you like.
Check out this amazing stuff in your free time:
6 Best Audiobook Apps for Android (2020)
LibriVox Audiobooks
Audible Audiobooks
Scribd
Google Play Books
Audiobooks.com
Storytel
LibriVox can be dubbed as the best audiobook app available on the Google Play Store. It has a very user-friendly interface, and a large number of books are available for free.
Some famous titles in the top free audiobooks section include The Jungle Book, Robin Hood, Peter Pan, Alice's Adventures in Wonderland, The War of the Worlds, Sherlock Holmes, Frankenstein, and Great Expectations.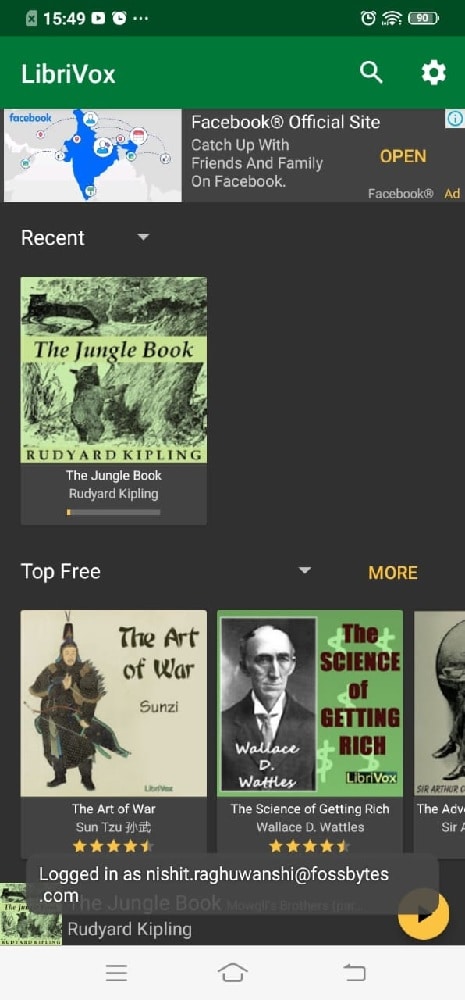 LibriVox has a paid section, too, where books are available between a price range of $6.20 to $45.00. Some famous paid titles include The Maze Runner, American Sniper, The Hobbit, and IT.
To listen to your favorite book, you just need to tap on the thumbnail of the book and tap the yellow play button. You can listen online or download audiobooks according to your choice. You can find audiobooks for kids too within the available categories, including, top paid, top free, genres, authors, and lists.
With more than 100 million downloads on the Google Play Store, Audible Audiobooks by Amazon is one of the most amazing Android audiobook apps. It includes a large variety of audiobooks in genres like mystery, sci-fi, fantasy, thriller, and other free audiobooks based on self-motivation.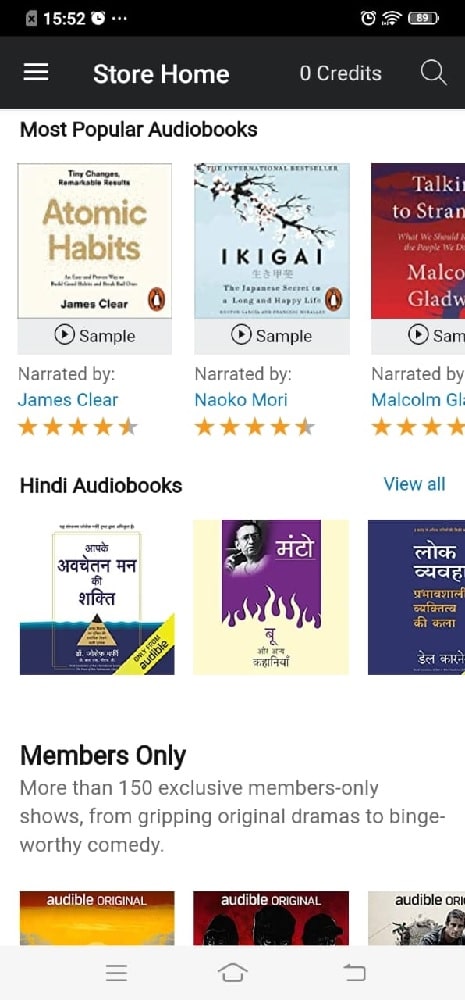 The unique selling point of Audible is that it consists of over 150 original audiobooks and scripted shows. Some of the titles are My Indian Odyssey, The Dark Web, No Gangsters In Paradise, and a lot more.
The biggest drawback with Audible is that it has a very less number of titles available for free. You have to buy the premium subscription of the app to download audiobooks and exclusive Audible originals.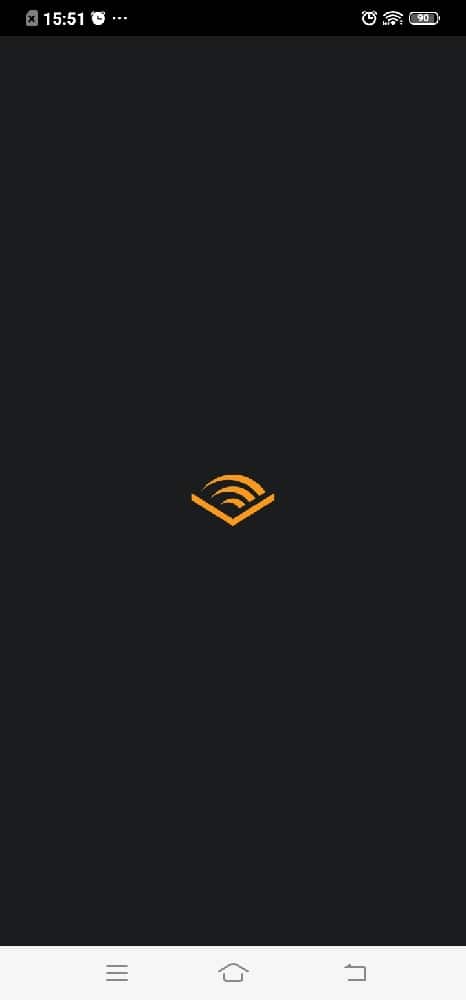 However, people can enjoy premium books in the free trial period provided by the app. Audible's free trial period lasts for 30 days, after which the user has to pay an amount of $14.95 per month. Users can also cancel the subscription anytime to avoid any charges after the free trial ends.
Scribd is one of the most user-friendly audiobook apps available on the Google Play Store. More than 10 million people have downloaded Scribd, and it has a 4.5 rating that makes it the best audiobook app according to people's choice.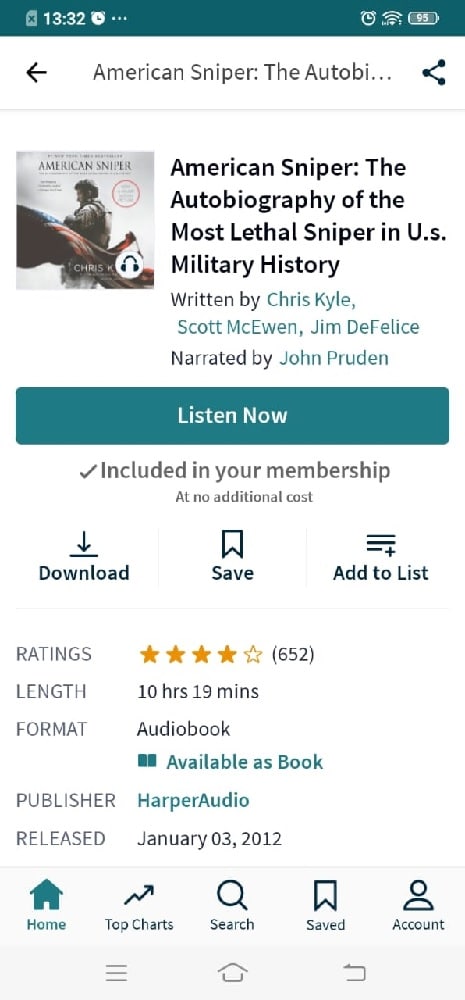 It has a catalog of more than a million free audiobooks and the content you are listening to or reading on Scribd can be synced across numerous devices. A unique feature of the app is that users with Android 6.0 or above can also adjust the narration speed of an audiobook.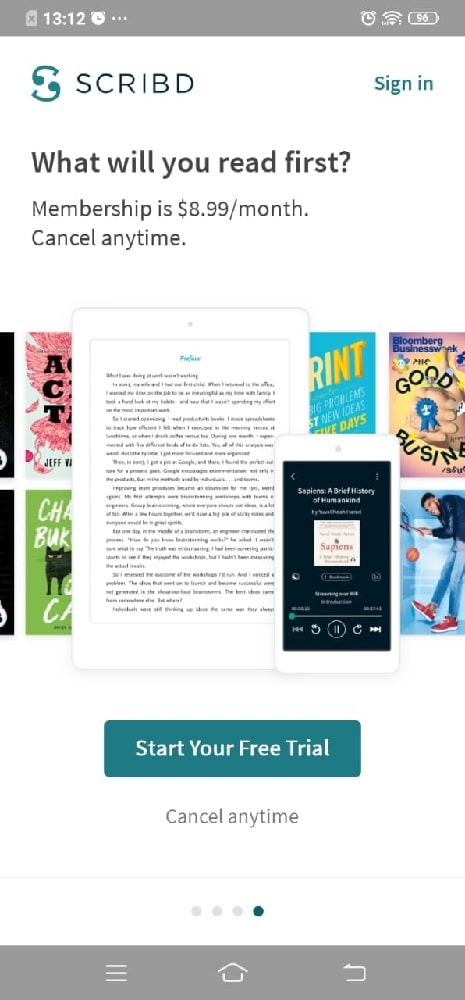 It has a vast number of titles in the audiobook section, including American Sniper, The Subtle Art Of Not Giving A Fuck, The Alchemist, The Exorcist, and a lot more to name. Scribd also comes with a membership plan of $8.99 per month, but you can opt for the one-month free trial.
In the free trial, you can also download the audiobooks to listen to them offline whenever you want. You can also find many audio books for kids on Scribd. You can cancel the subscription anytime without paying any extra charges.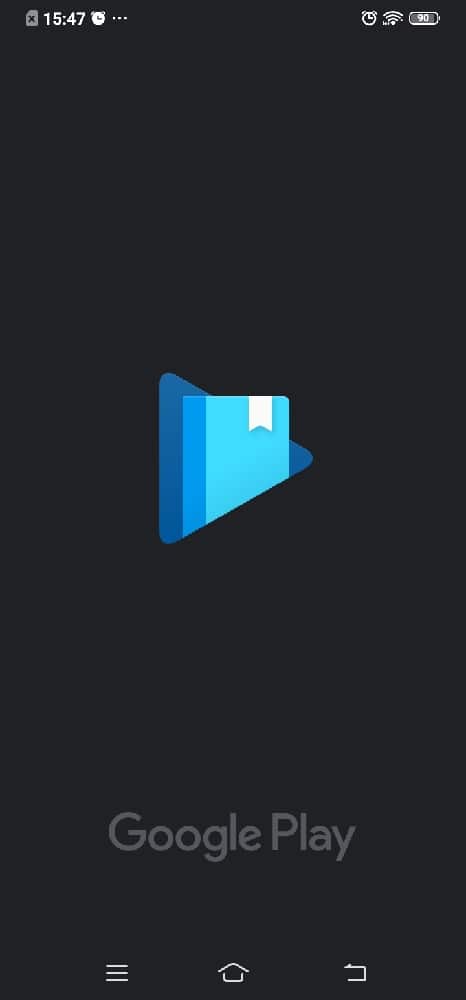 Google Play Books provides a number of free audiobooks and is one of the most downloaded audiobook apps with more than 1 billion downloads on the Google Play Store. Mostly because the app comes pre-loaded on many Android devices.
In Google Play Books, you don't have to buy a subscription to purchase or download an audiobook. There are different categories of books, including the paid ones and unpaid ones. You can just pick a book, pay the price for it, if there is any, and start listening.
You can also listen to the sample before buying an audiobook on Google Play Books. Some of the best titles available for free are Love Like This, Cinderella, Murder in the Manor, etc.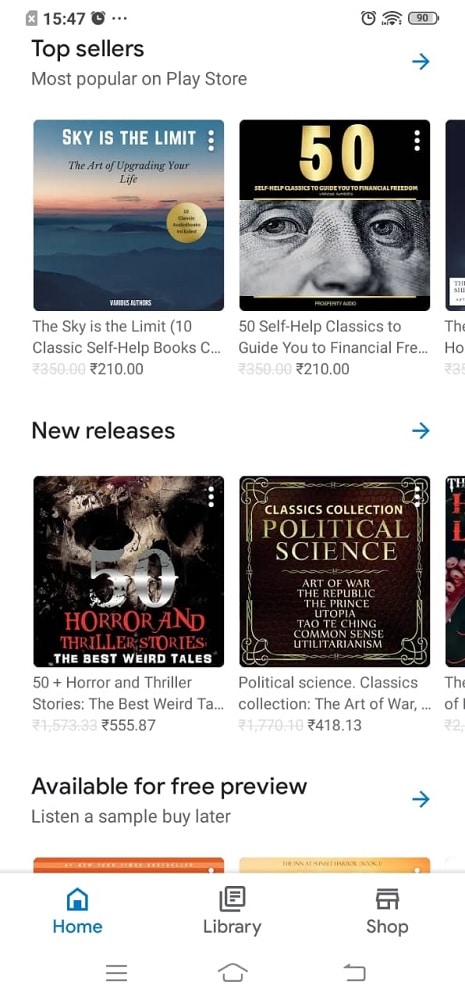 As far as paid audiobooks are concerned, you will get books ranging from $2.99 to $44.99. However, this could be a downside as some of the paid titles might be available on other rival apps for free or at reduced prices; it might make the users jump the ship.
For example, The Subtle Art of Not Giving A Fuck audiobook version is available for $14.95 on Google Play Books. On the other hand, the same book is available on Scribd for free under the free trial period and the funny part is that the audiobook here is costlier than Scribd's monthly subscription which is $8.95.
Audiobooks.com provides you a lot of options to choose from a long list and the narration speed can also be adjusted on the app. The app also features a customizable sleep timer that automatically stops the narration after the selected time interval. You can also add a bookmark in the audiobook in case you forget the point you left it.
The time intervals available on the app range between 15 minutes to 90 minutes. So, you can choose the best audiobook for your bedtime and doze off peacefully without worrying about pausing it.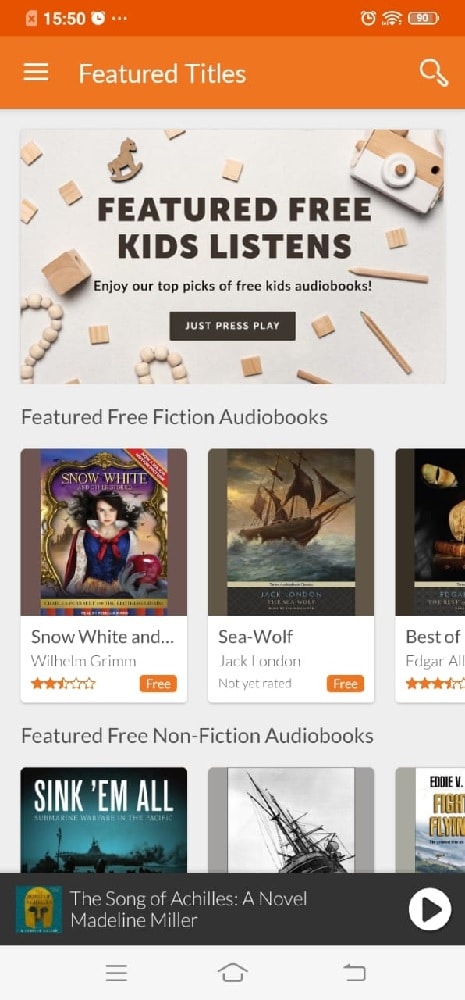 The free audiobooks section includes titles like Sea-Wolf, Star Trek, Doctor Who, Black Thursday, Art of War, and many more. Audiobooks.com also comes with a 30-day trial period in which all the paid audiobooks of the platform are available for free.
After the trial, you have to pay an amount of $14.95 per month via PayPal or credit card. The app has a number of audio books for kids, including Snow White, Peter Pan, and a lot more titles.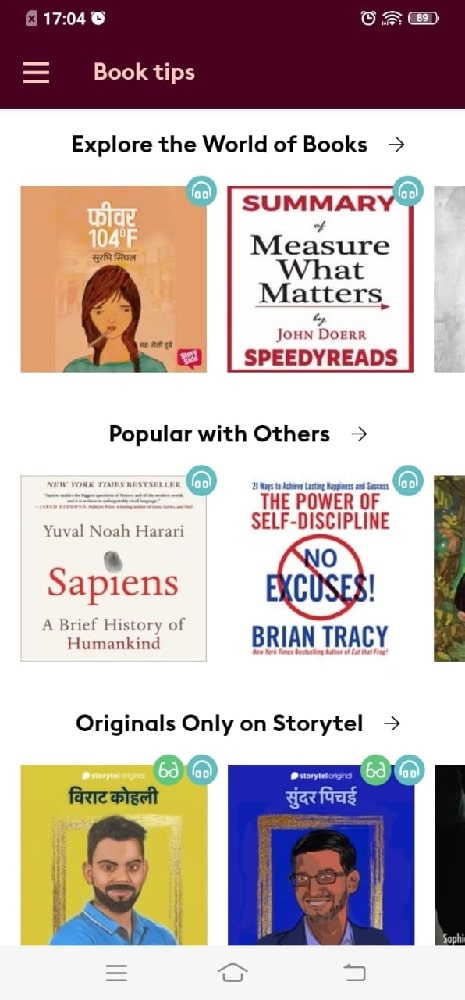 One of the best audiobook apps available on the Google Play Store, Storytel, has a very interactive and user-friendly interface. A great thing about Storytel is that it comes with a dedicated kids' mode. You can activate the kids' mode by opening the settings tab and setting up a pin.
The categories consist of various audiobooks for kids, such as magical adventures, science books, mythology, nursery rhymes, bedtime stories, and a few more. You can always deactivate the kids' mode by visiting the settings tab and entering the pin.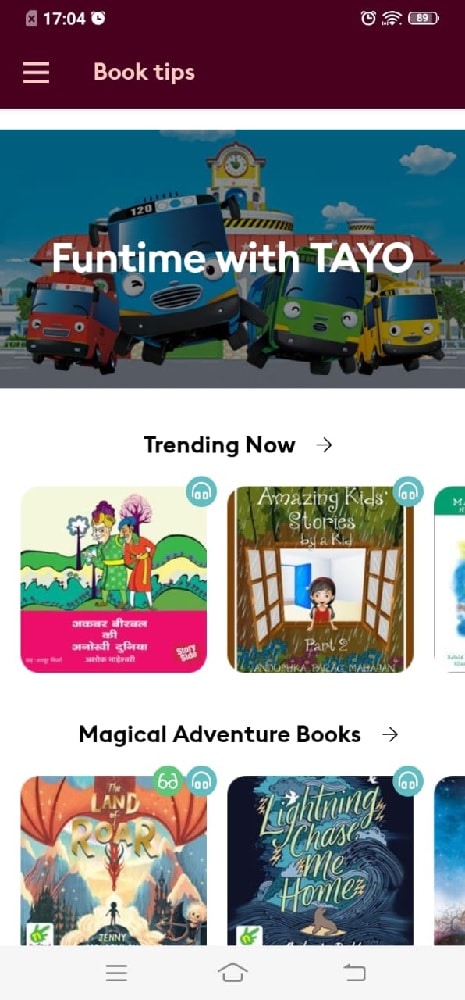 You can also select books in different languages, including Hindi, English, Marathi, Tamil, Kannada, Malayalam, and Telugu.
The subscription of the app is available for a price of $9.99. However, you can get it for free under the 14-days trial period provided by Storytel.
So, did you find the best audiobook app?
You can choose an Android audiobook app from the list above based on your requirements. All of them come with a lot of amazing and one-of-a-kind features like the sleep timer, great audio quality, low-cost subscription, bookmarking, and long free trial periods.
These apps have been tested and issues with them have been mentioned above, if there are any. However, if you want more you can also go for other available options on the Google Play Store like Kobo. We'll continue to update this list of Android audiobook apps, so don't forget to check back in a while.