The Apple Cyber Monday deals as the Apple Shopping Event have begun and the company is offering gift cards with eligible products. Apple's Cyber Monday deals can get you gift cards between $25 and $200 across Apple devices and accessories.
Buying from Apple Shopping Event lets you customize your devices with free engraving, which is a good incentive. Also, if you're into the Apple ecosystem, a gift card will come in handy. However, there are some gadgets that are clearly in a clearance sale and you should rather skip these Apple Cyber Monday Deals.
What NOT To Buy In Apple Cyber Monday Sale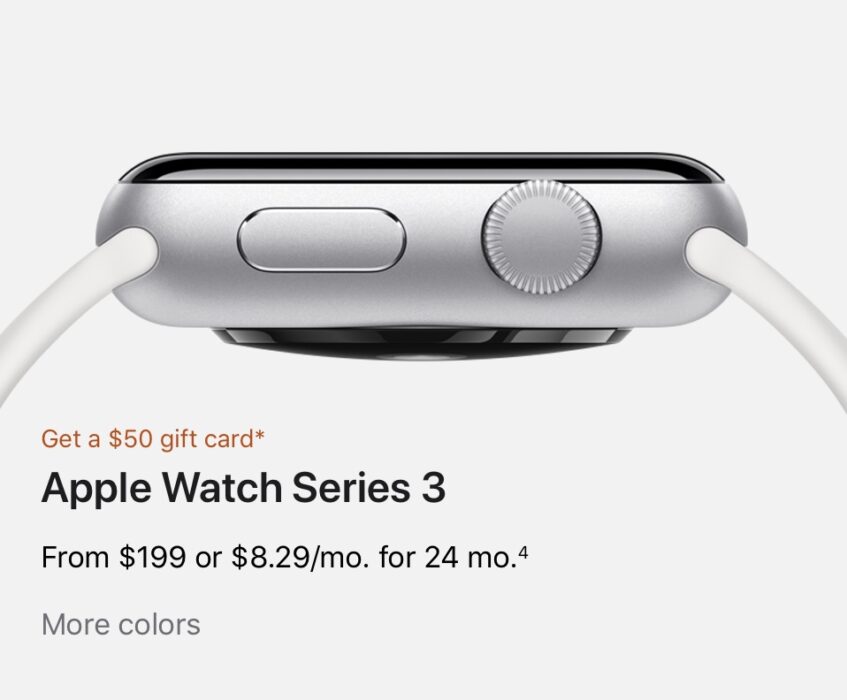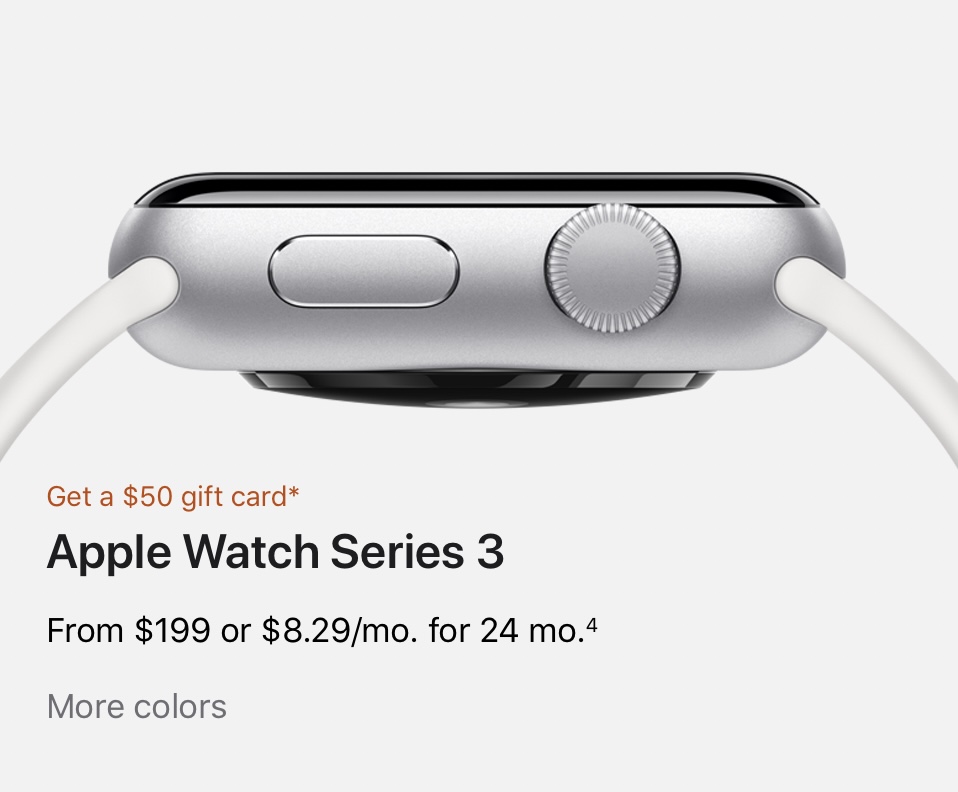 While Apple is offering gift cards across devices, these are some of the deals you should avoid in Apple Cyber Monday —
iMac 27 – It gets a $200 gift card but Apple is phasing out Intel Macs for Apple silicon and they're already missing out on new features from macOS Monterey.
Apple Watch Series 3 – You get a $50 gift card with the Series 3 but we can't recommend it. Instead, you can buy the newer Apple Watch SE
AirPods 2nd gen – Because 3rd gen AirPods have better battery and sound performance.
iPhone SE – Unless you're on a supertight budget, don't buy the iPhone 13 as it is outdated in terms of performance as well as hardware.
Best Apple Cyber Monday Deals
iPhone Deals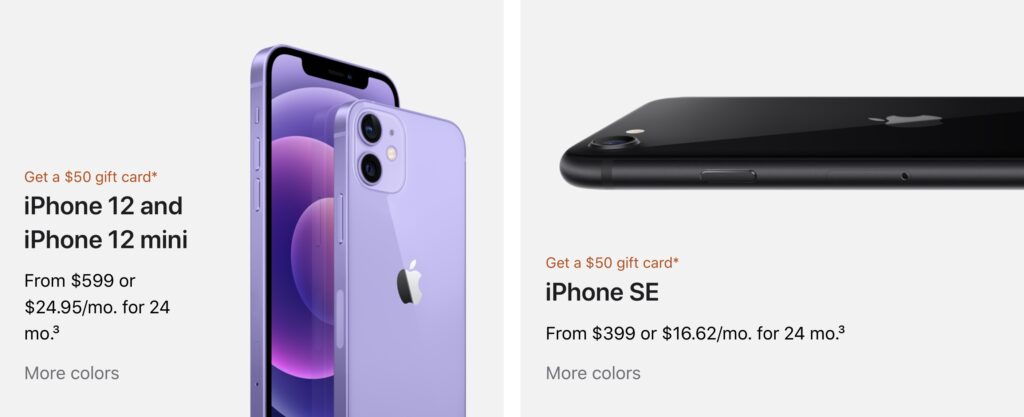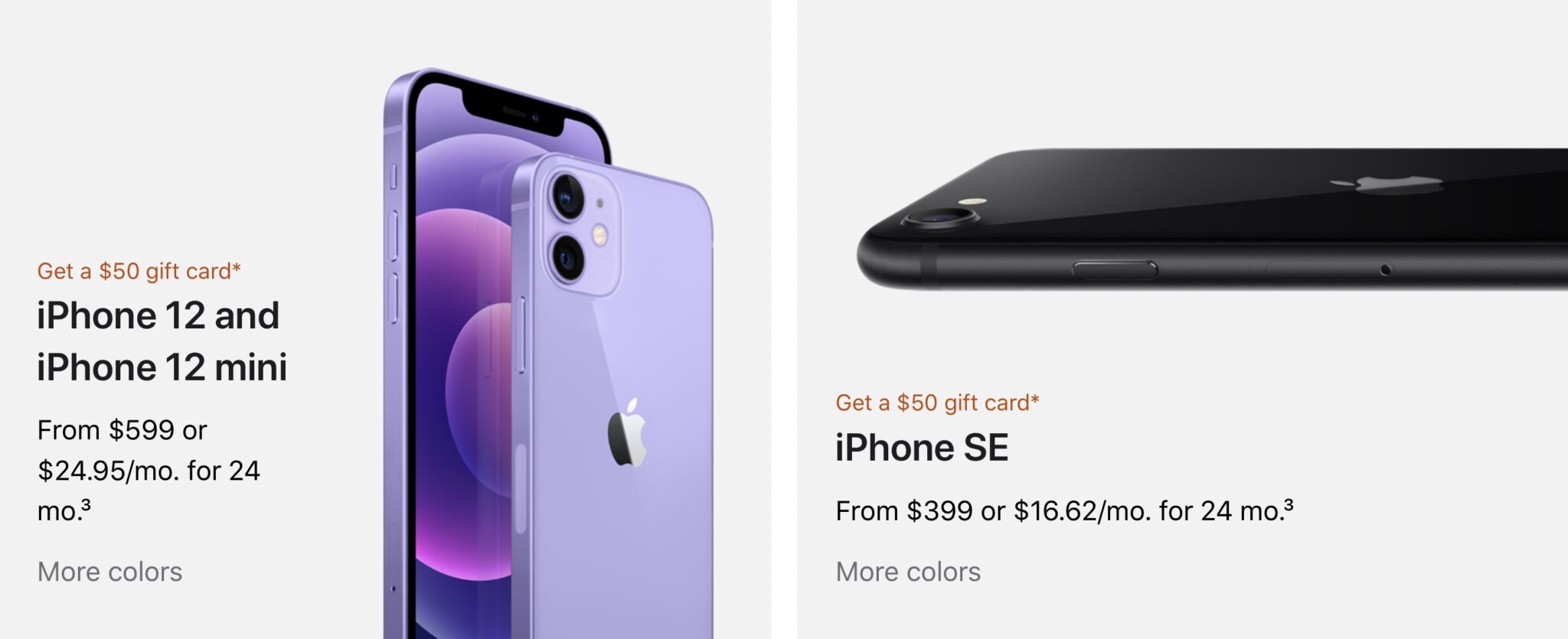 You'll get a $50 gift card if you buy an iPhone 12, iPhone 12 Mini, and iPhone SE (2nd gen) in the iPhone Deal on Cyber Monday. All three are good phones and we've also made an iPhone 12 and iPhone 13 comparison for you to make an informed choice.
Cyber Monday iPad Deals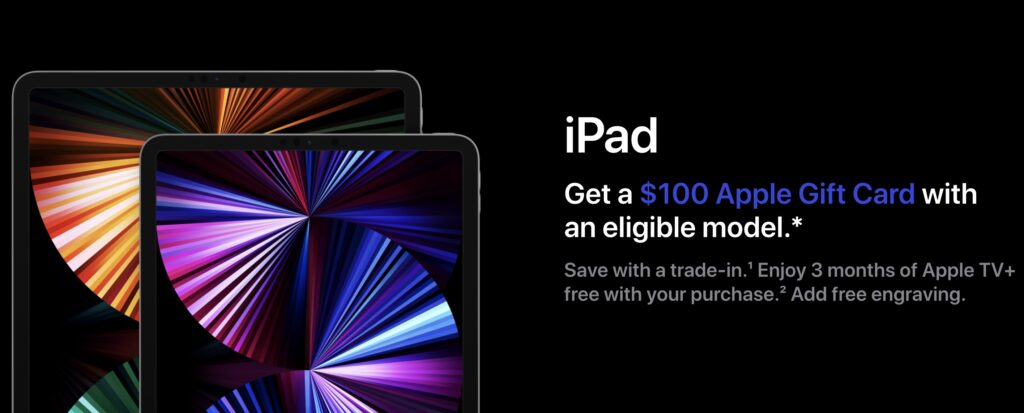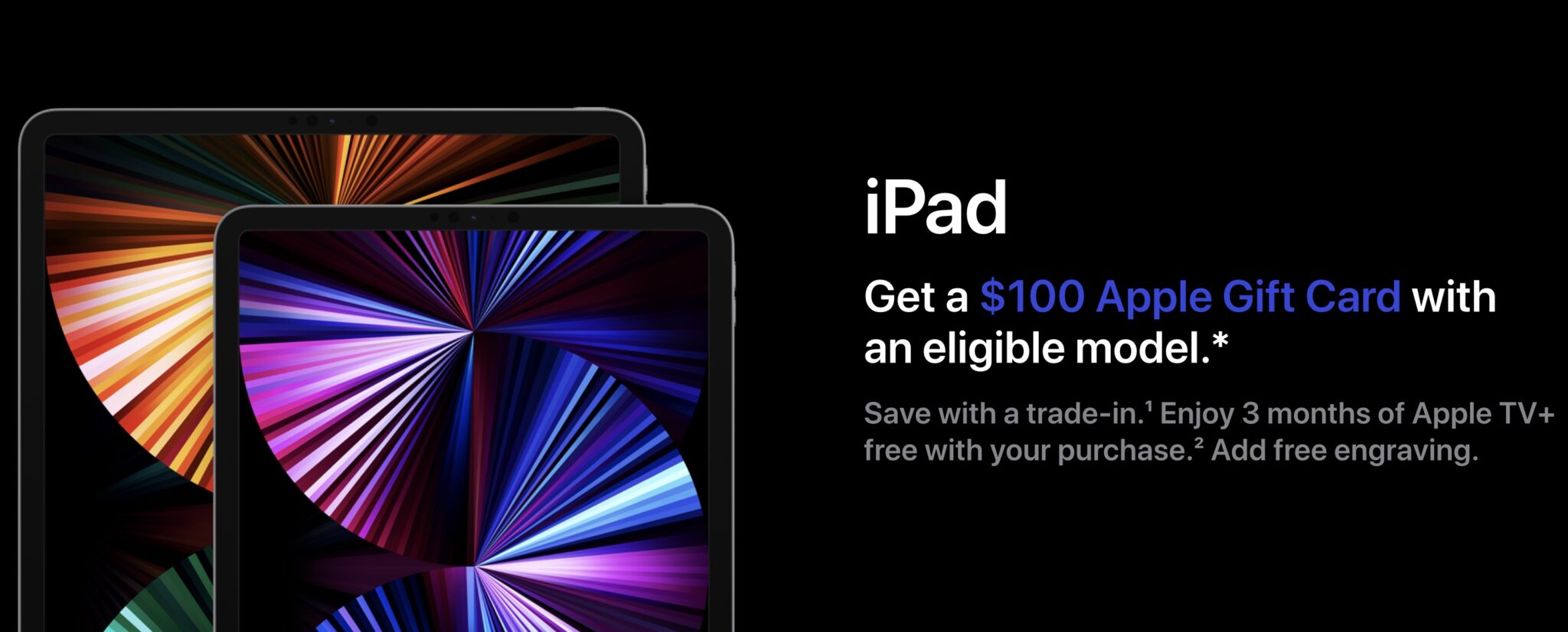 Apple's iPad Cyber Monday deals offer a $100 gift card on iPad Pro models. You can buy the iPad Pro 13 or the iPad Pro 11, customize its specifications, and get a $100 gift card for future purchases.
These are the latest M1 iPad Pros which share their chips with the MacBooks. So if you want to try and replace your MacBook with an iPad, this is a good deal.
You can also separately purchase the Magic Keyboard and Apple Pencil and get a $50 and $25 gift card respectively.
AirPods On Cyber Monday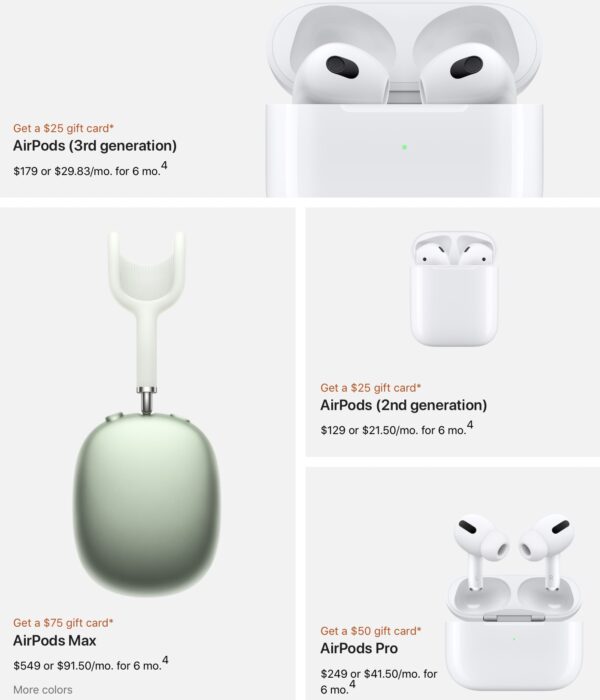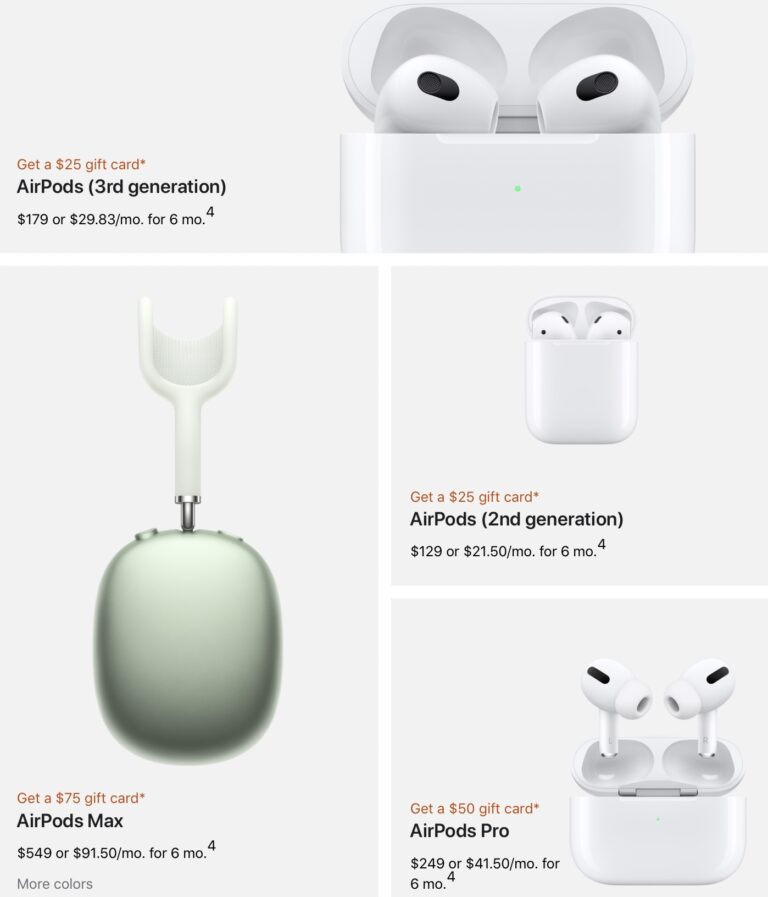 You can also score a gift card of up to $75 on AirPods deals this Cyber Monday. Here are the gift card prices for the entire AirPods lineup —
Apple AirPods Max – $75 gift card
AirPods Pro – $50 gift card
Latest AirPods 3rd Gen – $25 gift card
AirPods 2nd Gen – $25 gift card
Cyber Monday MacBook Deals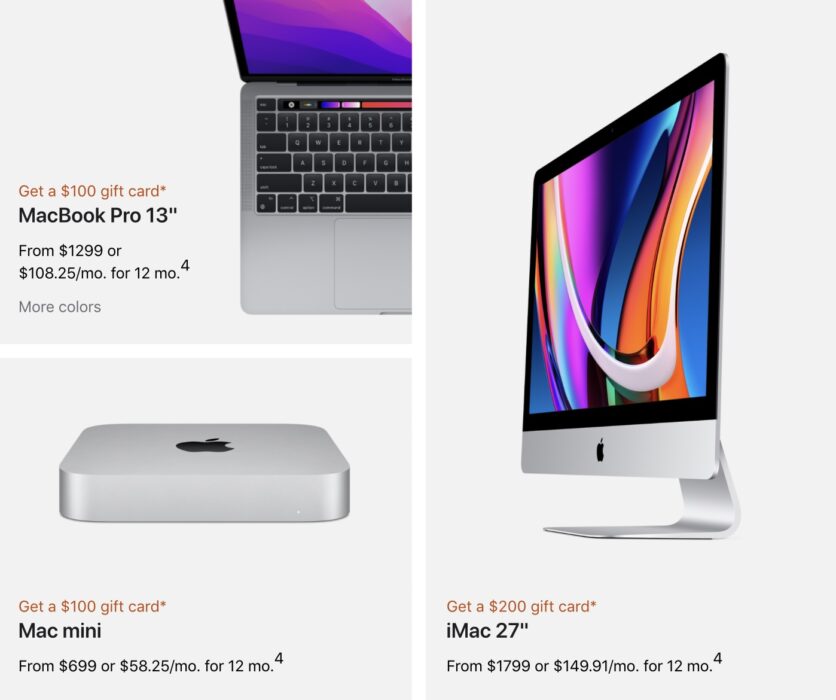 This is a mixed bag because the latest MacBook Pro 14 and 16 are not part of the Cyber Monday MacBook deal.
However, you'll get a $100 gift card if you buy an M1 MacBook Pro, MacBook Air, or an M1 Mac Mini. If you buy the 27-inch iMac, you'll get a $200 gift card but it is an Intel Mac and we don't recommend you get an Intel Mac now.
To get a better idea about working on an Intel Mac with the latest macOS Monterey, you can read the linked article. If you're confused about which Mac to go for, you can check out our Mac buying guide to help you make an informed choice.
Apple TV Deals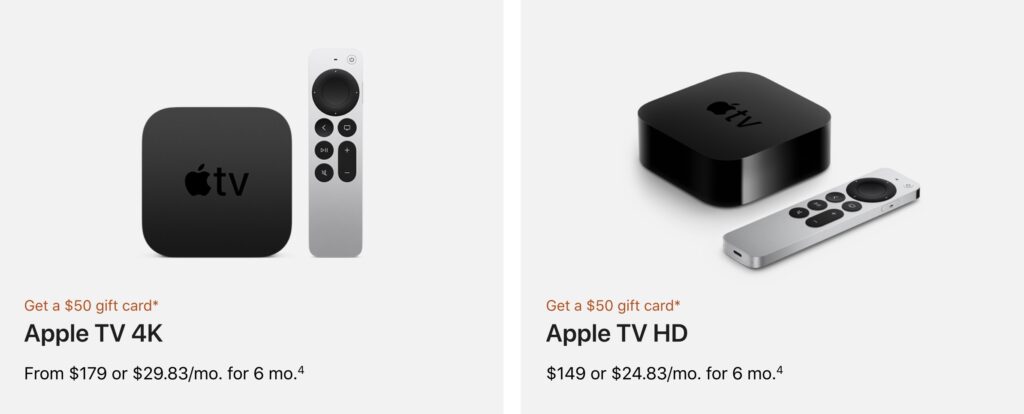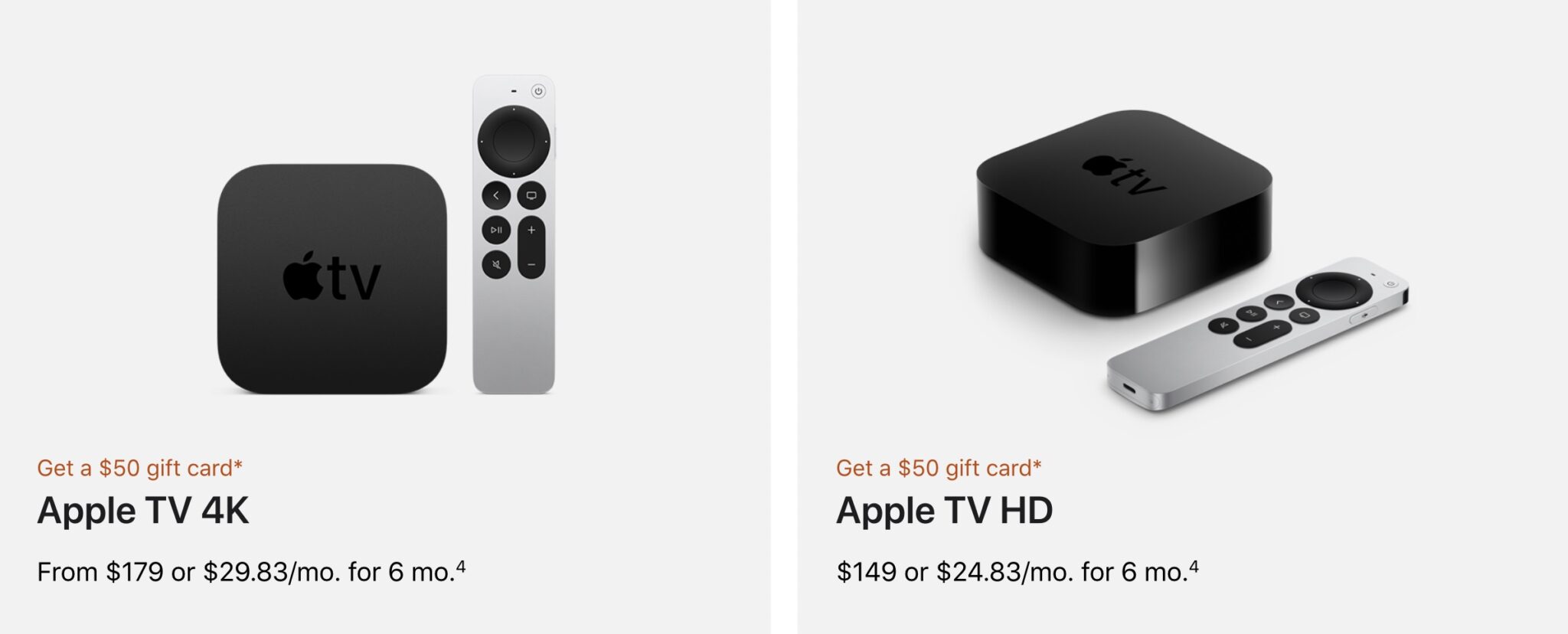 Apple TV is also offering a $50 gift card on Apple TV 4K and Apple TV HD. Apple's Cyber Monday Deals on these two make for a good offer if you want to upgrade to Apple TV.
You'll also get a $50 gift card on purchasing an Apple TV subscription.
Apple Watch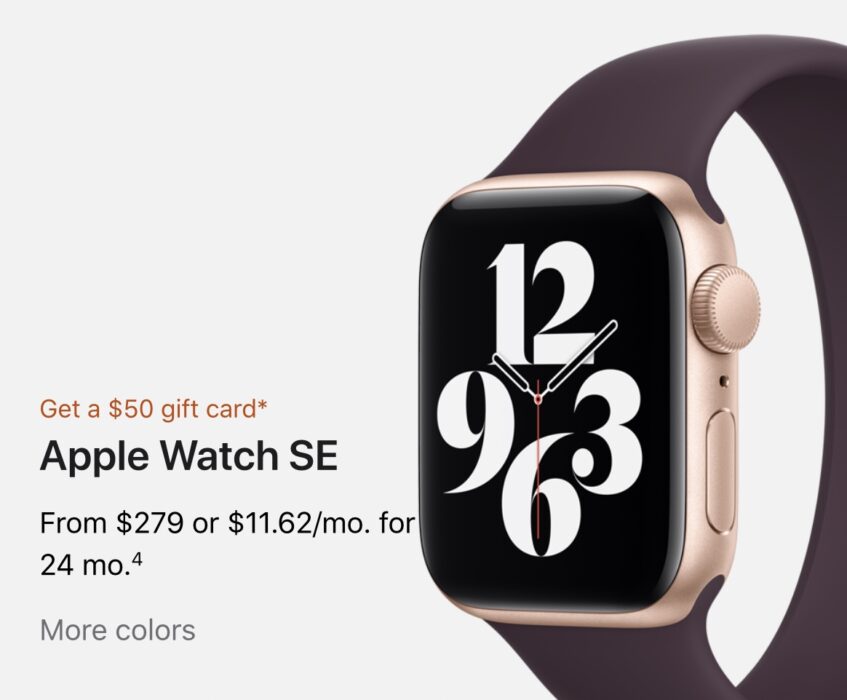 The Apple Watch SE is up for grabs in the Apple Cyber Monday Deals with a $50 gift card. It's a good buy if you're willing to miss out on the blood oxygen sensor and the U1 chip.
Accessories On Apple Cyber Monday Deals
You can also buy a range of accessories and Beats headphones on the Apple Cyber Monday deals and get gift cards worth $25 and $50.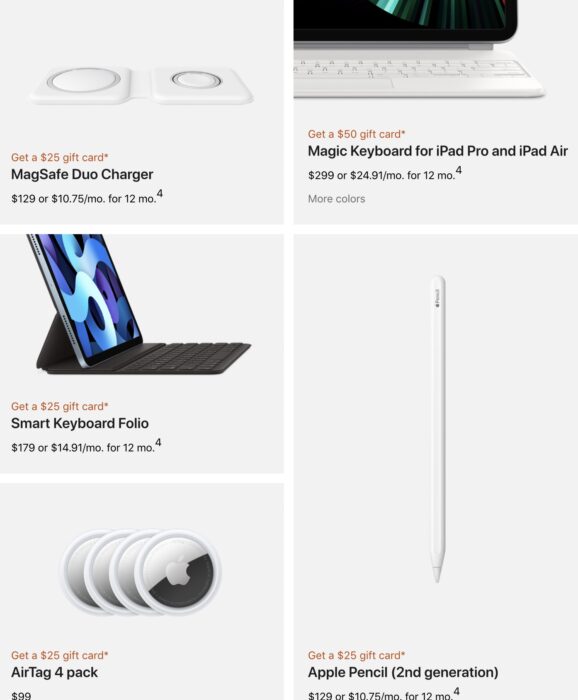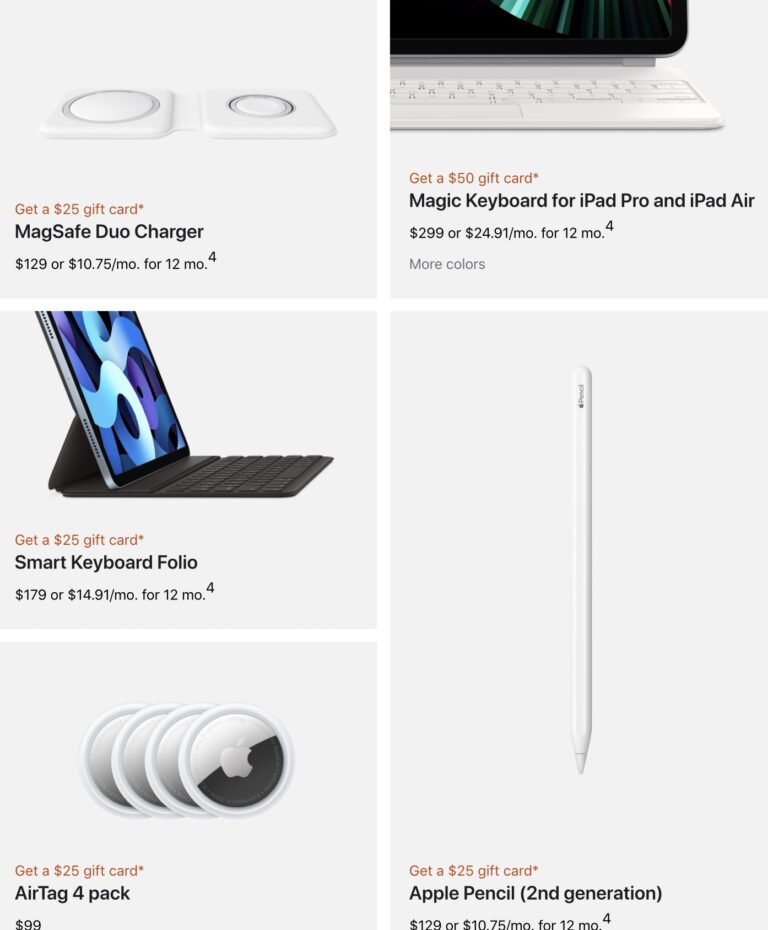 These are the accessories you can buy and the gift card amounts you get —
MagSafe Duo Charger – $25 gift card
Magic Keyboard for iPad Pro and iPad Air – $50 gift card
Smart Keyboard Folio – $25 gift card
Pack for 4 AirTags – $25 gift card
Apple Pencil (2nd gen) – $25 gift card
Apple Product 2021 On Cyber Monday
Apple's Cyber Monday Deals mostly comprise of 2021 Apple products. Latest products like the top-of-the-line MacBook Pro 14 and 16, and Watch Series 7 are missing from the deals.
In the 2021 products too, you don't get the M1 iMac or the latest iPad Air; we think it is a big miss. However, buying from the Apple Shopping Event on the Apple Store lets you choose device specifications and offers free engraving, which are good incentives to buy from the online store.