Smartphones are improving raw performance and are getting better specifications every year. Thanks to this upward slope, our phones can now do many power-intensive tasks such as running online multiplayer games and even Augmented Reality titles. Keeping in line with the heavy gaming output, we've compiled a list of the best Android game boosters.
Ever since the smartphone became powerful enough to support GPU-intensive tasks, more and more people have started using it as a primary gaming device. So, it won't be wrong to say that we are in the era of the smartphone revolution in gaming.
Although many smartphones today come with a built-in game booster feature, these pre-installed enhancements generally don't have enough customization or advanced options. So when your phone is struggling to run a particular game well, giving third-party Android game boosters available on the Play Store a shot is a natural move.
The game booster app helps you squeeze out the best possible gaming performance from your phone's hardware. This means getting a framerate boost for light and heavy games alike. These booster apps optimize games by identifying and suspending unnecessary background tasks running on your phone.
Best Android Game Boosters On The Play Store
1. Game Booster – Speed Up & Live Stream Games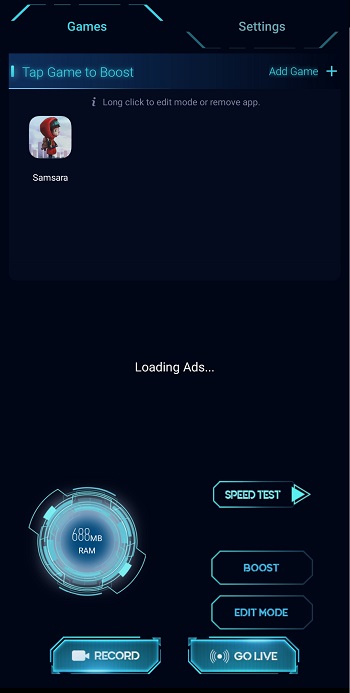 This app offers essential optimization features such as a one-tap performance boost, pre-defined & custom profiles, and graphics customization. However, one aspect that distinguishes it from other game boosters is the native support for streaming.
It gives you the option to start streaming your games to YouTube and Twitch seamlessly. You will also get a built-in method for capturing gameplay clips. It also includes additional features such as a touch lock, crosshair, and eye protection.
Highlights:
Most of the standard optimization features are available.
Built-in setup for Twitch streaming and gameplay capture (along with custom video quality preset).
Option to change performance and graphical settings, ranging from FPS limit to rendering quality.
Price: Free
2. Gaming Mode – Game Booster PRO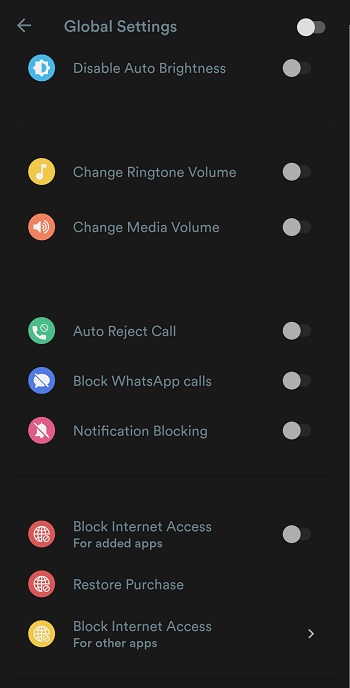 When it comes to boosting your gaming performance, it offers you global and local optimization settings. This allows you to either set general optimal parameters for each game or have a dedicated boost configuration.
The parameters above are Auto Reject Call, Notification Blocking, Block WhatsApp Calls, Block Internet Access (either for all or selective), etc. These features give you better control over how your phone works when you're gaming. The paid version gives you the ability to auto-apply your custom configuration whenever you launch a particular game (it works when launching from the home screen and app drawer as well).
Highlights:
Global and local boost configuration for games.
Enhanced control with options like call blocking, notification blocking, Wi-Fi toggle, and more.
Price: Free | Paid subscription starts at ₹1,800/month
3. Game Booster | Lag Fix & GFX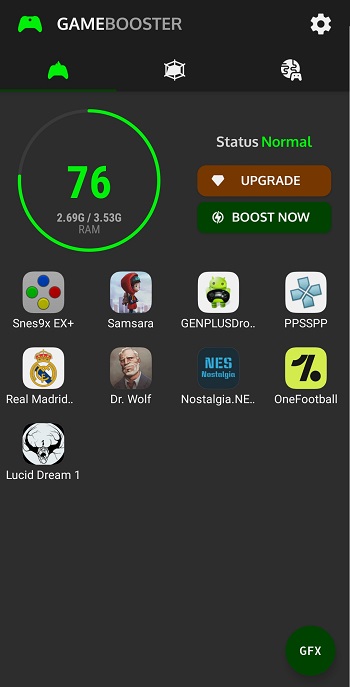 A significant facet of this game booster is its customization. The crosshair, FPS, and ping monitors can be tweaked to appear in custom colors, styles, or sizes. It detects your game via an automatic scan and helps you change advanced performance settings for them. These options include changing resolution, unlocking FPS, changing lighting and shadow effects, among other things.
Plus, there's an experimental "Anti-ping mode" to optimize your online gaming sessions. You can unlock it by either watching an ad or buying the premium version.
Highlights:
A range of advanced performance settings available
Many customization options for crosshair, FPS monitor, and ping monitors
Unique anti-ping features
Price: Free | Premium subscription starts at ₹150/month
4. Game Booster: Game Launcher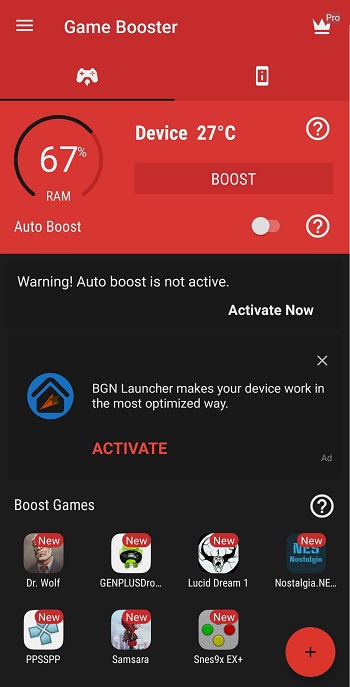 It provides you with a simple one-tap optimization for your game that you can trigger manually or enable the "Auto Boost" option. Furthermore, we monitor RAM usage and temperature to keep your gaming in check.
A convenient thing about this app is that it automatically detects the games on your phone and adds them to its library. However, crosshair and FPS monitor features are only available with the Pro subscription, which is also ad-free.
Highlights:
Basic one-tap boost function
FPS, RAM usage and temperature monitoring
Auto-detection of installed games.
Price: Free | Paid subscription starts at ₹169.99/month
5. Game Booster — One Tap Advanced Speed Booster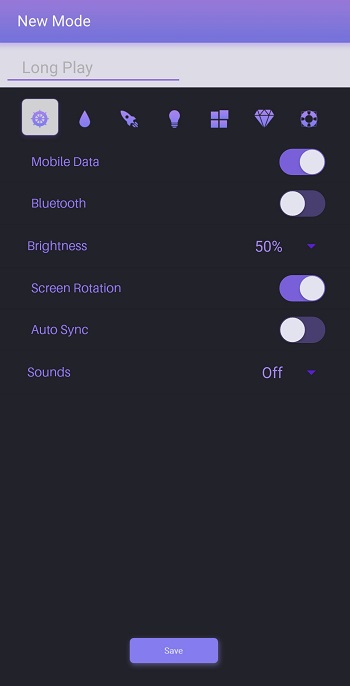 If you want a one-tap performance boost in your game, look no further than this app. A big advantage that comes with it is the option to choose among multiple "play modes" or user profiles. This allows you to optimize your games according to their particular nature. For instance, if it's an offline game, you can assign the "Offline Mode" to it, which will turn off network features to improve your gaming experience.
It also gives you the option to tweak the graphical features. You can experiment with settings such as texture quality, anti-aliasing, and more to influence gameplay performance as per your needs. Users on budget phones can enable HDR graphics to get better visuals without sacrificing framerate.
Highlights:
Custom gaming profiles aka play modes that can be assigned to specific games.
Customization of various graphic settings including resolution, shaders, shadows, anti-aliasing, etc.
A variety of color filters to personalize a game's color tone.
Price: Free
6. Game Booster Power GFX Lag Fix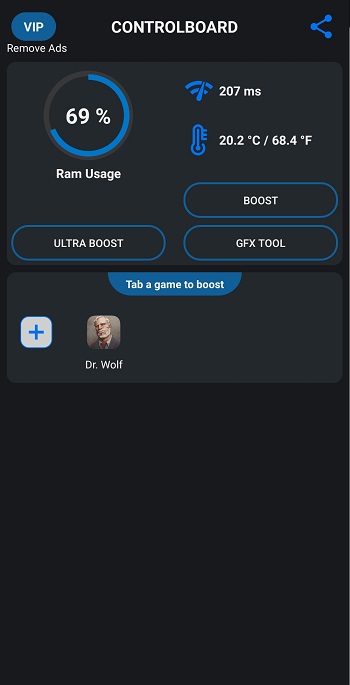 This app optimizes your gameplay using its Boost and Ultra Boost features. There are also RAM usage, temperature, and ping monitors for better insight into your phone's condition.
In terms of advanced settings, you can tinker with the resolution, FPS, and rendering quality meters. The premium ad-free version includes auto-boost, "network listener," and custom boost settings.
Highlights:
Choice between Boost and Ultra Boost optimization
Option to change resolution, FPS cap, and graphics quality
RAM usage, ping, and temperature monitoring
Price: Free | Premium version available for ₹35
7. Game Booster 4x Faster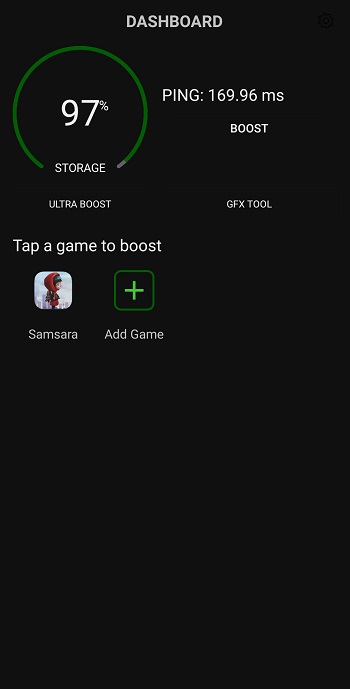 It is a straightforward and simple Android game booster that provides essential features without any fluff. This app optimizes games to run smoother on your device and allows you to change options such as resolution and crosshair.
You can monitor your storage and ping via the app — however, monitoring ping isn't one of its strong suits. Anyway, it also comes with an advanced optimization mode called "Ultra Boost," which you can toggle on for squeezing the best performance out of your device.
Highlights:
Two different optimization modes: Boost and Ultra Boost.
Price: Free
So, these are the best Android game boosters that you can download from the Play Store right away. Do you have any other apps to add to this list? Shout out in the comments below.
FAQs
1. How can I play games smoothly on Android?
You can get a better gaming experience by manually suspending extra background services and tweaking the game settings or using a game booster to automate the same.
2. Do game booster apps work?
Yes, they do. Game booster apps release your phone's resources from unnecessary background apps and use the same to run games smoother.
3. Is game booster good for gaming?
If you have a high-end phone, game booster apps might make an unnoticeable difference to performance. However, these apps can be a real game-changer for low-end phones and truly optimize the gaming experience.