One thing that has become less and less common in our households is a calendar that hangs in every room. We carry a pocket calendar in our smartphones all the time, and it can do so much more than just display the dates. Apps such as clocks and calendars were among the first apps to be developed owing to their necessity. All smartphones come with a default Android calendar app.
But, there is always a better alternative to default apps. We can find many calendar apps in the Play Store with advanced features that aid in keeping reminders or sharing events. Here, we have compiled a list of useful Android calendar apps that will surely help you to stay organized.
Best Android Calendar App List 2018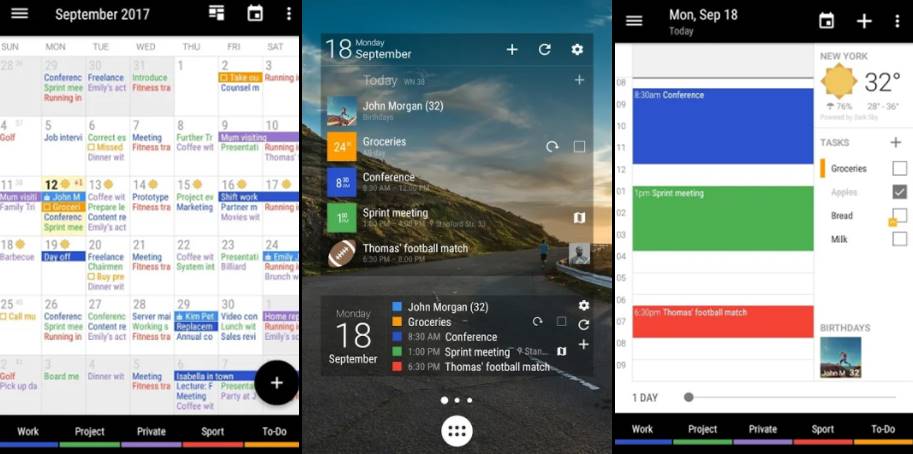 Business Calendar 2 is a popular task management and event planner app for Android. The app is user-friendly and users can navigate easily between month, week, or day ¾views. It has an integrated task organizer which synchronizes with Google tasks. You can use your voice to quickly add events and tasks. Also, there is calendar widget support. The widgets are transparent and add a cool look to your home screen.
The app offers an in-app purchase for an upgrade. Pro version includes a lot of useful features like integrated weather view, linking of contacts to appointments, 22 additional themes, and a lot more. Moreover, the app doesn't display any ads.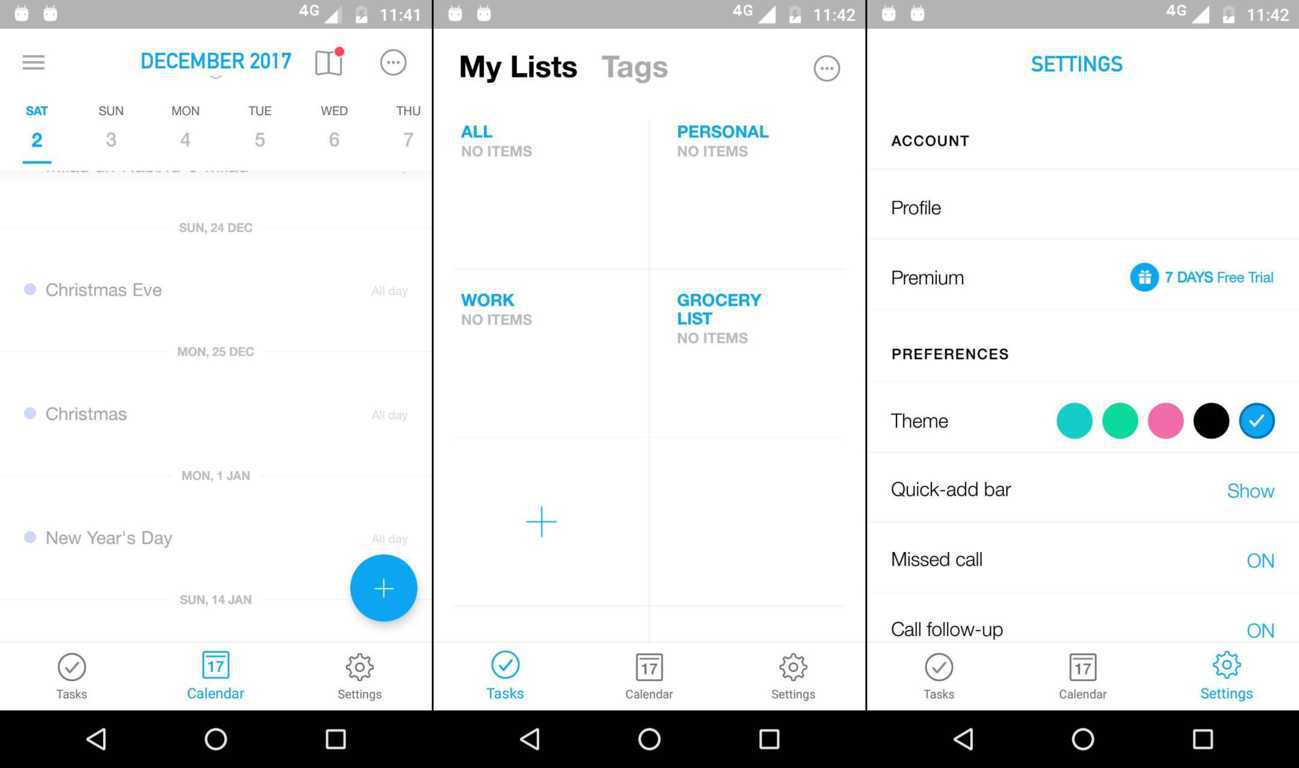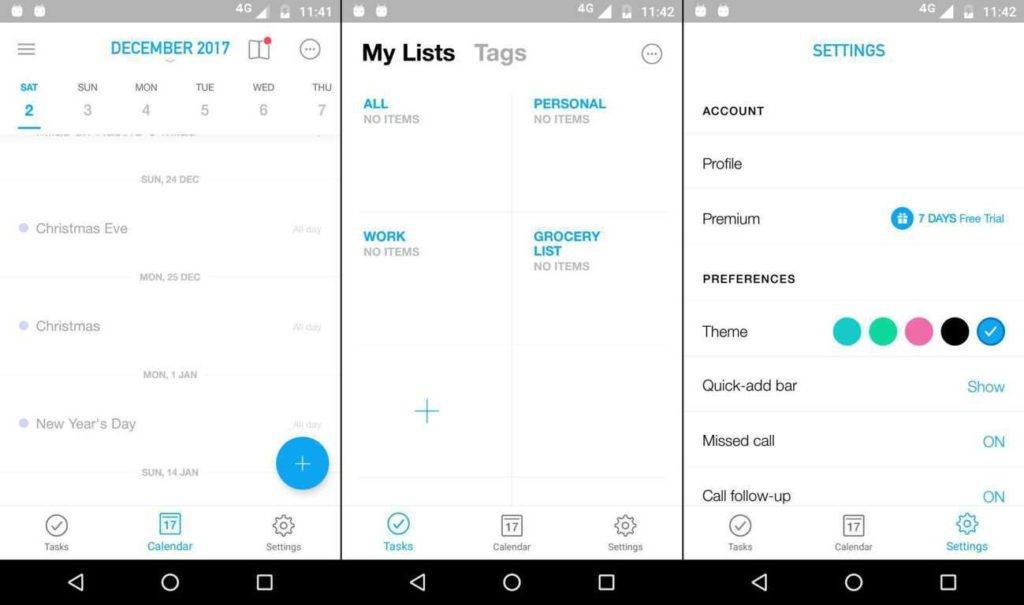 Any.do is an all in one app for keeping you organized. The app integrates an intuitive interface to make to-do list, reminders, calendar, and notes. Initially, you have to signup using email, Google or Facebook. You can easily view your tasks and reminders in day, week, or month view. Your tasks sync in real time with Google calendar, Facebook events, or any other calendar service. As a result, you never miss important events. Additionally, there is transparent widget support which displays the calendar in month view and you can add new tasks and events from the widget itself.
The app is free and provides in-app purchases.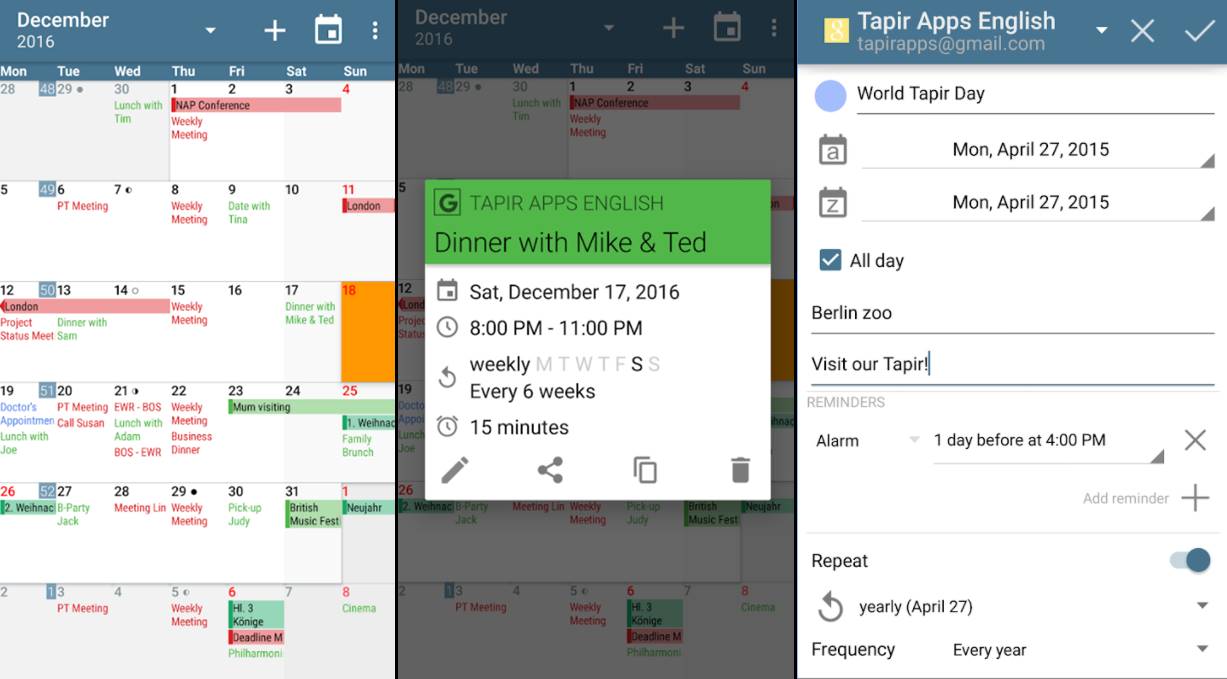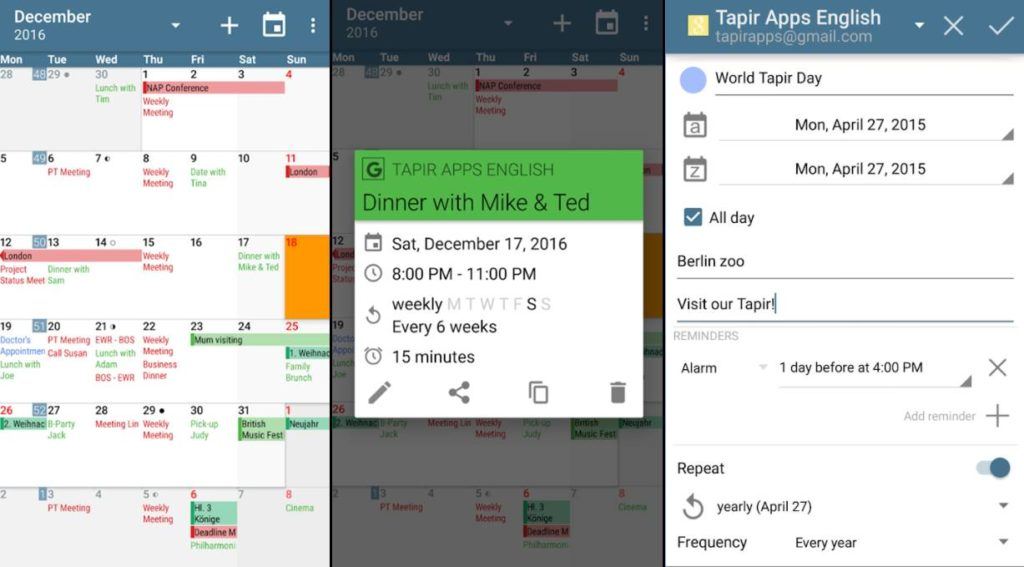 aCalendar provides an intuitive navigational interface with a smooth transition between day, week, and month view. It comes with fully customizable options and can automatically import all your data from Google Calendar and Facebook. It is quite flexible with the calendar view and allows you to choose what you want to see. Other features include reminders and tasks, themes, and unique stuff like moon phases and holidays.
It is free and contains ads. The premium upgrade is available as an in-app purchase and provides additional features like ad-removal, public holidays, etc.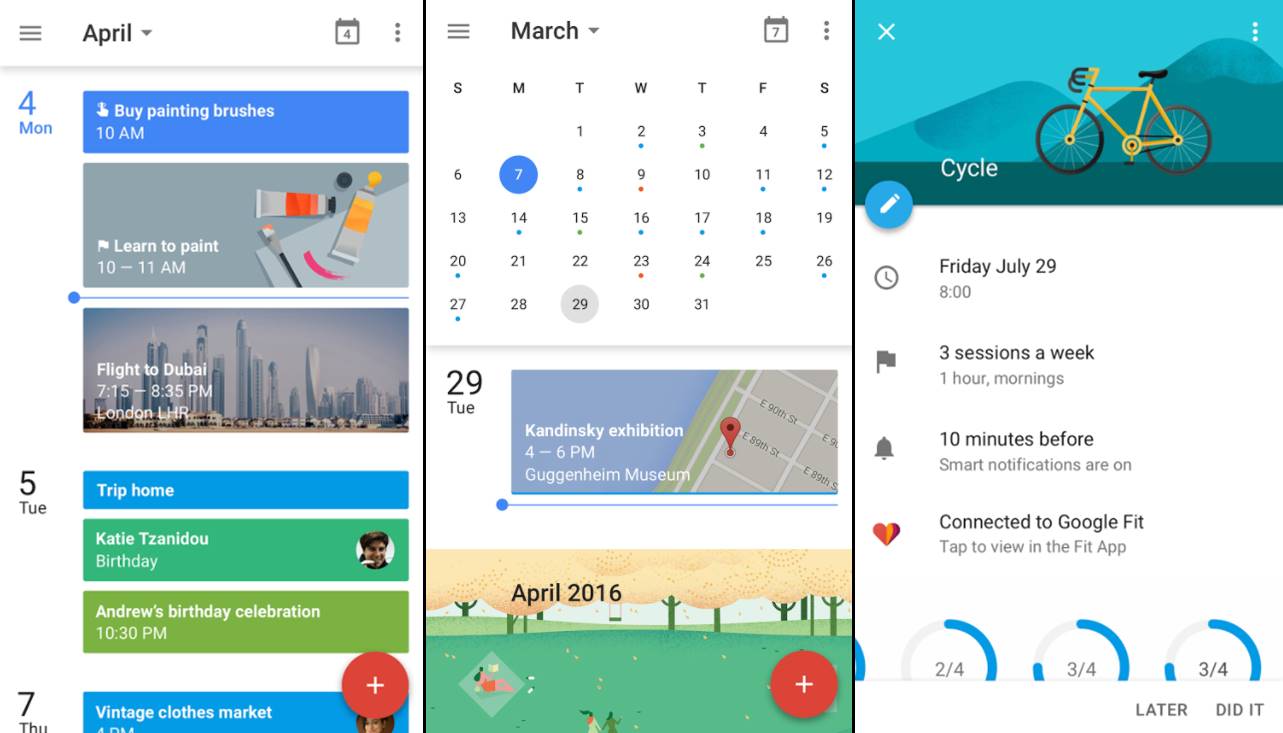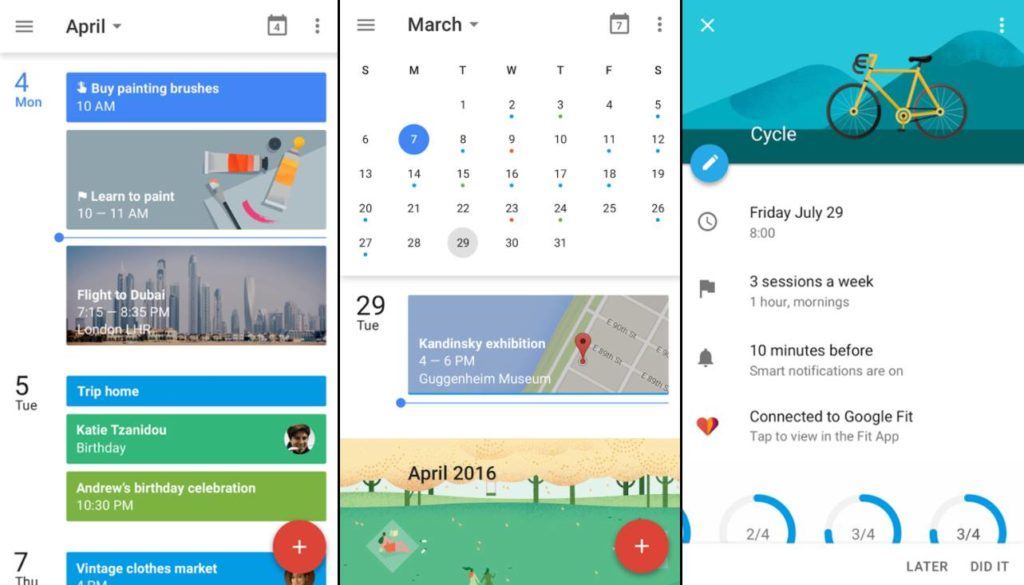 Google Calendar is a simple calendar app for Android developed by Google and available for both Android and iOS. It is available by default on all Android devices. You can create and edit events and also quickly switch between month, week, and day view. The app includes all the essential features and has a clean and bright interface. It integrates with Gmail and automatically adds events like flight, hotel, concert, and restaurant reservations to your calendar. Moreover, it allows you to enable or disable the visibility of special occasions like birthdays, add reminders and goals, etc.
It is free with no ads.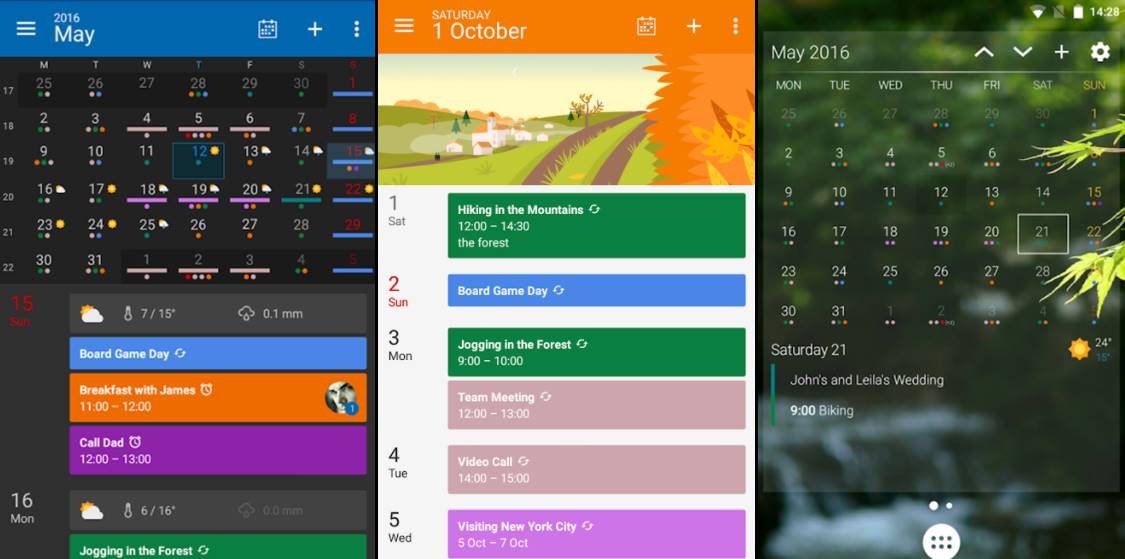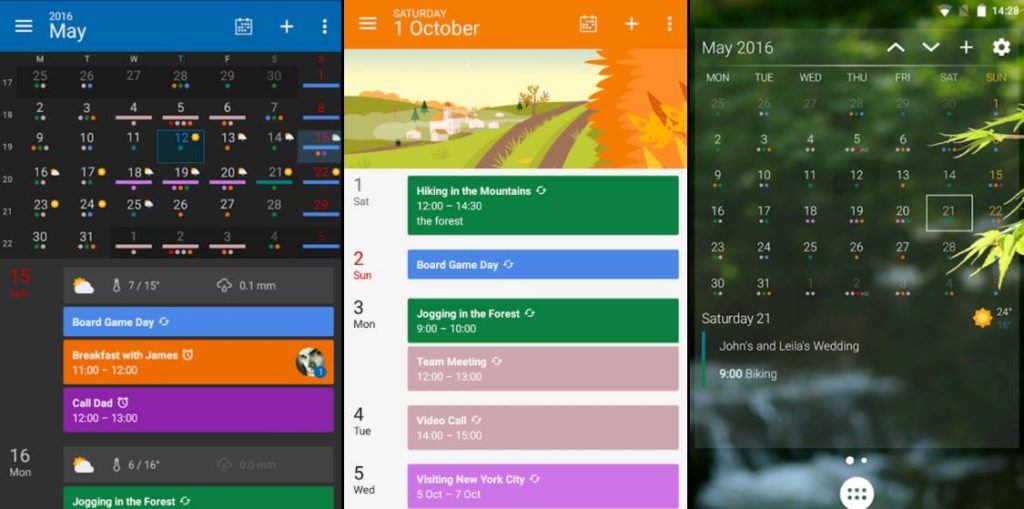 DigiCal Calendar is one of the best calendar apps for Android. It offers a clean design and multiple agenda views that can make your scheduling quick and easy. The app comes with seven different types of calendar views, nine different themes, and up to six various widgets. It provides automatic syncing with Google Calendar, Outlook, and Exchange. The app covers tons of add-ons such as sports calendar, TV schedules, etc. It has a built-in weather forecast, time zone, and location search.
DigiCal is free. It contains ads and in-app purchases.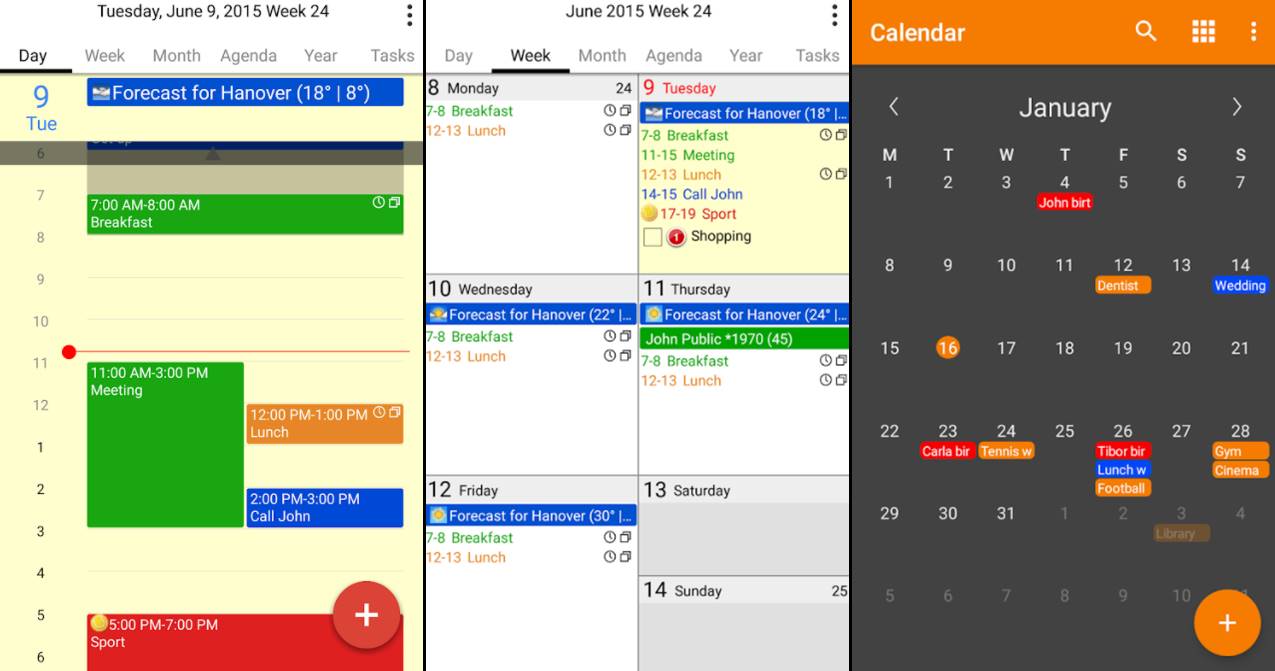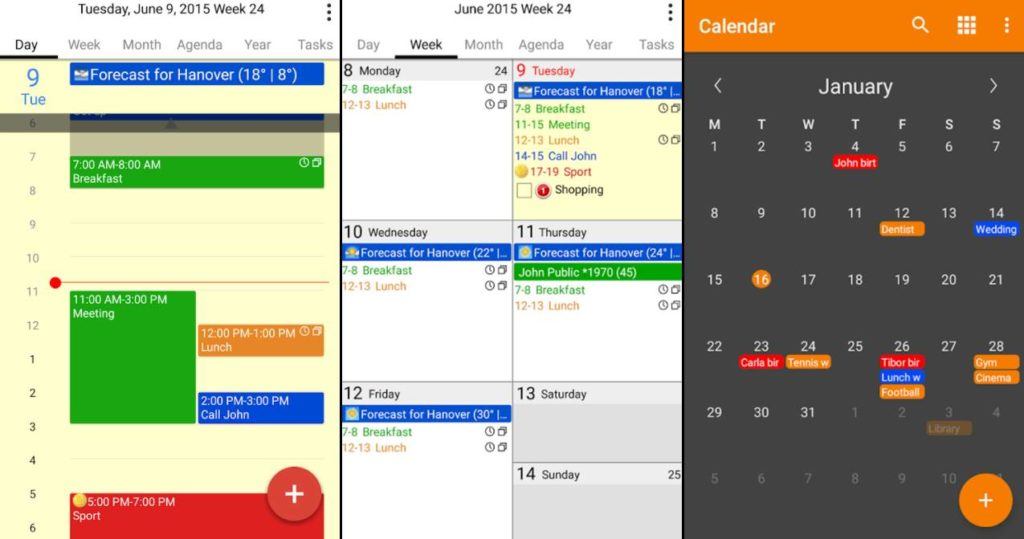 CalenGoo is another reliable Android calendar app that has been around for quite some time. The free version of the app is available for a trial period of 5 days. After that, you can opt for the paid version. It comes in direct sync with Google Calendar, and you can also sync it with other calendar systems such as Exchange, CalDAV, and iCloud. CalenGoo has five calendar views, a wide selection of calendar widgets, built-in Evernote sync, reminders, recurring events, etc. It even supports calendar sharing with other people and allows you to invite people to appointments.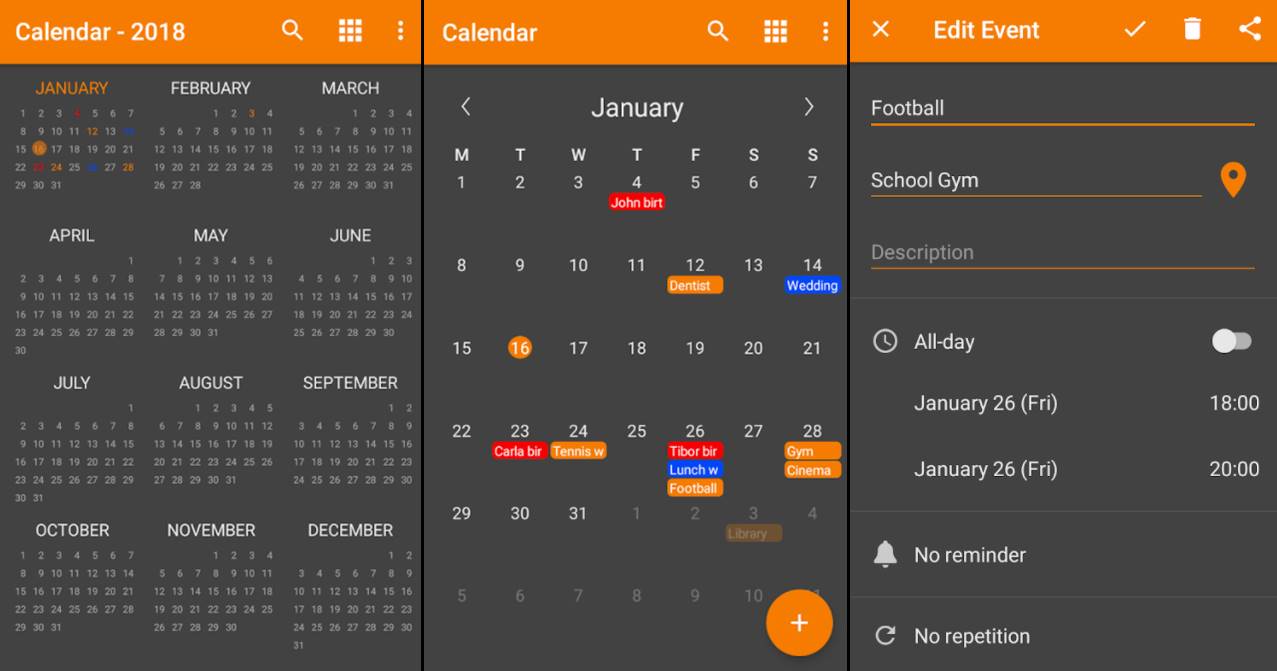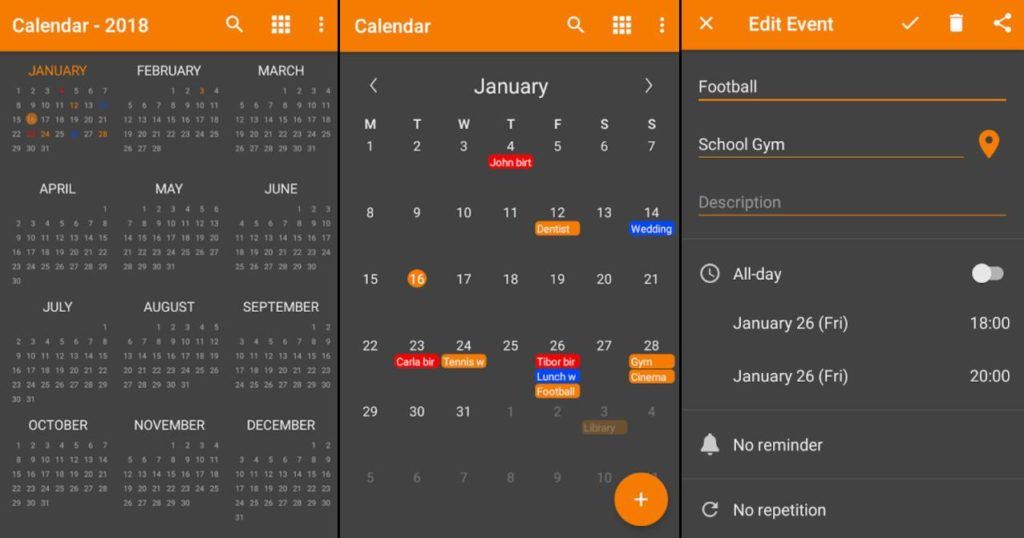 Simple Calendar is lightweight and one of the best Android calendar apps that is free with no ads or in-app purchases. It does not permit you to sync with other calendars like Google Calendar, but, has options for CalDAV synchronization. It is not highly-featured like most of the other calendar apps. The app is open source and provides customizable colors. You can create recurring events, set up reminders, and it contains a monthly view and four by four widgets. It only has the basic features. However, it can still be a reliable calendar option.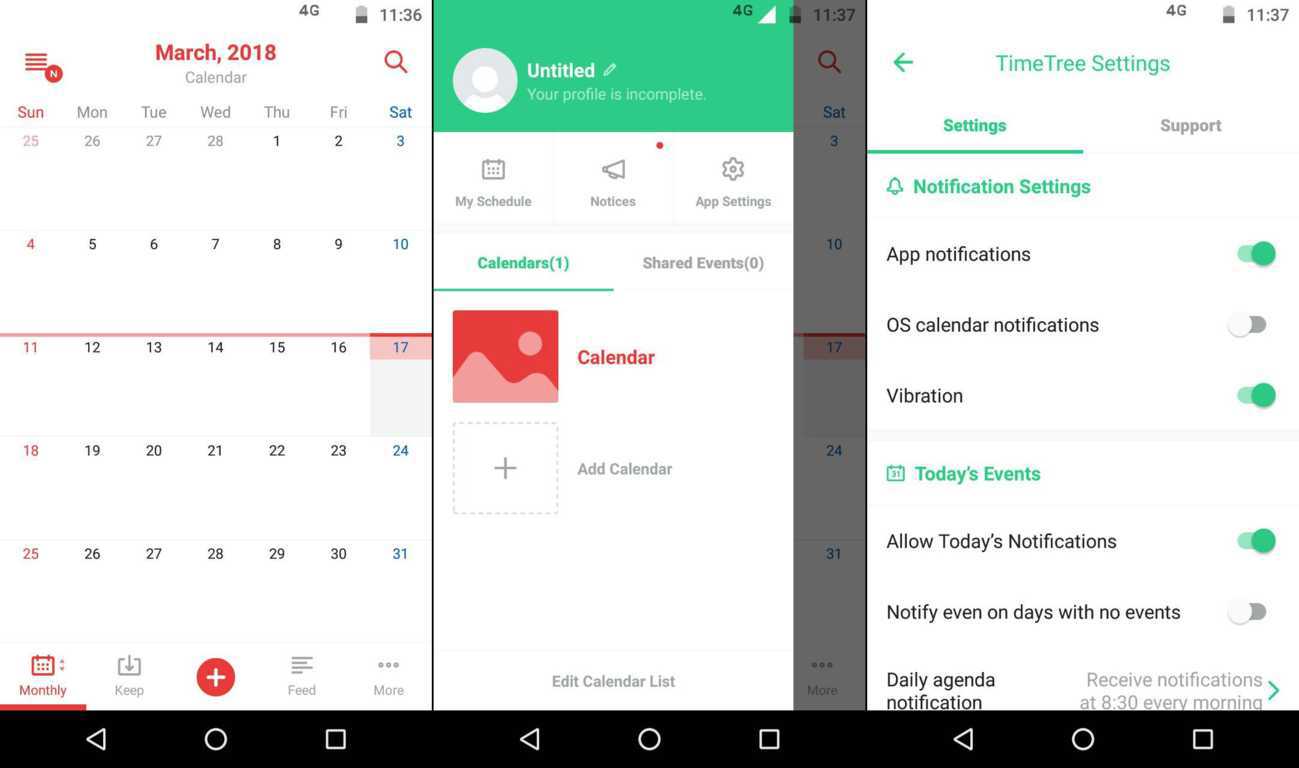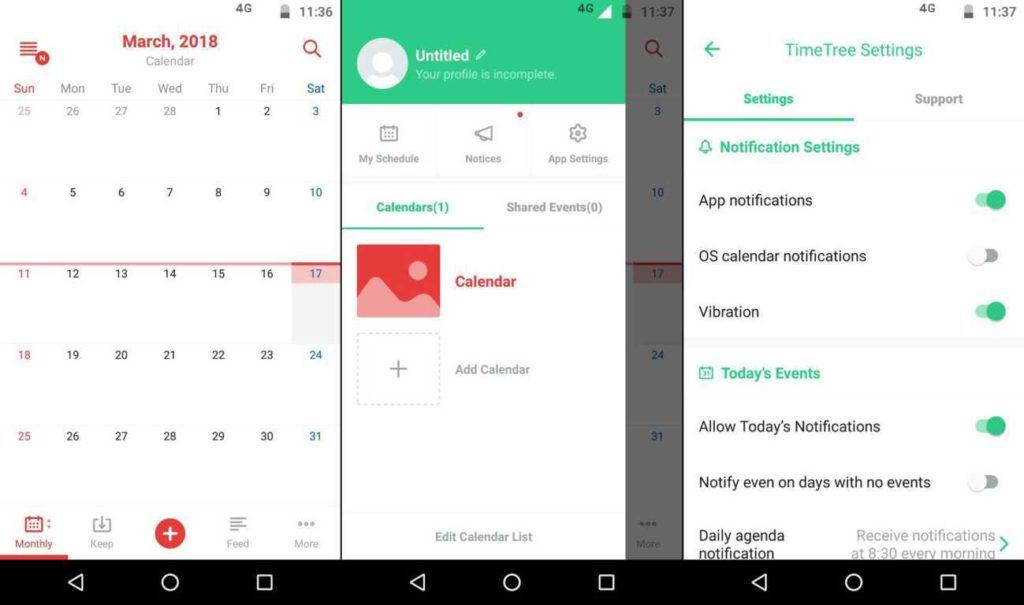 TimeTree is an excellent Android calendar app for co-workers and family members. It lets you put everyone's schedules on the same calendar and allows you to share tasks, create and edit events for all members. There is a communications section that permits you to add comments and photos. Other features include reminders, notes, widgets, and support for Google calendar, Apple calendar, and Outlook Calendar. Moreover, you can share your events with people who do not use the app. Overall, the app is quite simple and has an intuitive interface. It is free and contains ads.
Did you find this list of calendar apps for Android to be helpful? Share your views in the comments.