The Beelink U59 is a small form factor PC at a very affordable price that's ideal for students, simple office tasks, or a home theater. Or, oddly enough, as a DIY home network gateway. Beelink sent the Mini S for review back in July. The U59 is almost identical. But it had something up its sleeve that excited me when Beelink offered it for review.
For those unaware, Beelink specializes in small-form-factor computers, often referred to as "mini PCs." They have a wide variety that scales from ultra-affordable to high performance. The commonality is that they're all comparable in size to Intel's NUC line.
At the time of writing this, Beelink is offering the U59 with 16GB of RAM and a 500GB SSD for just 200USD. That's a pretty amazing deal considering what you get.
U59 Specifications
CPU
Intel Celeron N5105
4C/4T 2.0GHz/2.9GHz Turbo
10W TDP
Memory
16GB
Graphics
Intel UHD Graphics
Storage
500GB M.2 SATA SSD
Network Connectivity
Wifi 5 (AC), Gigabit Ethernet, Bluetooth 4.0
Front IO
2x USB Type-A 3.0
3.5mm Audio Jack
Rear IO
2x USB Type-A 3.0
2x HDMI
2x Gigabit Ethernet
DC Power Barrel Jack
Internal IO
M.2 SATA Drive Slot
2.5″ SATA Drive Bay
Dimensions
113mm x 124mm x 42mm (588ml)
Operating System
Windows 11 Pro
Beelink U59 Specifications
The Beelink U59's Intel N5105 is not a performance part. It's actually lower performance than some mid-tier smartphone CPUs. But I can assure you, the U59 has its place. And the 10nm process of the N5105 likely isn't holding up the manufacturing of those shiny 5nm parts in all the latest high-end gear.
In the Box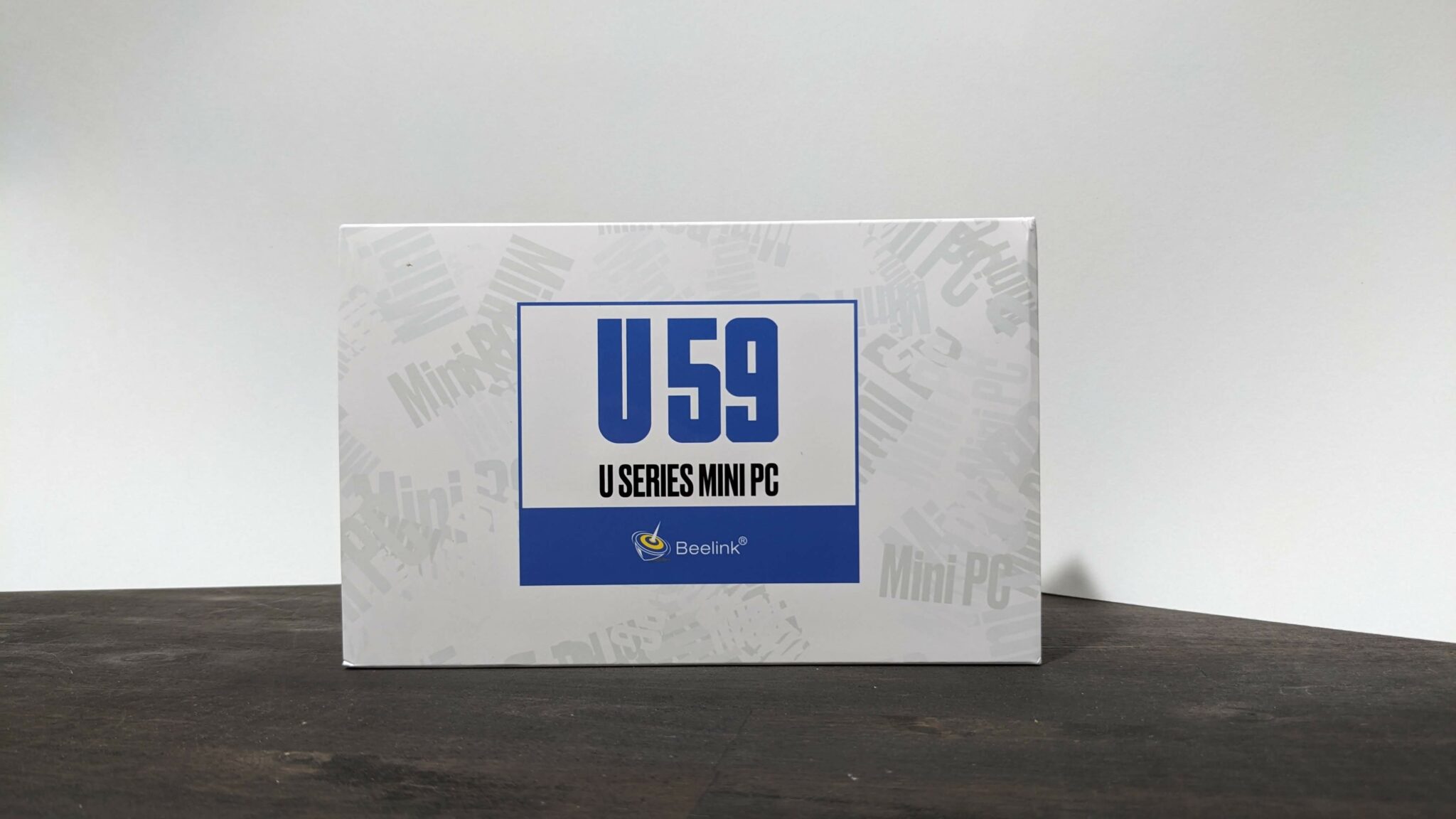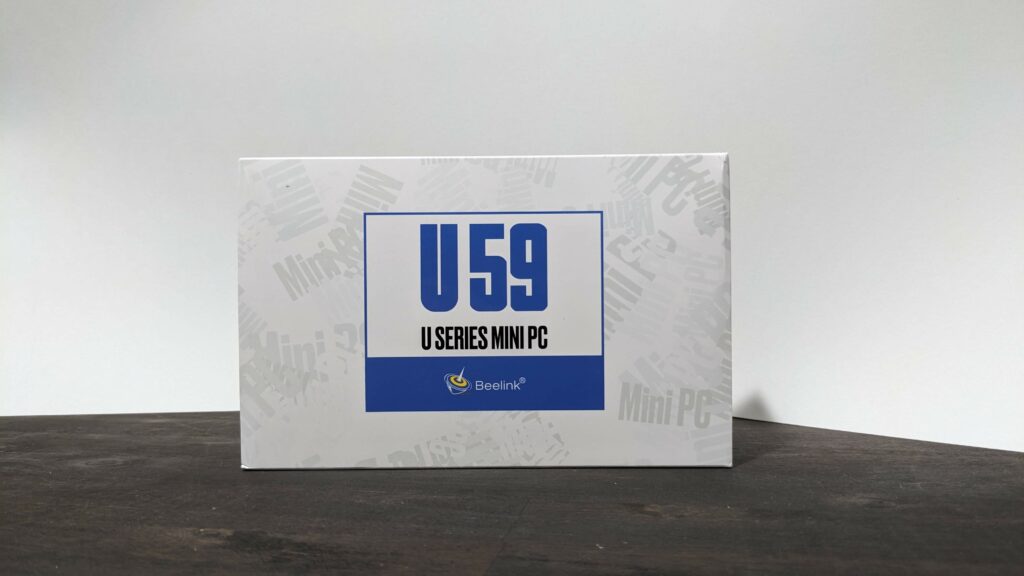 As per Beelink's modus operandi, the U59 comes in very efficient packaging. On the one hand, I appreciate the minimalistic approach. On the other hand, in contrast to their higher-end products with metal housings, the U59's plastic housing could easily be damaged if roughed in shipping. It's very light, so I don't think it weighs enough to damage itself, but another parcel possibly could.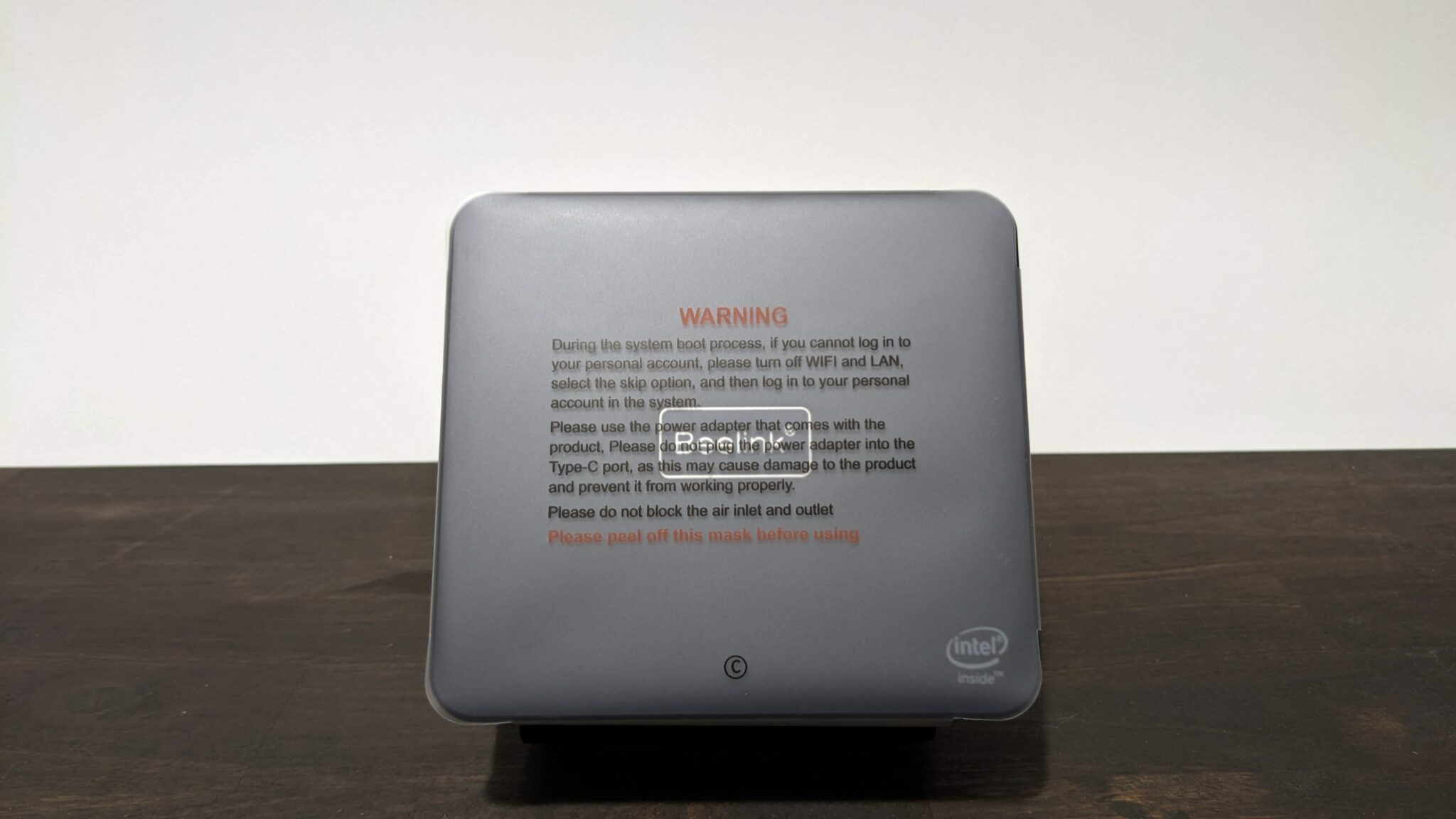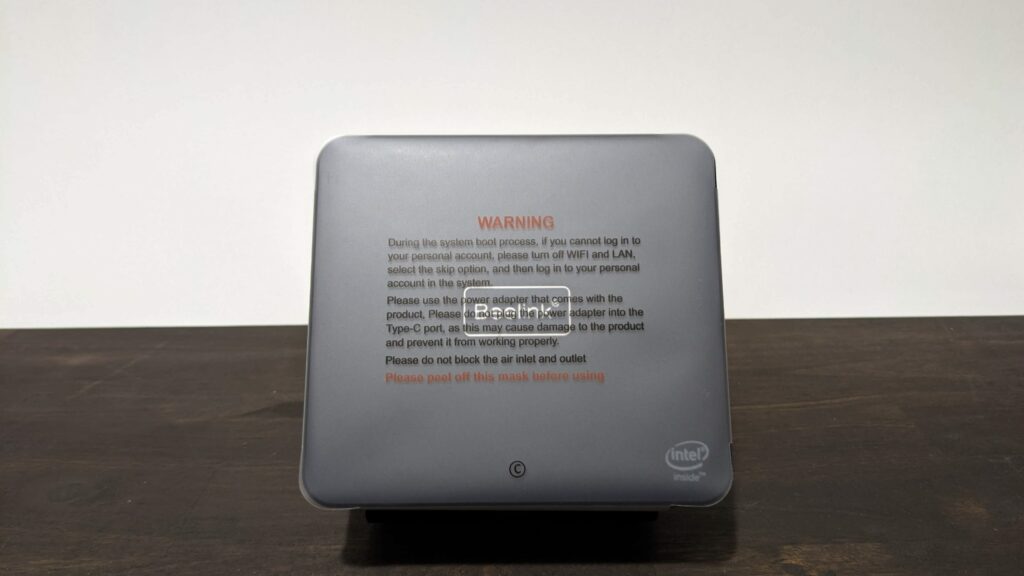 As we now expect from Beelink, we find that a VESA mounting bracket with the necessary screws is included among the contents, along with two HDMI cables, one short and one longer, a region-specific power cable, and a user manual. Beelink keeps the packaging simple and minimizes waste by eliminating unnecessary materials.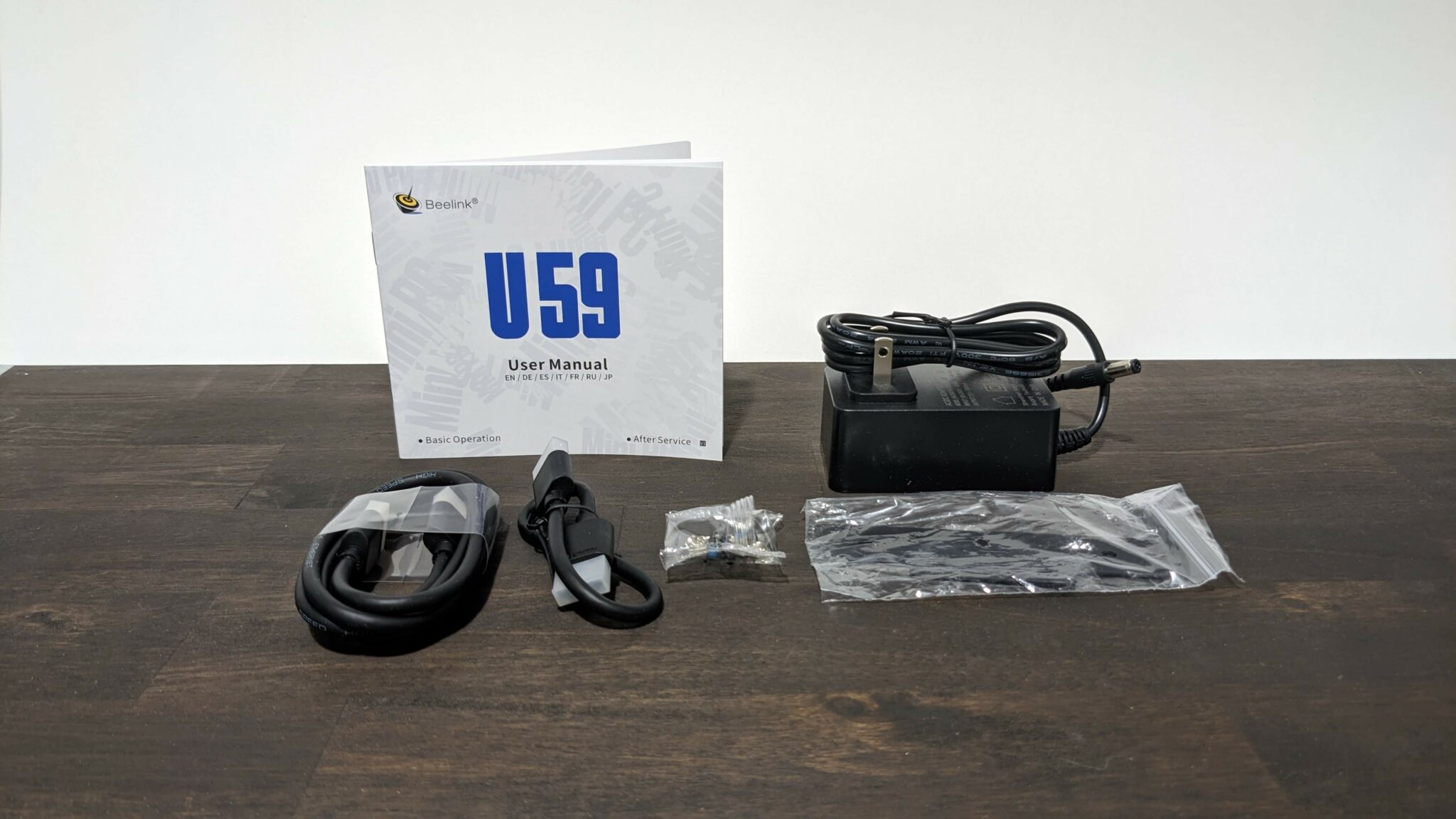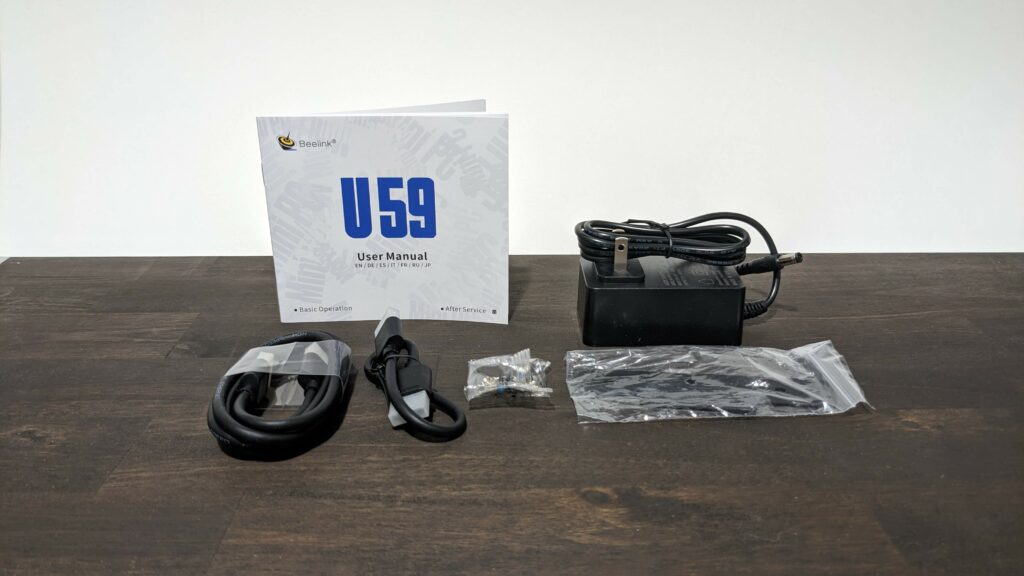 First Impressions of the U59
The first thing you notice about the Beelink U59 is how absurdly little it weighs. My kitchen scale's batteries are dead, so I can't give a precise weight, but I would guess it's about 250g. With as little mass as it has, the rubber feet on the bottom panel are a nice touch.
The housing is constructed of plastic but is considerably rigid, partially due to its small size. When tapped, the juxtaposing resonation makes the plastic feel thin, belying a much cheaper construction than the rigidity implies. Percussive tonalities aside, the U59 feels sturdy and does not give way without significant force.
As mentioned, there are rubber feet on the bottom panel, one in each corner. For anyone choosing not to take advantage of the VESA mounting holes that are also located on the bottom panel, these will likely be appreciated.
On the left- and right-hand sides, there are intake vents for the air-cooling. The exhaust vent is at the rear. Beelink designed the U59 with considerably more surface area allocated to the intake vents. This might be for ambient cooling of the components other than the CPU. However, the N5105 TDP is only 10W, so there shouldn't be any issues with cooling unless one of the vents is obstructed.
Interestingly, and akin to Beelink's Mini S, there is a "CLR CMOS" button on the front of the U59. This kind of button is usually on the back or internal. That is, if it's included at all, given that it's typically reserved for enthusiast products. My best guess is that it's on the front to allow easy access if the U59 is mounted with the included VESA bracket, which, for obvious reasons, orients the U59 with the power button facing upward. The inclusion of a button to clear the CMOS button is a nicety I would appreciate more products having.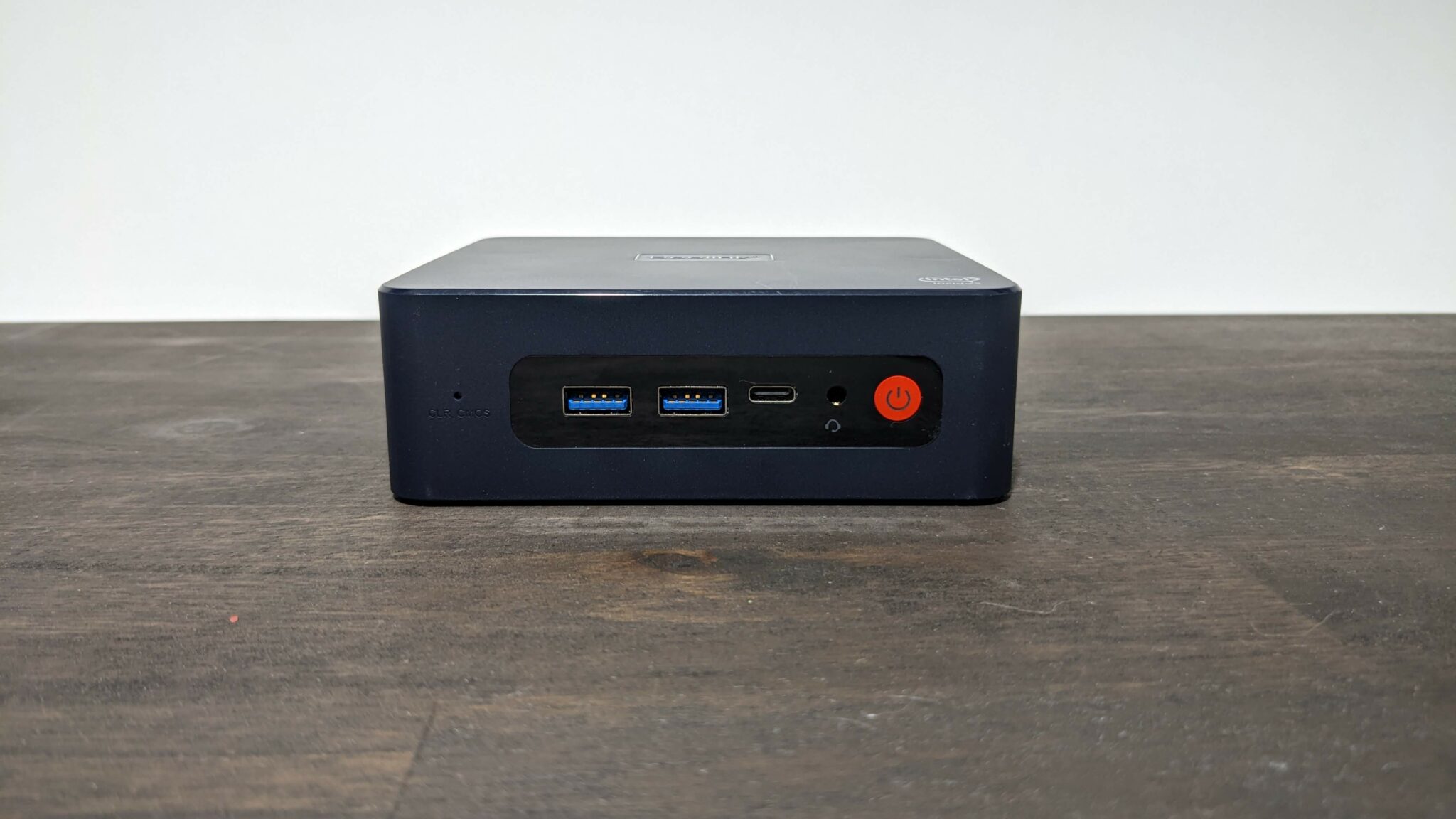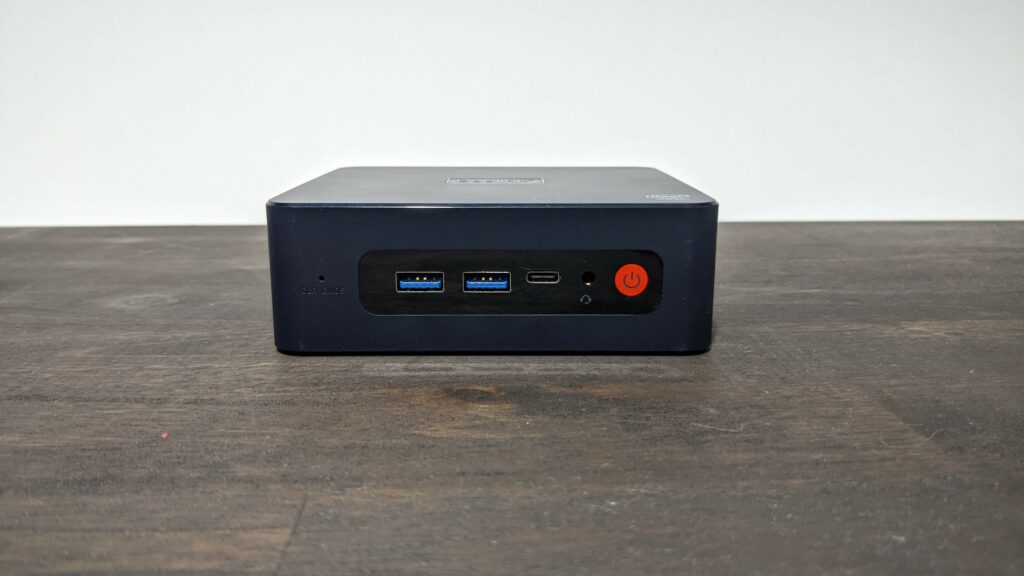 There are four USB 3.0 Type-A ports on the U59—two on the front and two at the back. Four USB ports are a sufficient amount, but only just. After a mouse, keyboard, and web camera, there's only one left. Depending on the user, this could be plenty, especially if a wireless mouse and keyboard combo receiver is used. But it could very well leave others in need of a hub.
Something that makes the U59, like the Mini S, stand out is the fact that it has two HDMI ports built in. This is why Beelink ships the U59 with two HDMI cables. The reason for the cables to be of different lengths is that the shorter HDMI cable would go to the monitor that the U59 would presumably be mounted to. This is common to all of Beelink's mini PCs I've reviewed. Despite that, it's not at all common among small form factor computers or those without a discrete graphics card.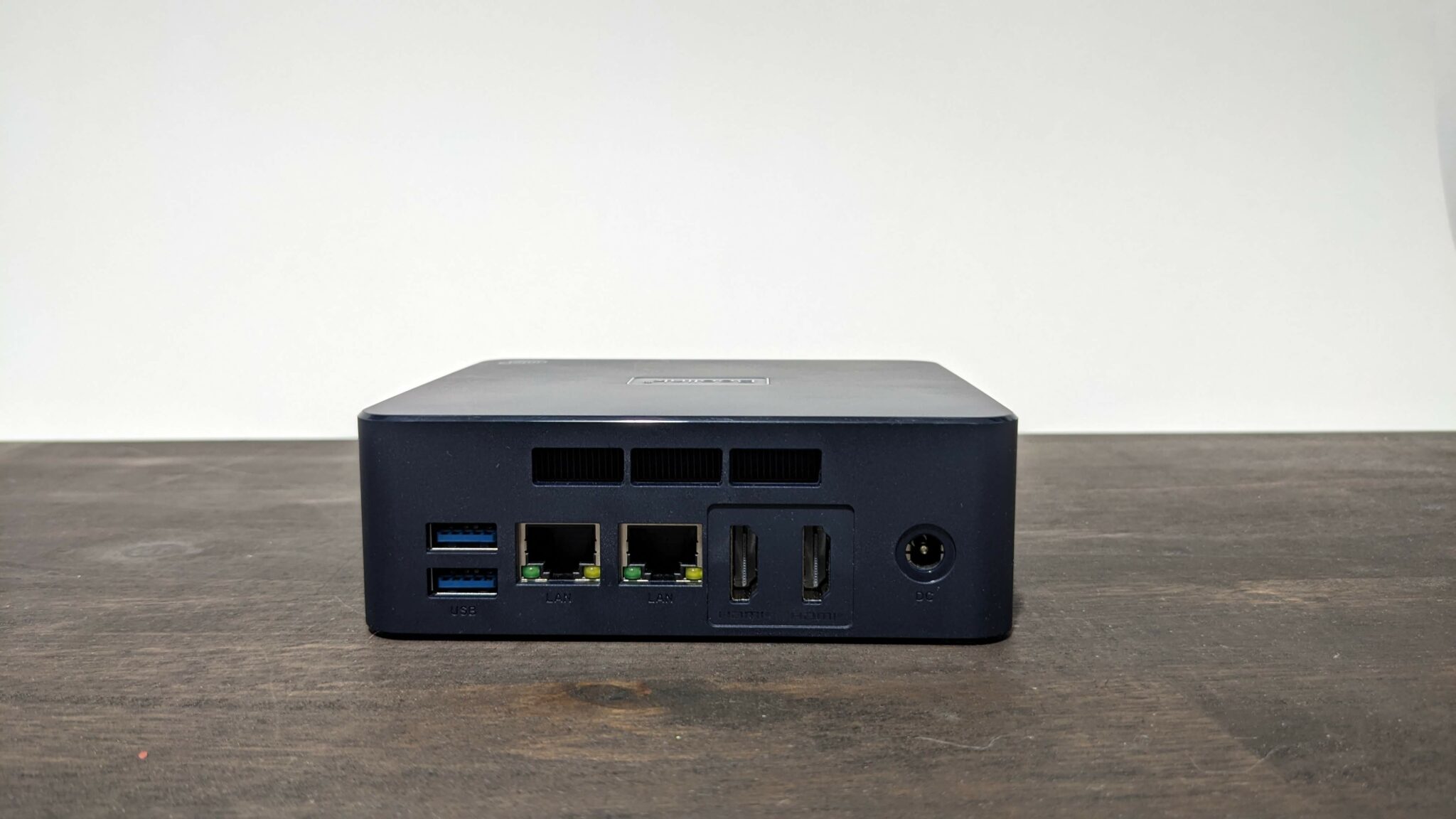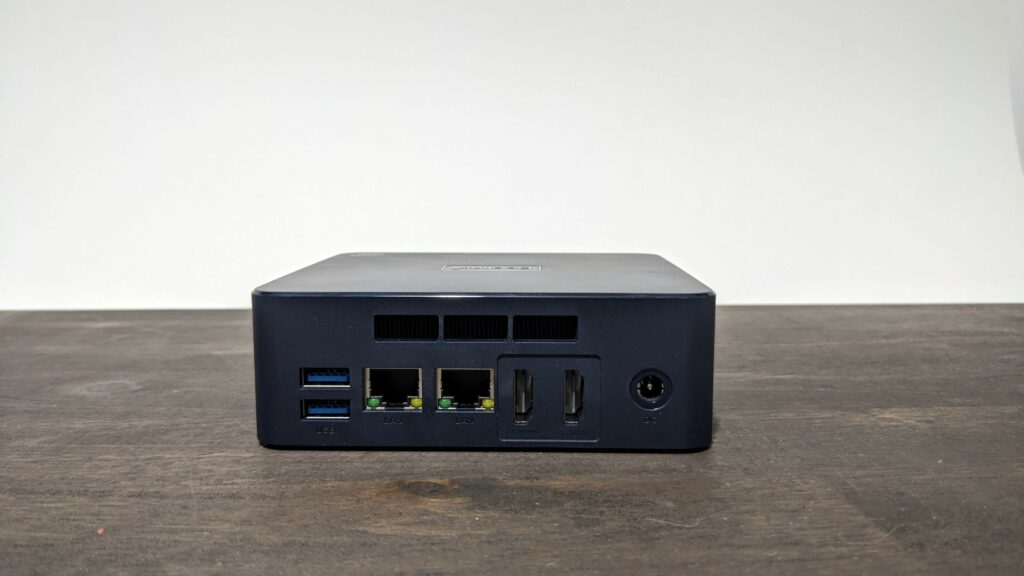 The other thing that is quite the enigma for a product in this market segment is the dual gigabit connectivity. The U59 has two-gigabit ethernet ports. That network throughput is beyond the typical productivity workload that a computer of the U59's dainty hardware would perform.
Performance
When pit against top performers like the Ryzen 7 and the Core-i7, the U59's Celeron might as well be celery. The U59 is by no means a performance product. That doesn't mean that it doesn't have its place. But it's important not to kid ourselves. The U59 has some very nice features but won't replace performance workstations.
Productivity
The U59 model Beelink sent me has 16GB of RAM. 16GB is, in my opinion, what productivity computers should come with nowadays. 16GB might be a little much for most productivity cases, but software memory requirements are always increasing, which should be planned for when purchasing. This extra memory is particularly valuable in the case of the Intel N5105 because it would likely become excruciatingly slow when memory is exhausted.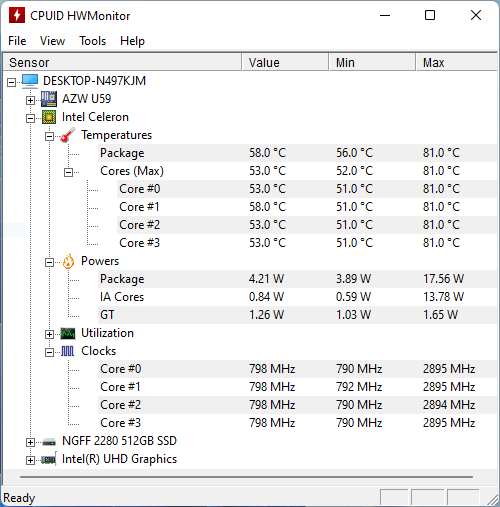 The SSD included with the U59 is only a SATA SSD instead of the much faster NVMe SSDs available. Just the same, in contrast to the far too many computers still sold with HDDs for their OS drive, it's a very worthwhile and valuable inclusion. The SSD provides a much more responsive experience.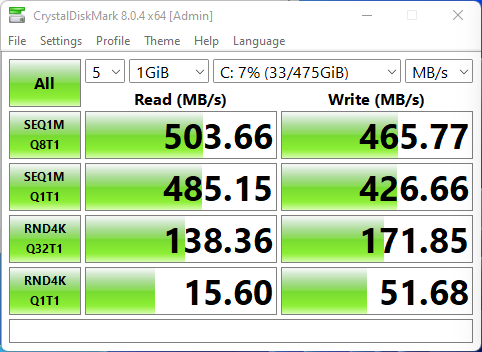 The SSD and additional memory make the U59 surprisingly pleasant to use for basic productivity tasks. The N5105 is still the limiting factor underpinning the U59's performance, though, so it's very likely that anything beyond the basic productivity tasks will hit its performance ceiling. But for those who only need the basics, such as office administrators, reception staff, and data entry positions, the U59 could be an excellent option, given that it ships with Windows 11 Pro.
Gaming
There's not much to talk about insofar as gaming. The U59's integrated graphics are really not intended for gaming but, rather, are intended for supporting multimedia applications.
Despite this, the U59 will likely work for a reasonable number of retro PC titles and emulation of many older consoles. The Raspberry Pi, a single board computer with considerably less muscle, has been the retro console emulation poster child for years now. I would wager that the U59 could at least go toe-to-toe with the Raspberry Pi.
Streaming and Media
Like Beelink's Mini S before it, I think the U59 is an excellent home theatre PC because of its small footprint and its ability to output 4K at 60Hz. 4K at 60Hz isn't amazing. But considering that most streaming providers have limits of 60Hz or lower, the U59 will suffice.
Video isn't all the U59 can stream, though. Whether you use Steam Link or a dedicated service such as Xbox Game Pass Ultimate, you can use the U59 for streaming games. This makes the U59 a very cost-effective alternative to using a dedicated gaming PC.
To summarize, the Beelink U59 has the amount of performance you'd expect for something running a non-Ryzen or -Core-i part. But that doesn't mean it doesn't have its own place.
DIY Router / Home Lab
When Beelink offered the U59 for review, I jumped at it. It excited a different part of me, the network technologist. Right now, my home network is running on a WatchGuard XTM 505, which came out around 2011. It doesn't run the WatchGuard software, though, it's running OPNsense. It was an adventure and a half getting the WatchGuard to boot from the internal SATA (vendor BIOS prevented SATA booting) rather than the built-in CF card reader as it was designed. So, after modding the BIOS to get it to boot an unsupported OS from two HDDs in RAID 1 and upgrading the RAM, I'm fond of it.
Despite that, the XTM 505's Pentium E3400 alone uses 65W, and then there are the fans that run near full blast all the time (typical on enterprise equipment). Not to mention, the HDDs in RAID1 don't compare to the speed of SSDs. When I perform updates, I don't want to be bringing my home internet down for too long. With its second gigabit port, the Beelink U59 is an excellent option for a DIY router.
The U59's N5105 tops out at 10W and doesn't have high-speed 40mm fans, so it consumes a small fraction of the power that my XTM 505 does. The XTM 505 has six-gigabit ethernet ports and a 100baseT port for remote management. So, there's potential for more throughput there. But not as much as one might think. WatchGuard only claims a maximum throughput of 2.3Gb/s on the XTM 505, which likely depends on the specific configuration and may even be increased or impacted by using a different operating system. But in theory, the switch will net a loss of 300Mb/s.
Considering my internet is only 120Mb/s, and my home lab needs are minimal at the moment, the U59 is still a good option for me. Additionally, using the U59 with a managed switch in a "router on a stick" configuration would allow using both gigabit ports in tandem using LACP. But, should I decide that I would like to increase the throughput, I can likely make use of a USB 3.0 ethernet jack. I wouldn't recommend using them for any kind of production system. But for tinkering and learning, they're a very cost-effective option.
Where Does the Beelink U59 Belong?
The U59 has an excellent value proposition combining the SSD and RAM configuration typically found on computers selling for up to three times as much with dual display output, the odd dual ethernet, and Windows 11 Pro. The lynchpin here is the N5105, which for some, will be a dealbreaker. But for those whose needs are accommodated by the lightweight CPU, the U59 is a solid choice.
Adding to the value is that, as mentioned, it ships with Windows 11 Pro. This means that it's capable of joining an Active Directory domain and supports all of the modern security features that Microsoft made requirements in Windows 11, such as the TPM 2.0. This is a boon for enterprise IT departments looking for cost-effective devices.
But that doesn't really answer the question. Where does the U59 belong? If you look at Beelink's marketing, they seem to say that it belongs anywhere and everywhere. Realistically, it's best that anyone considering one make sure that it's the right fit because there's no way to upgrade the N5105.
Conclusion
The U59 is an oddball with its mid-tier features wrapped around a low-end CPU. It's not for everyone, it might not even be for many, but I appreciate its atypical weirdness. Like the Mini S before it, the Beelink U59 is like a knife in a gunfight. But it's not just any knife, and it's a Swiss Army knife. Whatever that's worth.