YouTube channel The Fast Lane Car picked up cars of two different categories and organized a competition of Tesla Model X Vs Land Rover Snow Test.
Have you ever thought about how Tesla Model X would perform on snow? If yes, then it would be interesting for you to watch a Tesla Model X go head to head with none other than Legendary Land Rover Discovery.
A warning before we move ahead though. The above-mentioned YouTube channel has previously organized an irregular drag race between a Tesla, a Mercedes and a Beemer. All these cars belonged to different segments yet they were pitted against them. It was quite fun to see but before you read ahead and shout at me that it isn't a fair competition, know that I am aware of it.
So the Tesla Model X is a pure electric SUV, whereas Land Rover Discovery is an IC engine SUV. Both SUVs are All-Wheel Drive and weigh 5500 and 4800 pounds, respectively. Also, both of them are equipped with Air Suspension.
People nowadays find it more fascinating to compare electric cars with gasoline-run engines. Isn't that what people want to watch? Everyone wants variations, something unique, and exciting.
Without any further ado, let's watch the video.
Tesla Model X Vs Land Rover Discovery Snow Challenge
There were acceleration, cornering, and braking tests to decide which is better. Tesla Model X was picked up first to go through all three tests. It was informed in the beginning that tires would play a vital role in snow conditions. We will talk about the other details towards the end.
In the Tesla Model X, there are two motors available, one on the front and the other one on the rear. There is a Slip Start option that disables traction and ESP (electronic stability program) in the electric car. Working in tandem, the traction and stability control allows the vehicle to provide power to the wheels that have appropriate wheel traction and cuts off the power to the wheel that doesn't have traction.
This caused a disturbance in power flow which was already worsened by heavy snow, the driver turned-on the slip start mode and performed all the tests. So that he could have all the power on all the wheels. Of course, the Model X was a little unstable in this mode, and even while braking it stopped with quite an effort.
Who is the winner?
Tesla Model X Vs Land Rover Discovery
Land Rover Discovery outperforms the Tesla Model X in all three tests and especially the braking. However, the man in the video gave credit to the dedicated snow tires of Discovery. He said it was more dependent on the tires rather than the inner specifications and design of the vehicle.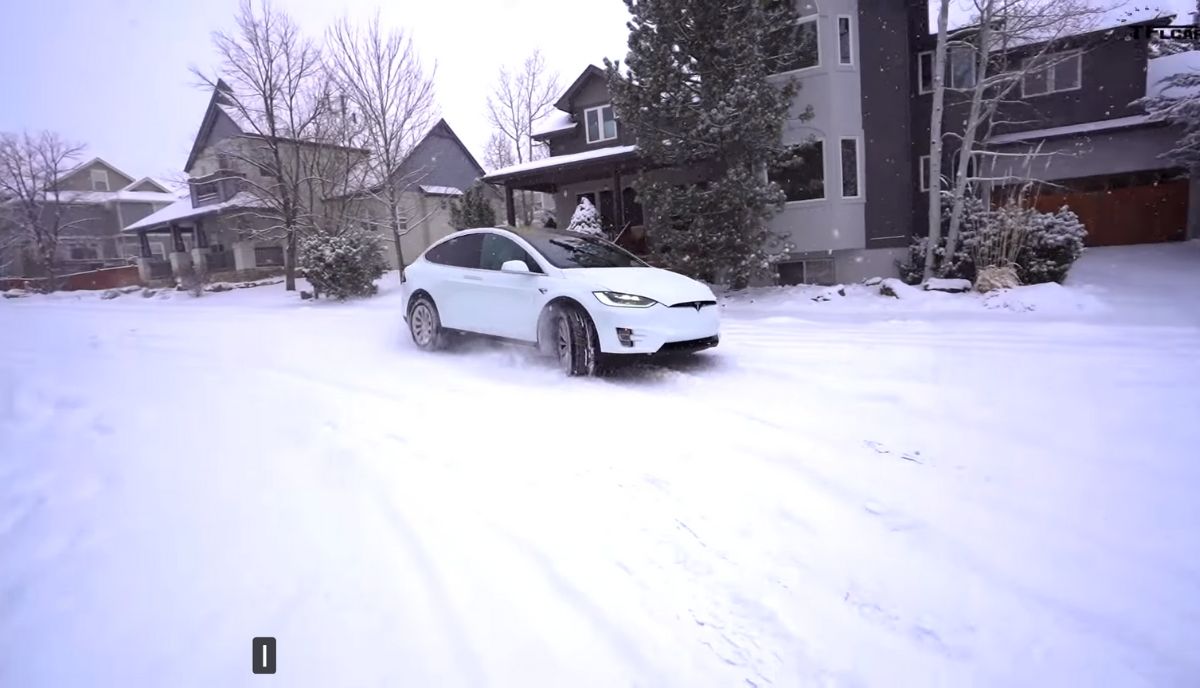 Tires used in the Tesla Model X were continental cross LX fork of size 265 45 tires with a 20-inch diameter, which were optimized to work in all seasons, including rain and even snow. There was a sign "MS" on the tires that indicated Mud and Snow.
However, Land Rover Discovery was equipped with dedicated snow tires. The Discovery has 275 45 Pirelli Winner tires with a 21-inch diameter dedicated to performing in the snow. These tires were meant to work even at -44 degrees Celsius.
I think it is quite clear how tires can be a crucial factor in off-roading and harsh conditions.
Some viewers commented that the title does not justify the video as it is more about the importance of tires in snow conditions. Some stated that it would be justified if both cars had the same tires and in my opinion, these people are absolutely right.
Nevertheless, it is always a treat to our eyes watching a Tesla and Land Rover in such a competition.