Short Bytes: For the people who regularly loose their work progress in Windows due to silly reasons, the Autosaver tool by door2windows can be a life saver. Autosaver can hit the CTRL+S option at regular intervals for different apps and software in Windows. This helps the users retains their data in case of power outage or an unexpected system crash.
W
ith most of the people having battery powered computers, losing data because of power issues isn't a concern anymore. But what if you forget the basic thing, i.e. forget to save your work before
closing an app and might end up losing using your data.
Some of the latest software might have the autosave functionality, but it's not the case for all of them. In the case of an unexpected shutdown, the data gets lost.
There is a free utility for Windows which automatically saves work progress in various apps and software. It does so by sending the CTRL+S command to the software at regular intervals.
Autosaver, developed by door2windows, doesn't need to be installed on Windows and it can be configured to run automatically when Windows boots. You can set the interval time as much as you want, starting from 1 min to 5 hours.

When you start Autosaver, it doesn't display anything on the screen, except an icon in the notification area. You can click the icon to explore the Preferences.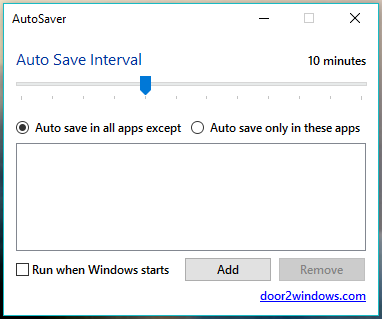 The Preferences section includes a text box where you can list the apps for which you want to enable or disable the Autosaver utility. Select the Auto save in all apps except radio option to disable the apps in the list, and the Auto save only in these apps to enable Autosaver for apps in the list. You can quit Autosaver by right-clicking the icon in the notification area.
Tip: Disable Autosaver for web browsers. It worked but I almost lost my progress in the online editor.
Take the help of this link to download Autosaver.
Did you find this helpful? Drop your thoughts. You can also read this post on the Fossbytes app. If you're on the app, tell us your feedback.