Do you miss your keyboard while typing on your smartphone? Well, a new generation may not miss it because they're used to touchscreens. But, if you're a 90s kid you must be longing for the PDA mobile phone that comes with an attached keyboard.
Surprisingly, there are a few companies whose mission is to bring back the era of a smartphone with a keyboard like Planet computer. Thanks to Planet Computer who have now started their third project, Astro Slide, to bring the first 5G powered smartphone that can be turned into a mini-laptop. Interestingly, Astro Slide can also be dual or multi-boot with Android 10 and Linux OS.
Planet Computer is the company behind the award-winning smartphones, Gemini PDA and Cosmo communicator. Adding to the same list, Astro Slide is their brand new PDA device that is currently listed on Indiegogo for crowdfunding.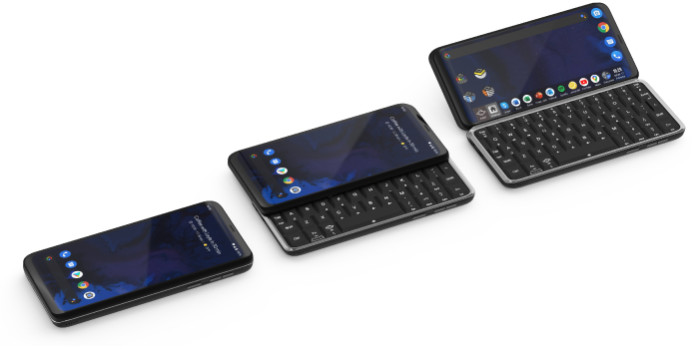 Astro Slide aims to combine the power of touchscreen smartphones and laptops by featuring the fastest 5G processor available. Apart from normal functions such as calls, emails or writing, the Astros come with a RockUp slider hinge that makes smartphones work like a mini-computer.
So, let's discuss the best features of Astro Slide that make it different from other current smartphones.
5 Best Features Of Astro Slide
1. Backlit Physical Keyboard
The majority of modern smartphones do not come with an attached keyboard. Though you can externally connect via a port, you cannot always travel with a 10-inch keyboard. Even writing a long message on applications such as Whatsapp or Facebook requires a lot of typing work which becomes worse in case of a touchscreen.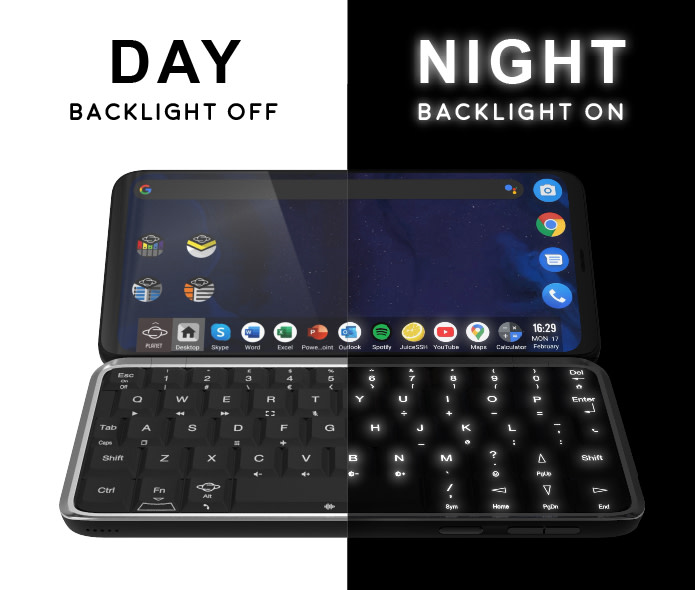 But here's Astro that provides a dual method for typing. You can just slide up the screen and reveal a physical keyboard to use as a mini-laptop. The keyboard also includes Planet's signature backlit that allows you to work in both light and dark environments.
2. Fast Network Connection
Currently, few smartphone devices support 5G technology. Luckily, Astros picks up the fastest 5G processor available, and as a result, became the first PDA smartphone featuring the fastest 5G.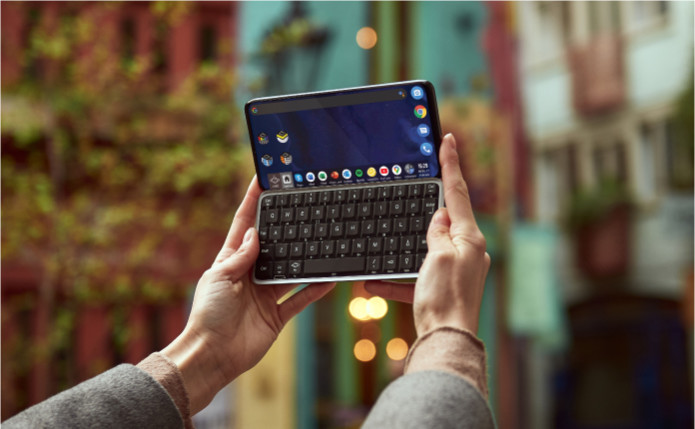 Astro's dual 5G and Wi-Fi 6 connecting technology promises to provide the fastest upload speed of 2.7GB/s and download speed of 4.5GB/s. The speed is totally suitable for professionals looking for higher productivity.
3. Multi-boot operating system
Astro Slide runs Android 10 operating system owing to the high popularity of Android. But if you are a Linux fan, you can multi-boot Linux-based mobile OS such as Sailfish or Kali alongside Android.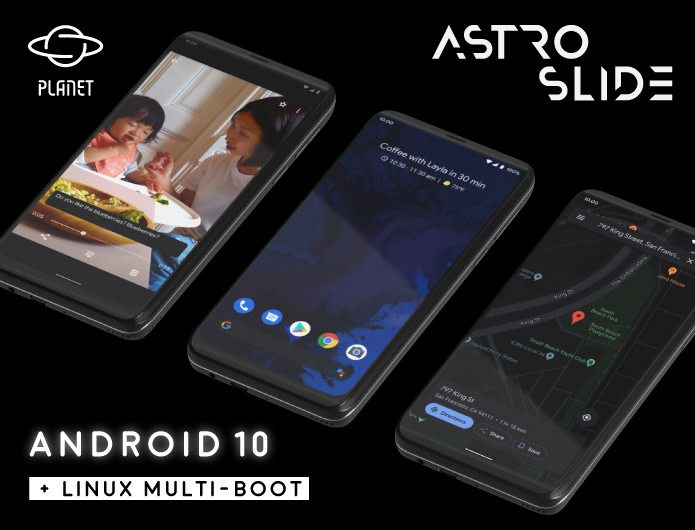 Dual boot makes Astro perfect for both the Android and Linux community who can enjoy their favorite applications like Microsoft Office. Additionally, you can also run Planet's own PDA software suites such as Notes App, Agenda Calendaring App, and Email Client.
4. RockUp Hinge Slider
Astro implements a strong design mechanism — RockUp Hinge Slider. The slider helps to separate the screen and keyboard smoothly without interrupting the functions.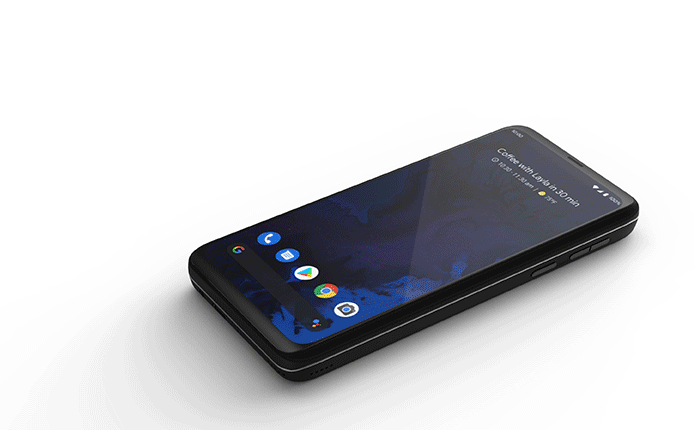 Designed by Martin Riddiford, RockUp mechanism offers a convenient way to move the screen over the keyboard to the outside and convert portrait to landscape screens.
5. Other Hardware Specifications
Speaking of hardware components, Astro measures a large 6.53-inch touchscreen display along with fingerprint sensors and a smart toggle button. Having the fastest 5G processor, this smartphone comes with 8 super-fast cores along with advanced GPU and APU processors.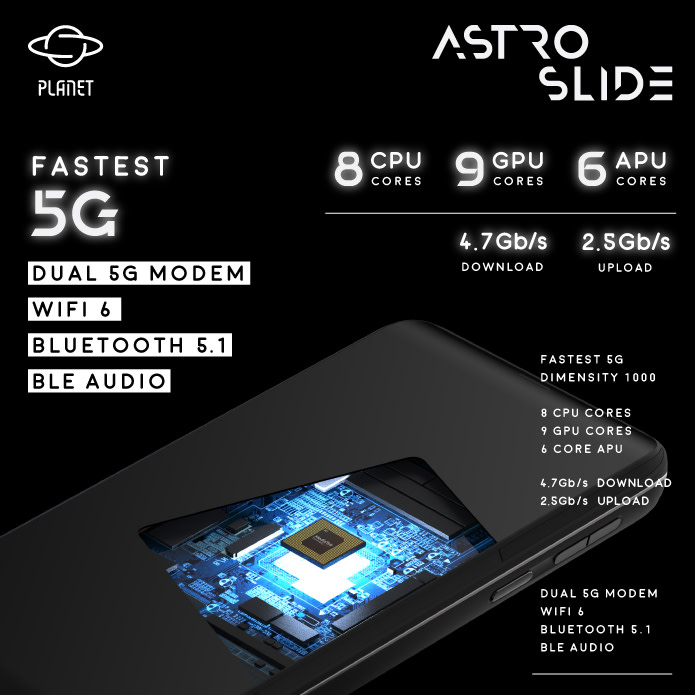 Here are some other notable hardware specs:
MediaTek Fast 5G Dimensity 1000 chipset
High resolution 48MP rear camera
NFC for payment
6GB RAM and 128GB flash storage
2 USB-C ports and audio jack
2x Nano SIMs, 1x eSIM, and a MicroSD slot
Overall, Astro Slide is the way to go for the best mobile phones with keyboards attached for both Android and Linux users. If you eagerly want to buy the device, you have to wait for 2021 as the delivery will start in March 2021. Until then, you can contribute to the project and win Planet computer's other devices as perks.