Judicial systems around the world are one of the most systematic and augmented bodies. India is home to one of the biggest judicial bodies with the Supreme Court, High Courts, and other level courts. Have you ever wondered how this system's functioning has changed from time to time? For instance, there was a time when all the case records and relevant information were all written by hand and maintained.
Fortunately, these things have evolved with time, and digitization has reduced human effort. Still, some areas of the worldwide judicial system are incapable of producing faster results and, sometimes, stay in delay for an extended period.
Moreover, the pandemic has even forced us to adopt different innovative measures to avoid interruptions in the functioning of courts. This article will let you know how 'Artificial Intelligence in Law' has impacted judicial decisions, administration, structure, and work ease.
Meanwhile, you can also check our articles on Artificial Intelligence and its applications in other areas like Employment, Sleep Disorder, Sea-Ice Detection, and Cryptocurrencies.
Artificial Intelligence in Law: Courtroom And Data Management
When it comes to data and file management, courts require a good and secure amount of reliable storage space — both offline and online. This is the reason why digitization gained much significance in the public sector. Even though digitization has solved many problems, there are still some relevant areas of human intervention.
AI and ML can sometimes be the answer to this discrepancy. Recently a team of researchers from the Indian Institute of Technology (IIT) Kanpur has come up with an AI-based prediction technology that could ease out the outcomes of court cases. Comments from IIT Kanpur claim that this is one of the first Indian legal corpus for case prediction and explanation.
The research paper titled Indian Legal Documents Corpus-based Court Judgement Prediction and Explanation (CJPE) was submitted by the students from the Department of Computer Science, IIT Kanpur. The team has successfully created a repository of court records, the Indian Legal Documents Corpus (ILDC), which includes around 35,000 legal documents from the Supreme Court of India. This record helps to train the AI system.
The research paper studies the challenges of processing text in legal documents. Deep learning models help with appropriate predictions. This deep learning method analyses the data clubbed with court decisions and explanations. Further, this AI-enabled system also helps in assisting legal professionals with research as well as decision making.
The Indian Institute of Technology, Delhi, has also started to achieve some laurels in the law sector. Recently, the institute has introduced Universal Justice Foundation Lab Facility based on Artificial Intelligence.
The Apex Body, Supreme Court Of India's Initiative
To reduce the burden on judges, the Supreme Court of India launched its artificial intelligence portal. This portal substantially helps in making legal research and review easier.
The Automated platform called SUPACE (Supreme Court Portal for Assistance in Courts Efficiency) will help judges and staff save time by maintaining large volumes of documents.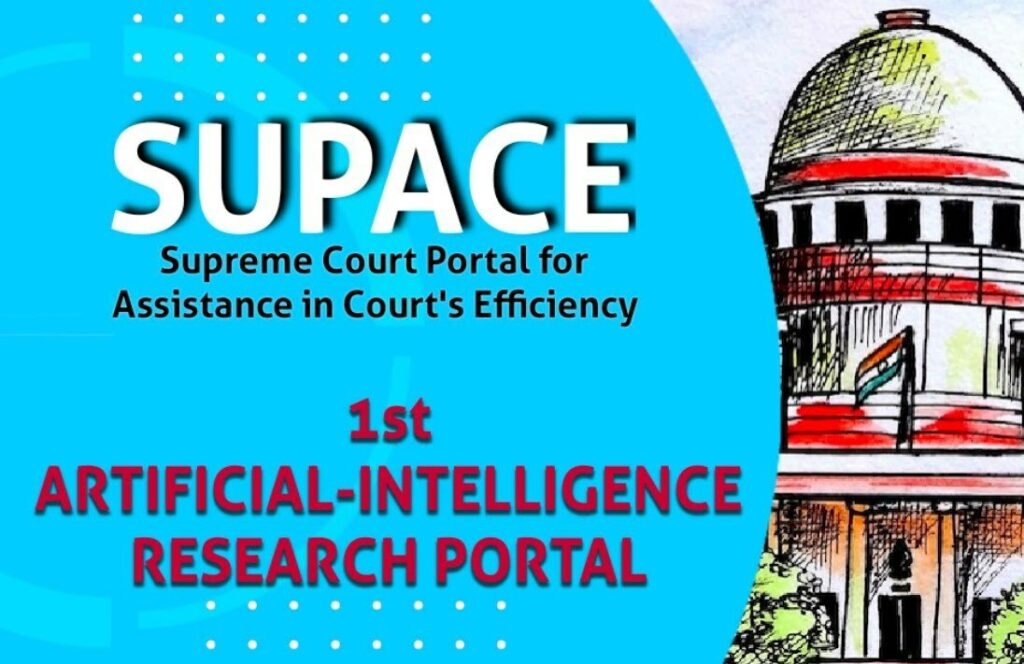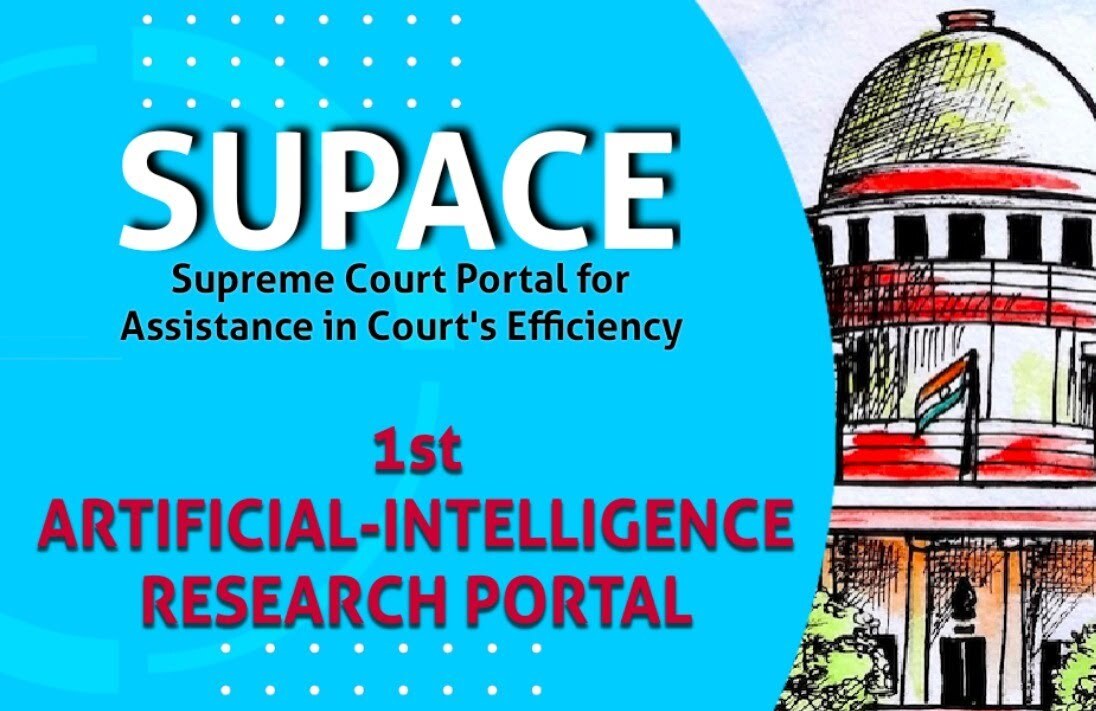 The former Chief Justice of India, SA Bobde, ensured that the portal would not be used in decision-making. The role of AI will be limited to the collection and analysis of data. It will always retain the autonomy and the discretion of the judge in concluding without any interruption from this technical paraphernalia at a much faster pace than earlier.
The portal has some very efficient chatbots controlled by both voice commands. It can also read and scan documents (Optical Character Recognition-OCR) to extract relevant details about a case.
Further, it has the ability to provide a synopsis of the details and documents scanned. Consequently, with more and more data on the portal, the program tends to make predictions resulting in a smart ecosystem.
Apart from developments of Artificial Intelligence in Law, the SC has introduced so many reforms to promote digitization and automation. Last year, the apex body developed software called SCI-Interact for a paperless initiative in the courts. Similarly, it also launched an AI-based translation tool, SUVAAS, which translates judicial orders and rulings from English to other vernacular languages. These initiatives clearly state that technological transitions have always been on a bucket list to maintain sustenance.
Global Approach, Measures, And The Future
The U.S. is a potential player similar to India and has also achieved success in the field. It uses algorithms and risk assessment tools to help judges on pre-trial bail, sentencing, and parole. The popular risk assessment tools used are Correctional Offender Management Profiling for Alternative Sanctions (COMPAS) and Public Safety Assessment (PSA).
On the other hand, Estonia, a European country, has an e-residency program and a national ID smart-card to help other judiciary areas other than trials and verdicts. The Estonian Ministry of Justice also plans to design a robot judge to preside over small claims like disputes of less than 7,000 euros.
No revolution is complete without China, and the country has also been adopting AI in the judiciary with over 100 robots in courts to help in case directories.
Large countries must start integrating the judicial system with possible technology. Fortunately, one thing is certain that the decision mechanism and verdict will still be taken by the judges and practitioners. We cannot rule out the possibility of a robotic judge in the future. However, that is far ahead and needs more work and reliable conditions.
It is also said that justice delayed is equal to justice denied. It's pleasing to see technology playing a crucial role in clearing the backlogs in the judicial system. The chances of privacy breaches increase with technological advancements. Therefore, proper surveillance with a good and secure cyber network is equally relevant.