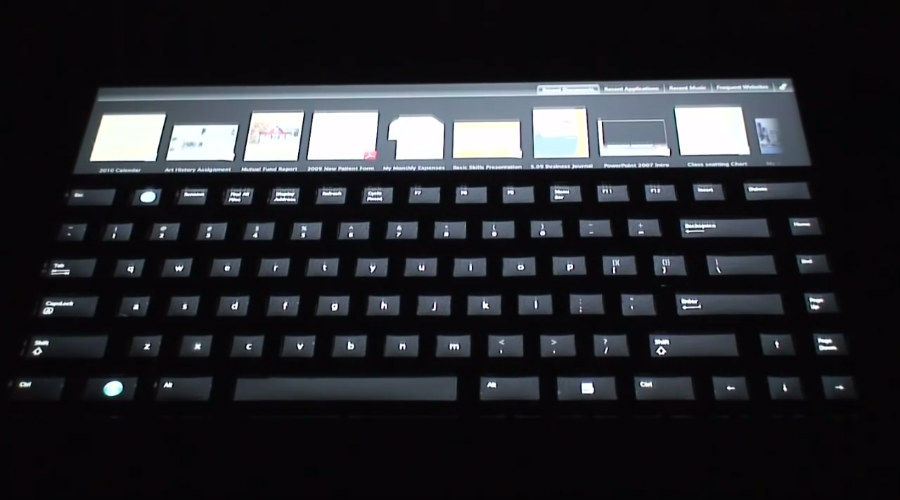 Short Bytes: The latest MacBook Pro features the Touch Bar which eliminates the function keys on the Apple laptop. It is expected to enhance the productivity by displaying relevant options on the touch-enabled strip. The idea of an adaptive keyboard was actually thought of by Microsoft more than a decade ago they actually came up with a prototype.
A
pple recently showed off the touch bar on the
latest MacBook Pro
. The Cupertino demonstrated the usefulness of the Touch Bar in all of its glory. The company's habit of reinventing things is visible in the case of the Touch Bar also. It was Microsoft which came up with such a keyboard in 2009.
The Redmond called it the Adaptive Keyboard which was a research prototype created by Microsoft hardware. The tactile keyboard had a touchscreen display similar what we see on the Touch Bar but it was slightly bigger and extended beneath the keys also. The advantage of putting the screen below the keys to enable changing the legends –  the text written on the keys – as per the requirements.
The Adaptive Keyboard was a part of the Student Innovation Contest at UIST 2010. The prototype however never became commercial product because Microsoft wasn't actually focusing on computer hardware at that time. The interactive touch screen on the adaptive keyboard was larger than the one offered by the Touch Bar. So in addition to display just controls they keyboard could show the thumbnails for recent documents. One could tap on the thumbnail to open it on the computer. The dynamic nature of the keys was a big advantage.
The idea for the Adaptive keyboard first sprouted in 1999. Steven Bathiche of Microsoft Applied Science Group gave the concept of a keyboard that displays active action keys and hides irrelevant keys for a given application. Years followed and the development of the adaptive keyboard even took projectors into consideration which were used to enable hand gestures. Finally, the touch-screen-based version was materialized.
This is not the only instance Apple's technology has been inspired by Microsoft's tech, though the company won't admit it. In 2012, the then CEO Steve Ballmer predicted the Apple will launch a tablet bigger than the iPad. He was criticized for the larger size of the Surface tablet launched by Microsoft. Later, Apple did come up with the 12-inch iPad Pro.
If you have something to add, tell us in the comments below.
Also Read: Bill Gates And Steve Ballmer Aren't Friends Anymore. Here's Why!