A
pple has launched the brand new Apple Watch Series 3. As expected, it comes with built-in cellular. It also comes with the ability to listen to Apple Music without the need of an iPhone. Apple Watch Series 3 comes with a new dual core processor for more power and all day battery.
A new, tiny electronic SIM makes sure that Apple Watch Series 3 remains the same size as compared to the previous one.
In the related development, Apple also announced watchOS 4, which comes with new features like smart activity coaching, new workout app, new features of swimmers, gym kit, etc. The heart rate monitoring has been improved with new features.
Apple Watch Series 3 detects an elevated heart rate when you don't appear to be active. Another feature comes in the form of taking care of regular heart rhythm with Apple Heart Rhythm.
Music improvement, intelligent Siri face, etc., are other features of the new watchOS and Apple Watch Series 3. September 19 is the watchOS 4 release date.
Apple Watch has also become the number one watch in the world, beating Rolex, announced Tim Cook. This is a jump from the number two position of past year.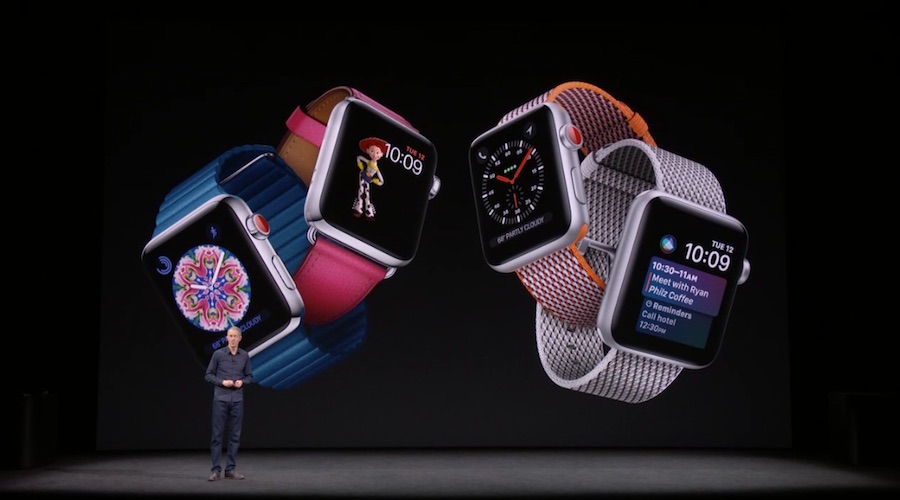 Earlier, the Apple's Special iPhone event, at Steve Jobs Theater, was opened with a Steve Jobs video; Tim Cook added, "It was only fitting that Steve should open his theater."
The story is developing.
Our complete coverage on Apple iPhone launch event 2017.