Short Bytes: According to the survey report published by BCG Global, Apple Inc. has been awarded the title of the Most Innovative Company in 2016. Google, Tesla, Microsoft, and Amazon lie in the following positions. The list has a total of 50 companies around the globe including 6 Asian companies, 10 European, and 34 based in the US.
T
he annual 50 Most Innovative Companies
survey report
by the management consulting firm BCG (Boston Consulting Group) puts Apple in the top position for the year 2016. The report is revised for the 11th time since it first appeared in the year 2004.
BCG conducted surveys with more than 1,500 senior innovation executives around the globe. Out of the top 50 most innovative companies, 34 are based in the US, 6 in Asia, and 10 in Europe.
The names following Apple in the list of the most innovative companies are Google, Tesla, and Microsoft.
Apple, widely known for its iPhone line of smartphones, put $10 billion in its R&D piggy bank, according to last year's financial report that ended on September 24, 2016. However, R&D budget is not the only criteria to top the list; there are other factors as well.
50 Most Innovative Companies in 2016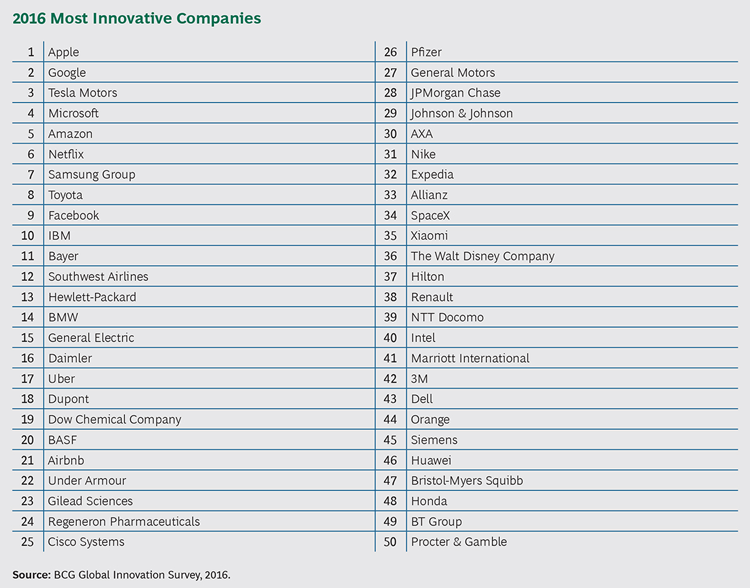 In comparison with the previous year's report, the most notable jump is observed in the case of Facebook, Netflix which made it to top ten.
If you have something to add? Tell us in the comments below.
Also Read: Mystery Behind The Coins Inside Apple MacBooks — Did Apple Put It There?