If you are one of those Fortnite users who logs into their Epic Games account using the Apple ID, its time to update the details ASAP!
Recently, Epic Games announced that the users will be unable to sign in using the "Sign in with Apple" option from Sept 11, 2020. That's the reason why players who are using their Apple ID to sign in to Epic Games need to update their details to retain access.
Epic Games tweeted the following on the same: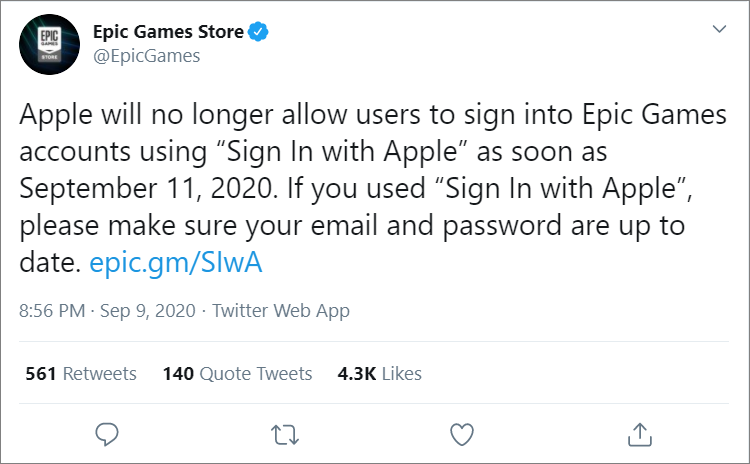 It all started when Epic Games introduced its own in-app payment system in Fortnite to bypass Google Play and Apple Store's 30% fee. So, due to a violation of the 'Terms of Service', both the stores removed the game. In response, Epic Games filed a lawsuit against both companies accusing them of anti-competitive monopoly on in-app transactions and app distribution.
Now, the feud between Epic and Apple is causing the removal of the 'Sign-in with Apple' option from Fortnite; and according to Epic Games, it is Apple who is to be blamed.
Epic Games stated that,
"Apple will no longer allow the users to sign into Epic Games accounts using 'Sign In with Apple'."
To Avoid Getting Locked Out Of Epic Games Account, Follow These Steps:
Log in to your Epic Games account with the Apple ID.
Go to the "GENERAL" section, and update your email address.
Then, go to the "PASSWORD & SECURITY" section, and update your password.
Make sure you update your details as soon as possible to avoid losing access to your account. In case you miss the deadline, you can always contact Epic Games, however, the process will take much longer.