Finally, Apple has announced 2018 iPhone editions in its Apple launch event going on at the Steve Jobs Theatre in Apple Park, California.
Two new models of iPhone are named iPhone Xs and iPhone Xs Max. With these iPhones, Apple has revived its 's' series after it was paused for models released after iPhone 6s and iPhone 6s Plus.
Here are the specifications of the 2018 iPhones.
iPhone Xs
iPhone Xs is the successor of iPhone X that was launched last year. Bearing 5.8 inches Super Retina OLED display, iPhone Xs looks similar to iPhone X featuring the same edge-to-edge display and the true depth sensor. The screen is made of surgical grade stainless steel. On the security front, FaceID is present and is deemed faster than the one fitted in iPhone X.
On the inside, Apple iPhone Xs is fitted with A12 Bionic which is the first 7nm chip and Apple has said that it will exhibit 15% faster performance than A11.
As far as the camera is considered, Apple has made a handful of improvements with 7-megapixel front camera featuring f/2/2 and the rear camera has 12 MP wide-angle camera and 12MP telephoto lens. Apple has also boasted an improved True Tone Flash. A new feature smart HDR has been introduced which is basically an update to the otherwise useless HDR mode. You can also adjust the depth of the field with the newly provided slider for adjusting the aperture.
Apple has taken the storage options one notch up (pun intended) by announcing 512 GB variant in addition to 64 GB and 256 GB. There are three color options available namely Silver, Gold, and Space Grey.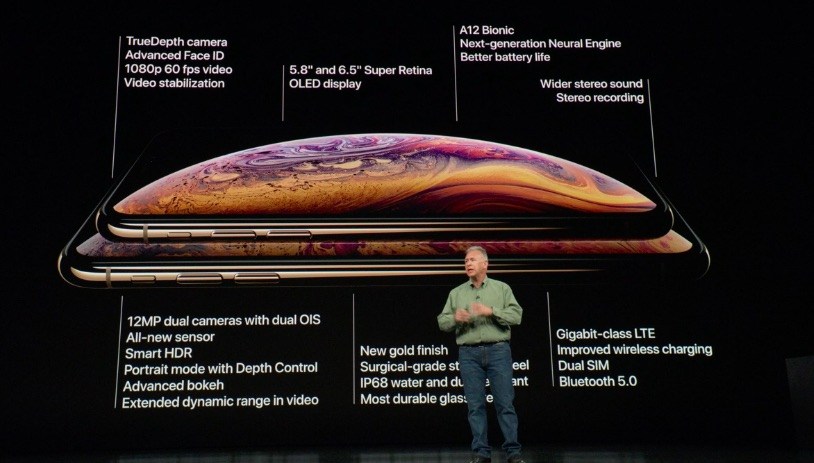 iPhone Xs Max
Apple has rested the ongoing rumors that the large screened iPhone will be called iPhone Xs Plus by naming the 6.5 inches sized model iPhone Xs Max. It is the biggest iPhone ever released by Apple.
Similar to iPhone X and iPhone Xs in appearance, Xs Max features the trademark notch and edge to edge display. Powered by Apple A12 chipset, this model is also available in 64 GB, 256 GB, and 512 GB. As confirmed by the leaks earlier this evening, three color options are Silver, Space Grey, and Gold.
You can follow our live blog for keeping up with the updates of the Apple launch event.