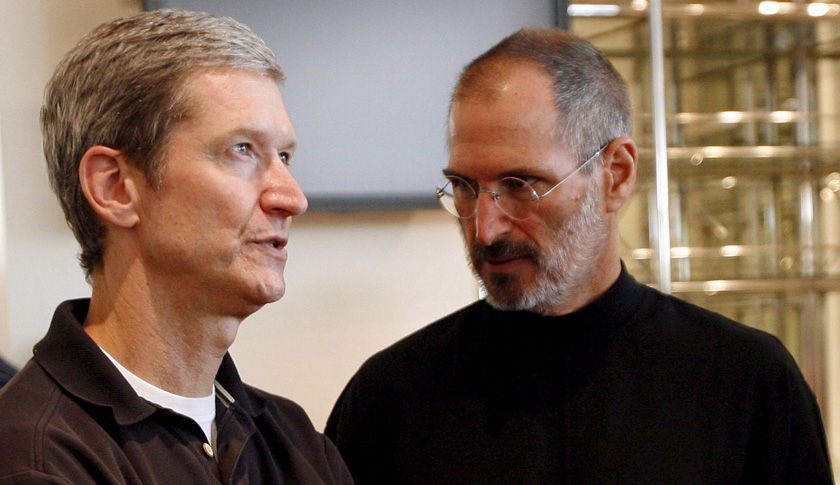 Short Bytes: There is an untold story about Apple Chief Tim Cook, that he offered his liver to the ill Steve while he was in the last stages of his pancreatic cancer, according to a Jobs biography 'Becoming Steve' . The book, which uncovers some more Apple insights and Jobs stories, is authored by Rick Tetzeli and Brent Schlender.
A
pple's Chief Tim Cook made regular visits to ill Steve's place in Palo Alto, when he was suffering from pancreatic cancer. "I didn't even know what a pancreas was," Steve said in his commencement speech at Stanford Univeristy. After all the weekends he visited jobs, perturbed about his depleting health, "One afternoon, Cook left the house feeling so upset that he had his own blood tested", says the book 'Becoming Steve: The Evolution of a Reckless Upstart Into a Revolutionary Leader' penned down by Rick Tetzeli and Brent Schlender.
He found out that he, like Steve, had a rare blood type, and guessed that it might be the same. He started doing research and learned that it is possible to transfer a portion of a living person's liver to someone in need of a transplant. About 6,000 living-donor transplants are performed every year in the United States, and the rate of success for both donor and recipient is high. The liver is a regenerative organ. The portion transplanted into the recipient will grow to a functional size, and the portion of the liver that the donor gives up will also grow back.
Tetzeli is the executive editor of Fast Company who published the biography and the co-author Brent Schlender is a veteran technology reporter. Another Jobs biography – "I think that one of the things that he understood from the very beginning was that the technology doesn't matter to the customer. It's all about what the user gets out of this machine." Said Tetzeli, in an interview while talking about Steve Jobs. "Everybody else in computing 'insisted' on selling their computers by their specs, by how fast it was, by how powerful it was, and how cheap it was. And Apple always understood that wasn't the way to sell." – It explores more of the untold stories about the Apple world and Jobs for which the co-author Brent Schlender had various interviews with Steve.  
Steve Jobs was the kind of a person who has this feeling of 'customer empathy'. It was like, what would be the right thing for the user? It doesn't matter it is low on specs than its rivals but it should be capable enough to please its master.
He cut me off at the legs, almost before the words were out of my mouth.
The book features some insights on the relations between Steve Jobs and Tim Cook, who thought Steve would "live a little longer", as he decided to designate Tim Cook as the CEO. When Tim asked Steve that he has undergone tests and is completely normal to give a part of his liver, the person lying on the death bed denied his offering – "'No', he said. 'I'll never let you do that. I'll never do that.'", According to the book.
"Somebody that's selfish," Cook continues, "doesn't reply like that. I mean, here's a guy, he's dying, he's very close to death because of his liver issue, and here's someone healthy offering a way out.
Tim Cook, aged 55, is a tall man with a delicate mien but adores cycling and hiking. He has preserved "a basic level of privacy", except that he has a private fitness center outside Apple's office and has an open stand for LGBT rights. He was diagnosed with multiple sclerosis in 1996, due to "lugging a lot of incredibly heavy luggage around", he told an Auburn alumni magazine.
Cook joined Apple in 1998 after he served for 12 years at IBM. It was a Sunday on August 11, 2011, when Steve asked him come to his house in a telephonic conversation – "This was when he was home all the time, and I asked when, and he said, 'Now.' So I came right over. He told me he had decided that I should be CEO." – Tim Cook did evince his prowess many times, was in-charge of the company for two times when Steve was away for his treatment.
So I said, 'You mean that if I review an ad and I like it, it should just run without your okay?' And he laughed and said, 'Well, I hope you'd at least ask me!'
Finally, Tim Cook was appointed as Apple's CEO following the sad demise of the co-founder Steve Jobs on October 5, 2011, at his house in Palo Alto. We could only repent on the fact, what if Steve had agreed to take Tim's liver tissue? Maybe, we could be able to see more of Steve Jobs for the year 2016.
Every time I saw him he seemed to be getting better. He felt that way as well. Unfortunately, it didn't work out that way.
One Last Thing
OH WOW. OH WOW. OH WOW.
— his final words, he uttered few hours before his death and then "he'd looked at his sister Patty, then for a long time at his children, then at his life's partner, Laurene, and then over their shoulders past them" — As told by his sister Mona Simpson to The New York Times.
Here's to the crazy ones. The rebels. The troublemakers. The ones who see things differently. While some may see them as the crazy ones, we see genius. Because the people who are crazy enough to think they can change the world, are the ones who do.
Watch the Stanford Commencement Speech delivered by Steve Jobs:
Also Read: Steve Jobs Was a Negative Person, Says Steve Wozniak
Write your thoughts about Steve Jobs and Tim in the comments section below.