Apple CarPlay and Android Auto were created to make features like music, maps, and navigation in the car easier. As per a new study, it has been found that using Apple CarPlay while driving is more dangerous than using your smartphone for texting.
As found in the study, drivers reacted 57% slowly when using the Apple CarPlay's touch functionality and 36% slowly when using Apple CarPlay's voice commands. Android Auto voice distracts the user by 30%, and Android Auto touch distracts the user by 53%.
On the other hand, texting makes a driver react 35% slowly, which is a smaller figure as compared to that of Apple CarPlay.
Study On driving performance: CarPlay/Android Auto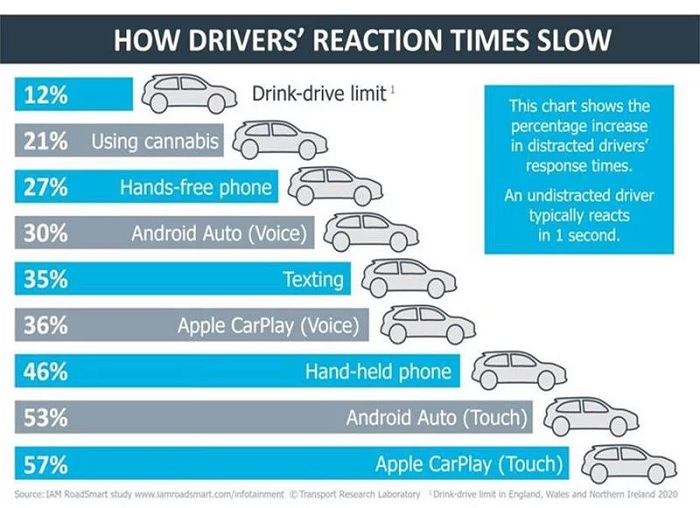 In the practical experiment for the study by UK-based charity IAM RoadSmart, participants were found reacting around 50% slower while using Android Auto or Apple CarPlay. It was discovered that while using the touch functionality, the vehicle's speed and position were affected on a large scale.
Participants took their eyes off the road for around 5 seconds while using CarPlay and Android Auto which is more than the time recommended by the National Highway Traffic Safety Administration (NHTSA).
The study included 40 participants, out of which 20 were using Apple CarPlay, and 20 were using Android Auto. They were asked to perform three trips on a simulated test route, perform predefined actions, and react to triggers. However, the mentioned stats shouldn't be generalized for all the CarPlay users owing to varying usage habits.
Conclusion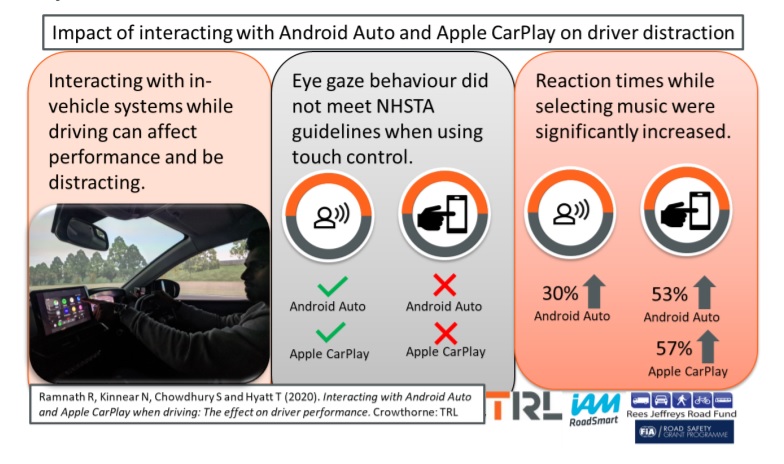 Considering the results, IAM RoadSmart has asked the authorities to review the systems again. It has also urged the drivers to set everything up in Apple CarPlay or Android Auto before starting the journey. This will help the drivers in keeping their focus on the road while driving.
It is not confirmed that the participants were previously familiar with Apple CarPlay and Android Auto or were using them for the first time. However, IAM RoadSmart said that all the participants went through a "comprehensive familiarization process."