Apple on Wednesday announced that it would allow certain reader apps on the App Store to link to their websites to manage their accounts and payment options. The move came after a settlement with the Japan Fair Trade Commission in September when the tech giant announced that it would allow certain media apps to allow in-app links to iOS apps.
To clarify, Apple defines "reader apps" as applications "providing previously purchased content or content subscriptions for digital magazines, newspapers, books, audio, music, and video." The move is welcome and should improve the somewhat absurd user experience on the said reader apps on Apple's devices.
Previously, apps like Netflix weren't allowed to give users a link to sign up if they didn't have an account with the platform. Moreover, the system forced developers to give up 30 percent of their revenue if they didn't want to use the tech giant's in-app payment system. All of this contributed to a poor overall user experience for iOS users. However, due to the settlement with the JFTC, developers should be able to make a 'sign up' button for iOS apps to take the users to the said app's website.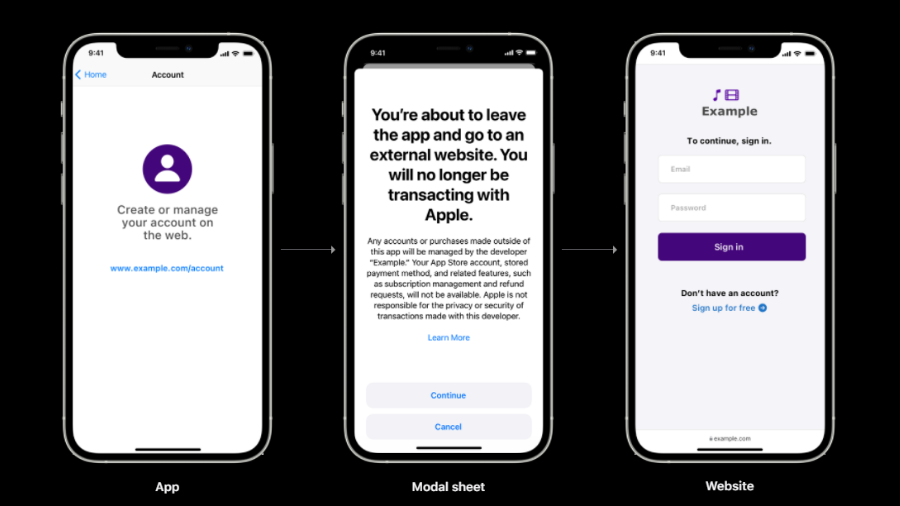 Won't be a smooth transition for the developers
While things surely seem to be going smoother further down the road thanks to the settlement, making the said changes will not come smoothly. Since the developers won't be able to just a 'sign up' link to the app just like that. According to Apple's developer support page, developers would first have to request "entitlement" before moving on with any changes.
In addition, for the said reader apps like Spotify, Netflix, and many others, Apple also wants the developer to set up a screen explaining that any purchases made won't be through Apple. Along with this, Apple also mandated developers to link a page that declares the risks associated with giving info to third-party developers.
While the move will surely make things smooth in terms of user experience, the associated security risks with third-party developers are sure to arise. Meanwhile, Apple isn't going to make things smooth for the developers with its long list of requirements and rules for the entitlement.