In what comes as news to Apple users, the tech giant mistakenly promoted some 'scam apps' in the App Store in Australia. Apple users in Australia are furious over the tech giant's negligence in allowing the app in its App Store. The app "Slime relaxation" doesn't seem to do anything except fooling users into paying hefty subscription fees.
Now, this is not the first time that a scam app has made its way into Apple's App Store. Meanwhile, some of these 'scam apps' have made millions of dollars in the past. However, Apple is now being accused of promoting these apps that apparently do nothing yet charge users up to AU$676 a year.
The bait business
In an astounding Twitter thread, developer Simeon shows how Apple is promoting one of the scam apps, Jelly: Slime simulator, ASMR. In the Twitter thread, Simeon shares how the first page of the scam app Slime doesn't highlight but features a crucial bit of information. At the bottom right corner, a tiny piece of text advertising that the Slime app on Apple's App Store is AU$12.99 a week, an astonishing AU$676 a year!
Furthermore, the app downloads hassle-free on the iPhone. However, the app baits users by giving them a 3-day free trial and then AU$12.99 a week. All while relying on users to forget to cancel the free-trial service.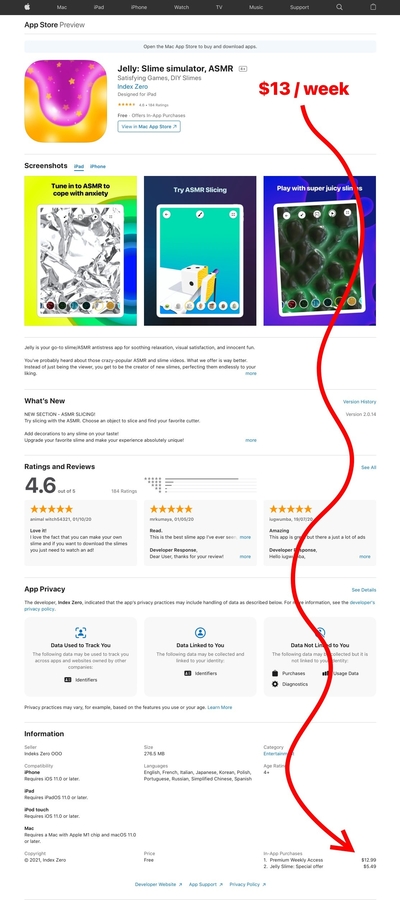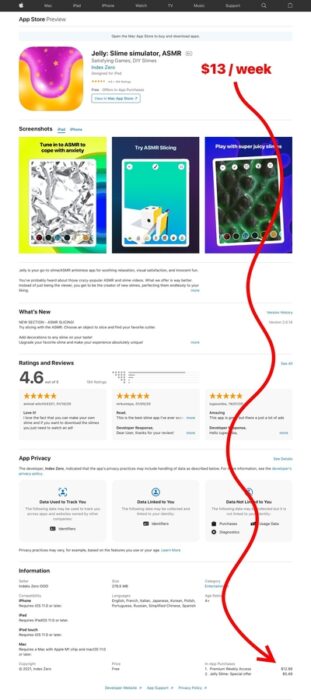 Simeon went on to say that the problem is infuriating. "As a developer who is not looking to scam people (I don't want your money accidentally! Nor do I want to charge obscene amounts for trivial things). This makes it hard for anyone to trust us & the App Store," he says.
All the while existence of these Slime jelly-like scam apps in the App Store has been the center of arguments for Apple users and its critics. Meanwhile, any comment from Apple regarding these scam apps in the App Store is yet to be heard. However, the tech giant claims to prevent its users from scams by rejecting 2 million app submissions.