Apple unveiled its latest SoC for the new iPhone lineup at the iPhone 13 event. The A15 Bionic is the chip that powers the latest iPhone 13 lineup and other devices. Moreover, it appears that someone managed to get their hands on one of the devices and upload benchmark results on Geekbench.
Apple surely doesn't like to provide us with specifics when it comes to highlighting improvements. As the tech giant claimed, the A15 Bionic is up to 50% faster than the "competition." Apple didn't specify the details here, but the benchmark results on Geekbench validate Apple's claims.
A15 Bionic Benchmarks Show Significant Improvements
Several iPhone 13 model benchmarks surfaced on the Geekbench website, all of which seem promising. The A15 Bionic on the iPhone 13 Pro and 13 Pro Max (because of the 6GB RAM) obtained a single-core score of 1,734 and a multi-core score of 4,818. Another test managed to net a similar single-core score of 1,738 and a multi-core score of 4,766. Certainly, these results represent a ~10% increase over the A14 Bionic's average single-core score of 1,575.
Furthermore, the GPU side of things is even better. The A15 Bionic on iPhone 13's Pro models scored 14,216 on Geekbench's Metal benchmark. The said result is around 55% more than the A14 Bionic's average metal score of 9,123.
However, that's not all. Additional benchmarks, supposed to be of the regular iPhone 13 models, provide more insight into the SoC's performance. The Metal result for the iPhone 13 reveals a score of 10,608, which is only ~15% higher than that of its predecessor. The metal score is significantly lower than that of the iPhone 13's Pro models as the Pros have an extra GPU core which seems to be working overtime.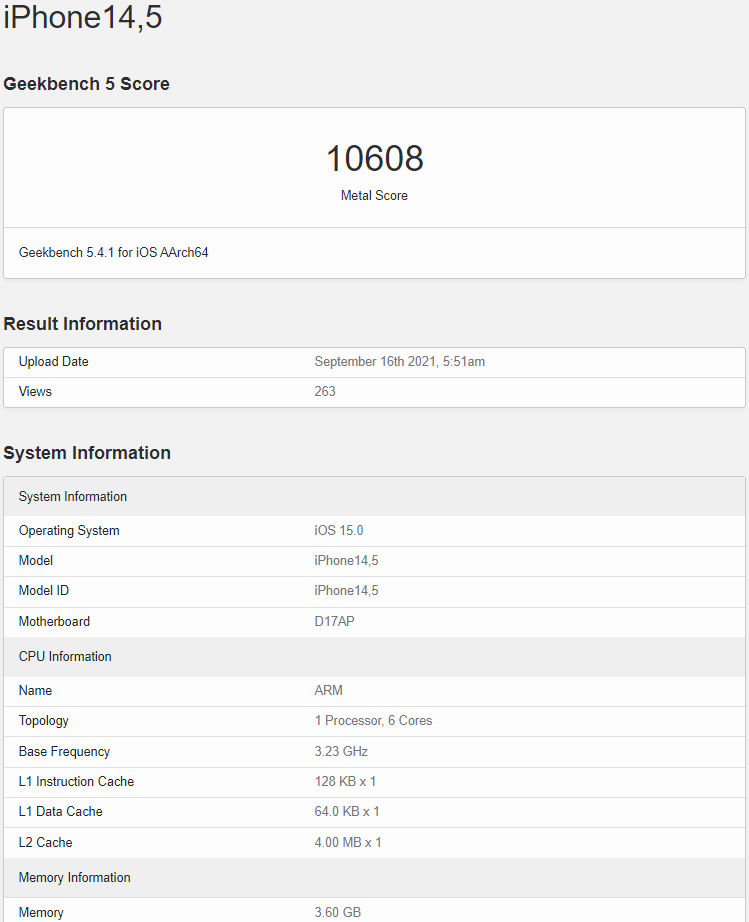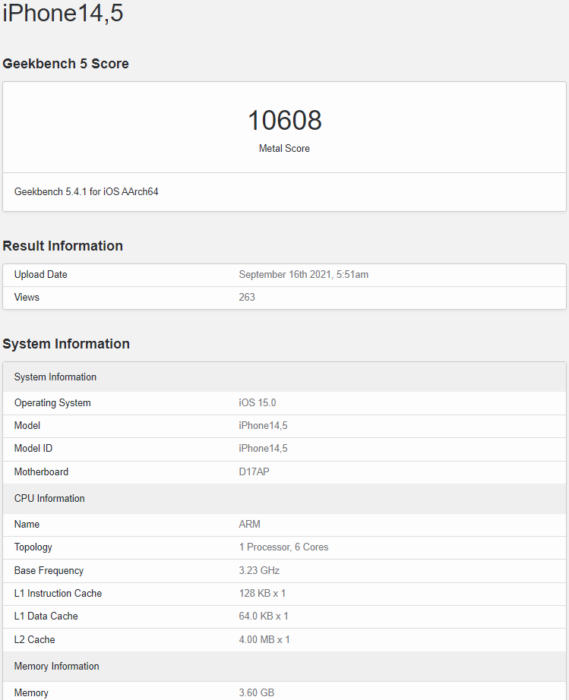 Looking at these scores, the performance on the new iPhones looks promising. However, Geekbench scores shouldn't always be taken as a primary reference to evaluate performance. We'll have more insight into the A15 Bionic's actual power soon.