The advent of cloud storage has undoubtedly proved to be beneficial to the masses. But the availability of multiple cloud storage options associated with different accounts makes it difficult to keep track of files stored on various cloud services.
Thankfully, there are many cloud-based data transfer services to our rescue, and one of them is AnyTrans for Cloud. This brand new Cloud Manager helps in managing files across multiple cloud drives including iCloud, Dropbox, Google Drive, OneDrive, etc. at one place. It is available for Windows, Mac and also as a Web App.
Features of AnyTrans for Cloud
Manage your cloud files efficiently
Switching back and forth between different cloud apps is a cumbersome task. So AnyTrans for Cloud does away with these issues by offering a platform where you can access and manage all cloud drives with one login. On opening the application, one can see a list of all popular drives such as Box, Dropbox, Google Drive, OneDrive, pCloud and iCloud Drive. You can select the cloud storage services you use with a single click and add it to a section called My Cloud. You can upload/download files and folders from cloud storage to PC and vice versa.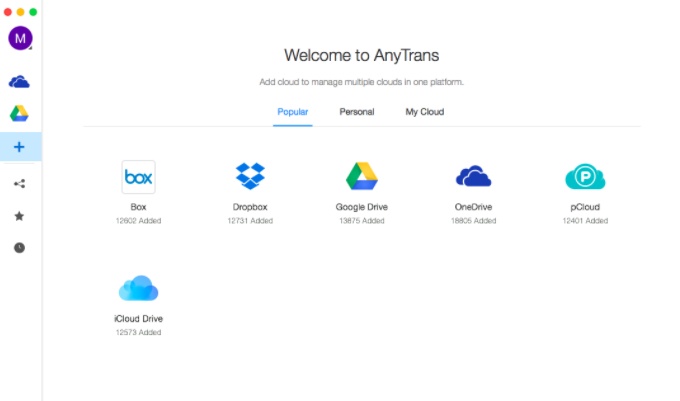 Moreover, you can transfer files between multiple cloud storage simultaneously – which is the best feature of this cloud management software. Other features include creating, deleting, moving and copying files or folders. It also lets you share files from any cloud drive by creating links, sending invites through email, or via Facebook, Twitter, etc. You can also set the type, expiration time, and number of downloads on the share link to prevent unwanted access. Another function called Starred helps you in finding the important contents quickly and conveniently by marking a star against them.
File Syncing through different modes and channels
AnyTrans offers three different modes for syncing files or folders from cloud (Source) to cloud (Target). Each of them has a different purpose and you should choose accordingly.
One-way Sync: If the Target has the same folder or file as the Source, it merges the folder or file and skips the same file.
One-way Cumulative Sync:  If the Target has the same files or folders as the Source, it renames the duplicated files or folders and then syncs them to the Target.
One-way Backup Sync: This method lets you copy the entire content of a folder or files (like documents, photos, music, videos, texts and so on) from Source to a newly created folder on the Target.
Along with the methods mentioned above, AnyTrans also offers 3 customized cloud-to-cloud sync channels for transferring or syncing the files: Online, Offline, and Premium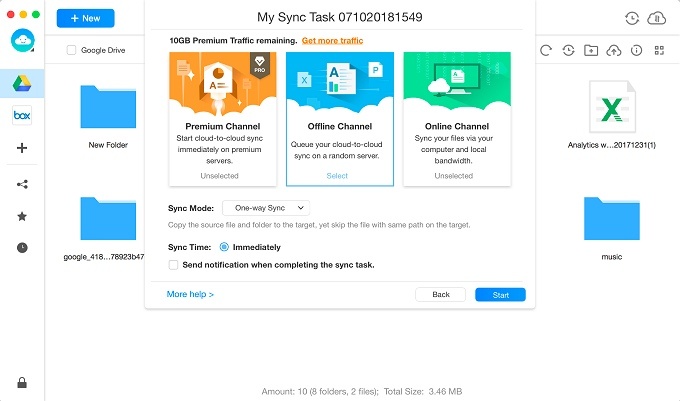 Online Channel syncs your files via your computer and local bandwidth
Offline Channel queues your cloud-to-cloud sync on a random server
Premium Channel starts cloud-to-cloud sync immediately on premium servers.
Schedule A Sync Task
With AnyTrans, you can automatically transfer or sync your photos, videos, and large files from one cloud drive to target cloud by scheduling a sync task for a later date and time. But keep in mind that this can be accomplished only through the Premium Channel. The schedule option also lets you assign sync task on a daily, weekly or monthly basis.
Safe and Secure
AnyTrans makes use of Google 2FA verification, Apple 2FA verification, and SSL-256 encryption technologies, to keep all your data and files are 100% secure.
Pricing and Availability
AnyTrans for Cloud is completely FREE, and you can download its application for both Mac and Windows or even choose to use it as a Web Application. On immediate registration, you'll get priority access, a Premium plan completely free of cost and an extra early bird gift.
In case you need some help in managing files on your phone, do check out AnyTrans for iOS and Android.
Final Words
AnyTrans for Cloud is a convenient tool for bulk transfer of files between different cloud platforms, and it definitely saves you a lot of time and effort. However, it doesn't have every single cloud service we would want, but hey, it's free and besides it has all the mainstream picks like Dropbox, Google Drive, OneDrive and iCloud which is sufficient for most of us. In addition to that, the data transfer speed is decent, and the interface is pretty simple and easy to use.
This post is sponsored by AnyTrans for Cloud