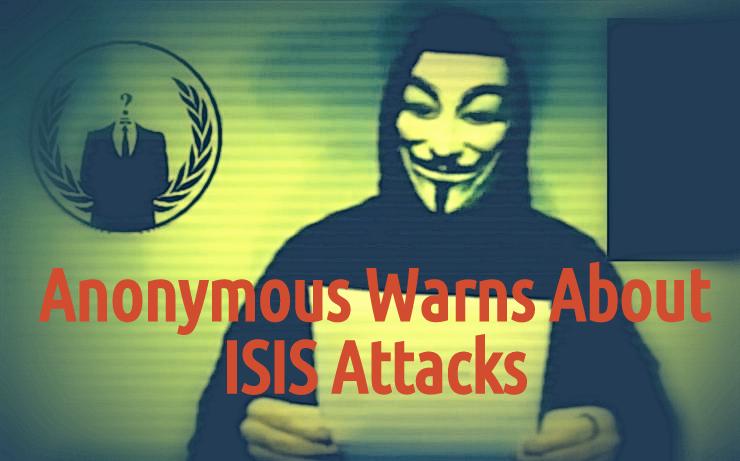 Short Bytes: The Anonymous hacktivists have claimed that they have uncovered a secret Islamic State plan for a worldwide terror attack this Sunday. The group has warned about the potential attacks in Paris, the US, Indonesia, Italy, and Lebanon.  Update: However, Now Anonymous is distancing itself from the reports released yesterday. Anonymous released several statements over Twitter saying, "We did not spread any rumors about possible future ISIS attacks, and frankly, we do not know where the rumors come from."
T
he Anonymous hackers have declared a full-blown cyberwar against the terrorists. In the wake of Paris attacks, Anonymous hacktivist group has been unmasking the ISIS Twitter accounts and planning to erase them from the internet.
Anonymous has claimed that they have uncovered a secret Islamic State plan for a worldwide terror attack this Sunday i.e. today. The group has warned about the potential attacks in Paris, the US, Indonesia, Italy, and Lebanon.
Earlier, Anonymous OpParisIntel group posted the warning on Pastebin. However, the original post has been removed and replaced with a new post that says:
Our project is over, we have reached our goal – Warning the right authorities.
There is no more need to share this link, if the authorities do their job well (which we hope they will). To prevent more "fear" from being spread we have therefore removed all our tweets except for this one.
Here's the Tweet mentioning the threat and a link to the Pastebin post:
22nd of November – #ISIS Threat – #Anonymoushttps://t.co/LbPBMkG5xC#OpParisIntel#OpParis

— Anonymous 4thEstate (@4thAnon) November 21, 2015
The hacktivists said that they got the information from "several pro-Daesh [IS] accounts," and the attacks are planned to take place on November 22.
Here is the list of events and places that were uncovered at Anonymous:
Al-Jihad, 1 Day Juz (Indonesia)
Five Finger Death Punch (Milan, Italy)
University Pastoral Day (Holy Spirit University of Kaslik, Lebanon)
WWE Survivor Series (Atlanta)
Demonstration by the "Collectif du Droit des Femmes" (Paris)
Cigales Electroniques with Vocodecks at Le Bizen (Paris)
Concrete Invites Drumcode: Adam Beyer, Alan Fitzpatrick, Joel Mull at Concrete (Paris)
Feast of Christ the King celebrations (Rome/Worldwide)
This post has been noticed by security agencies like FBI and they are looking into the matter.
FBI official: taking #Anonymous report about #Isis threat @ #WWE event in #Atlanta seriously @wsbtv #BREAKING

— Mark Winne (@MarkWinneWSB) November 21, 2015
It should be noted that Anonymous has pointed that these "threats" aren't the same as plans – and it doesn't mean that they'll be executed. Choose your own Cyber Security Hacker Bundle at fossBytes store