After months of waiting, Google is finally rolling out the AirDrop-like file sharing feature, Nearby Share, for Android devices.
For now, the file sharing feature is rolling out to selected devices, including the Pixel lineup and a few Samsung devices. However, Google has confirmed that "Nearby Share" will come on all Android devices, running 6.0 or higher, in coming weeks.
What is Android's Nearby Share?
Google has been testing an AirDrop alternative for a long time and now it's finally here. This feature enables sharing files, images, links, contacts, and other types of items between all Android devices.
Before Nearby Share, Android users relied on Bluetooth, Wi-Fi direct, and third-party apps such as ShareIT for file sharing. All three methods of sending files wirelessly come with several demerits. For instance, third-party apps can help share files quickly but they also collect a lot of personal data. But now Android users have a homegrown method for sharing files.
How does Nearby Share work?
Nearby Share works similar to how AirDrop works on Apple —
Choose the file that you want to share
Tap on the nearby option in the Android share menu
Wait for a device to appear
Tap on the device to send it
The recipient now needs to accept the file in the new pop-up
This way, you can easily share files with the help of Google's new Nearby Share. Google says you can even share files while the device is offline.
"Nearby Share then automatically chooses the best protocol for fast and easy sharing using Bluetooth, Bluetooth Low Energy, WebRTC or peer-to-peer WiFi."
Again, similar to iOS, you can choose the visibility settings (all, some, or stay hidden) i.e. who can detect that you are sharing files. Google says it is also possible to send files anonymously.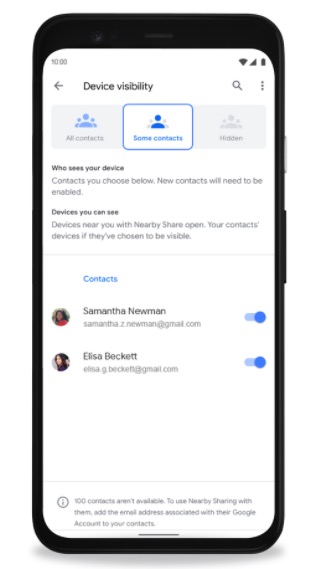 Google has also confirmed that the feature will arrive on Chromebooks later. The company has been testing Nearby Share on ChromeOS for a while now.