Recollecting my overall experience with Android, if there is one thing that infuriates me more than anything — it's the wait for the latest Android update.
I admit that the situation has slightly improved with Google initiatives such as Project Treble and the Android One Program. However, if you look at my list of Android smartphones that have received Android 9 Pie, the truth is right up front.
Studying the OS update frequency of top smartphone brands, Counterpoint, a research firm acknowledged "that device makers need to step up their efforts to provide regular software and security updates to their users."
The report analyzed how different manufacturers have sent updates to their smartphones over the term Q3 2018 to Q3 2019. The researchers concluded Nokia leads the competition when it comes to delivering the latest Android updates.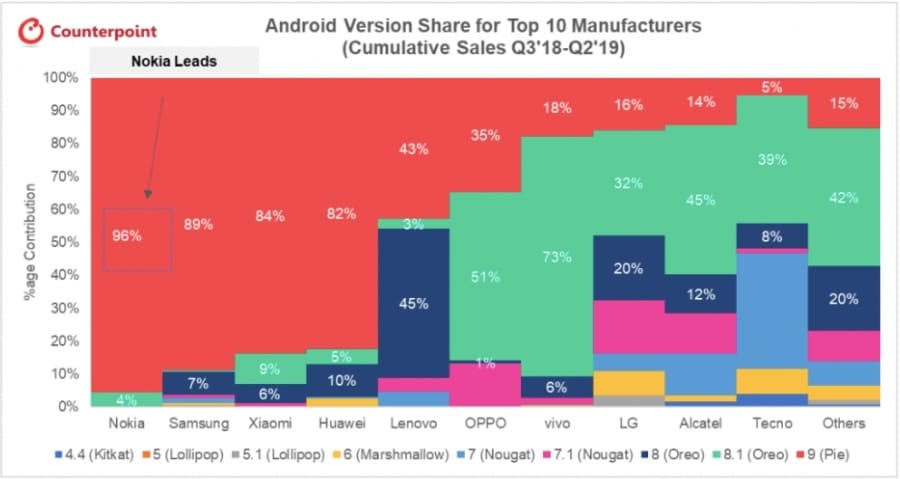 According to the Counterpoint report, 96% of the Nokia phones in the market were either running Android Pie or have an update issued to them. Samsung follows Nokia with over 89% and Xaiomi with 84% of devices running the latest Android version.
Huawei was in the fourth position with 82% of its devices running Android Pie. It's hard to complain about Huawei since they might be shifting to a different OS in the near future. However, other smartphone brands such as Lenovo, OPPO, Vivo, and LG have extremely disheartening numbers with more than 50% of their smartphones still running Android Oreo.
The study also notes Nokia started updating its smartphones within the first month of the Android Pie release. In addition, the brand distributed updates to 50% of its smartphone within six months of release, becoming the fastest one to do so.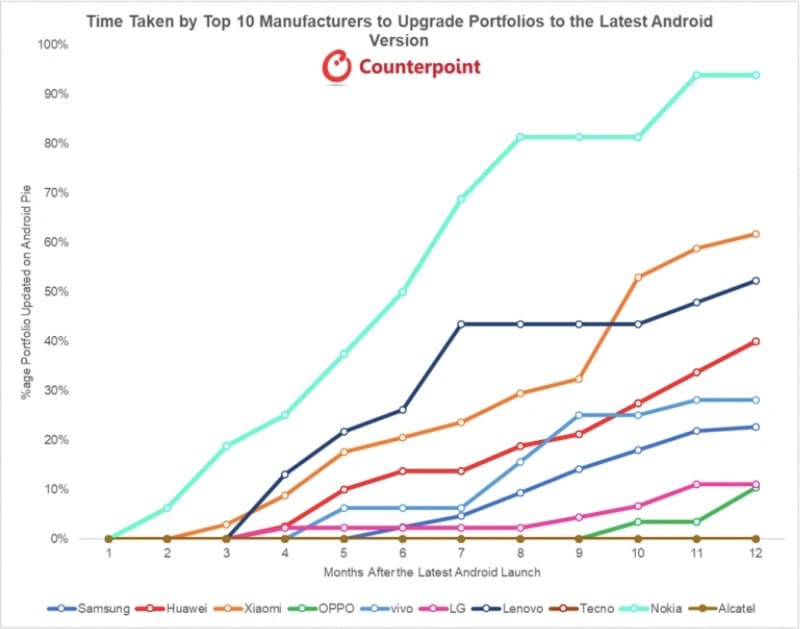 However, the research fails to factor in a crucial point. Most Nokia phones nowadays are part of the Android One program, while other manufacturers have only one or two such smartphones.
The crux of the Android One Program is to issue faster Android and security updates on the smartphone. If Nokia was running an iteration of Android like Samsung, Xiaomi, and Huawei, the picture would have been entirely different. But right now, that's the least concerning factor.
As researchers point out, the important part is smartphone brands failing to understand the importance of Android updates among the users. In fact, updates are essential to get the highest potential out of the high specifications of a smartphone.
It would be interesting to see how the smartphone manufacturers will update their smartphones, post the release of the next Android version — Android 10.