Short Bytes: Google's Smart Lock includes various methods to unlock an Android device. You can use voice recognition, facial recognition or a Bluetooth-connected device to gain access to your phone. Using smart lock, you can also keep your phone unlocked while it is in your hands or automatically unlock your phone when you reach a location added as trusted place.
T
he way we unlock our Android device is mostly limited to patterns, pins, and more recently, fingerprint sensors. With the launch of Android 5.0 Lollipop, Google started including multiple security features, collectively known as Smart Lock.
Smart Lock includes a bunch of methods which can be used to unlock an Android smartphone. For instance, keeping it unlocked while it is in the hands of the user or unlocking the device automatically when a person is at a specific location.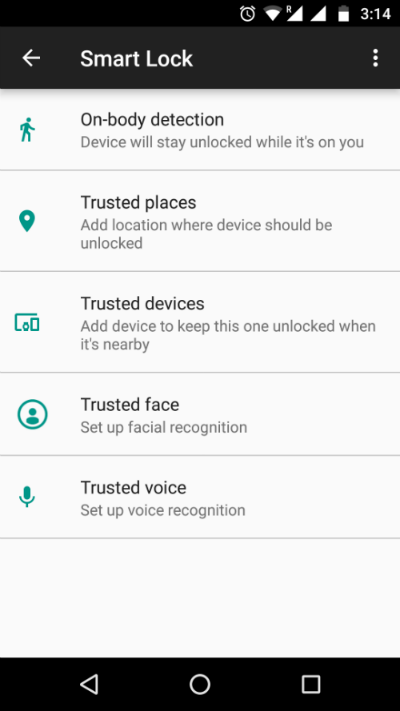 You can find the Smart Lock option on your Android device in Settings>Security.
1. Automatically unlock Android when you reach your home
One of the five options you would see in the Android smart lock settings is the ability to automatically unlock your phone when you are at a specific location. It uses the GPS sensor to track you in real-time.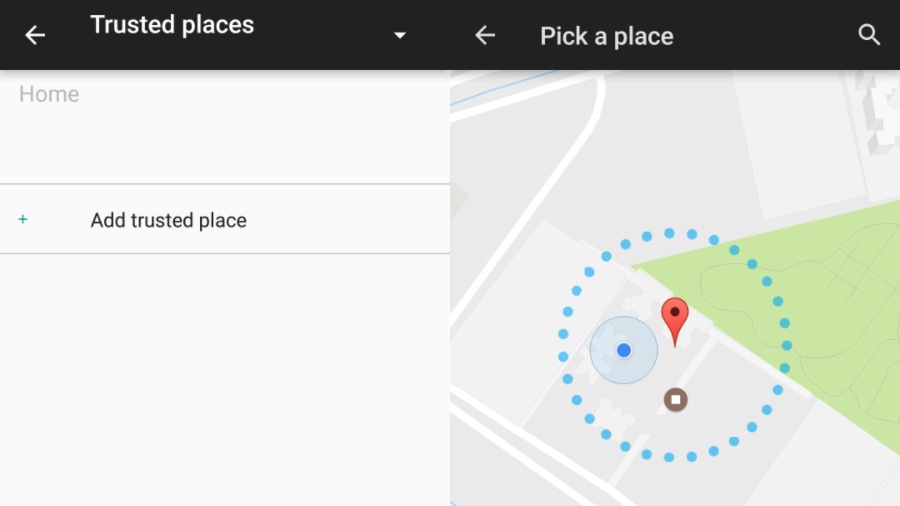 To add the new location in Trusted Places and tap Add Trusted Places. Now, drop the pointer to the desired location on the map. The dotted circle represents the area where your phone will get unlocked automatically.
This security feature uses the GPS sensor to track you in real-time. So, it might reduce your battery juice a little bit.
2. Keep your Android unlocked when it's in your hands
It is frustrating when our phone automatically locks while we are walking down the street and using the map to know the directions. Tapping the screen at regular intervals or increasing the screen timeout could be a couple of workarounds.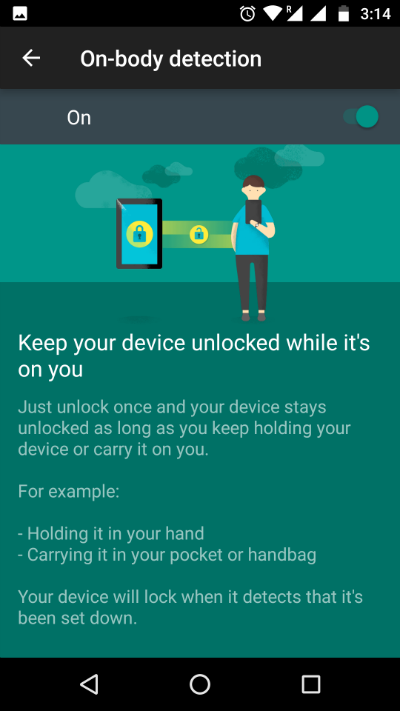 You can also take the help of the smart lock features. Using the sensors on your Android phone, it senses that the phone is in your hands and prevents it from unlocking till you put it down somewhere.
3. Unlock Android using smartwatch
Smartwatches have Bluetooth connectivity, and they can be used to automatically unlock Android smartphones when they're in the vicinity. In Smart Lock's Trusted Device section, you can add you smartwatch or any other Bluetooth system.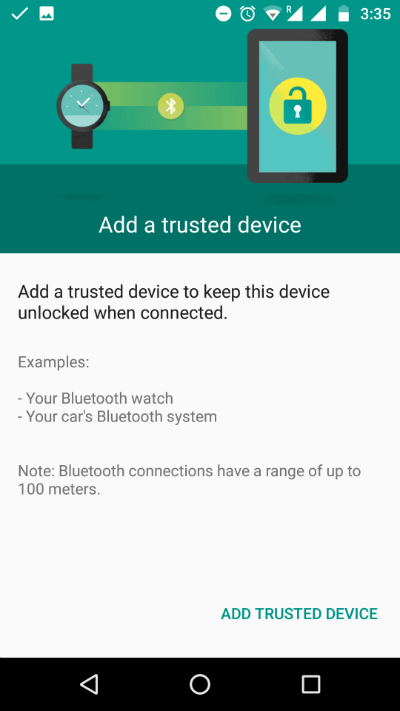 The variety of devices isn't confined to smartwatches and bands. You can attach NFC tags as a trusted device to unlock your phone. One awesome application is in the form of NFC stickers which you can be worn on hands.
As NFC works, taking your smartphone close enough to the NFC-enabled digital tattoo would unlock the phone in a fraction of a second. A couple of years ago, Motorola teamed up with Google ATAP and VivaLnk to create a range of digital tattoos for the Moto X smartphone.
4. Use your face to unlock your Android phone
Although, this feature isn't something you haven't heard about, but many people don't use it on a regular basis. Unlock your Android phone using facial recognition can be sometimes easier than typing passwords. People can social engineer your pin or pattern, but they can't copy your face.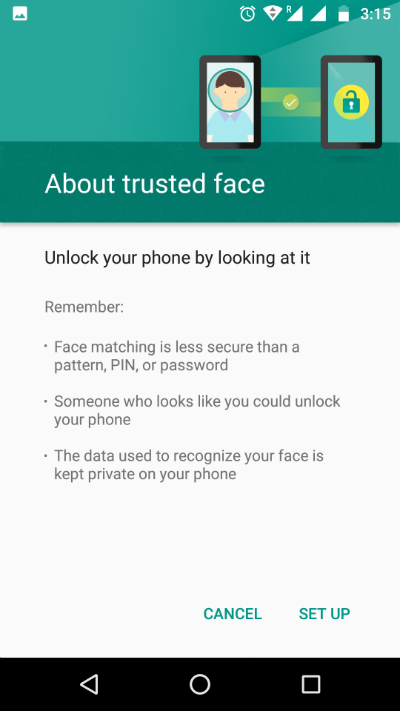 However, it may have its downsides. Facial recognition might not work well in low light conditions and it's considered less secure than other unlock methods. Your phone might give access to your doppelganger.
5. Say "Ok Google" to unlock your Android
This is another known but less popular android unlock method. The phrase "Ok Google" which is used to activate Google Now and Assistant can also be used to unlock the phone from the sleep.
You can setup 'Ok Google' unlock method by tapping the Trusted Voice section in Smart Lock. Tap From any screen toggle option and follow the procedure. It'll ask you to say 'Ok Google' three times. At a later stage, you can use the Retrain voice model to improve your Ok Google detection.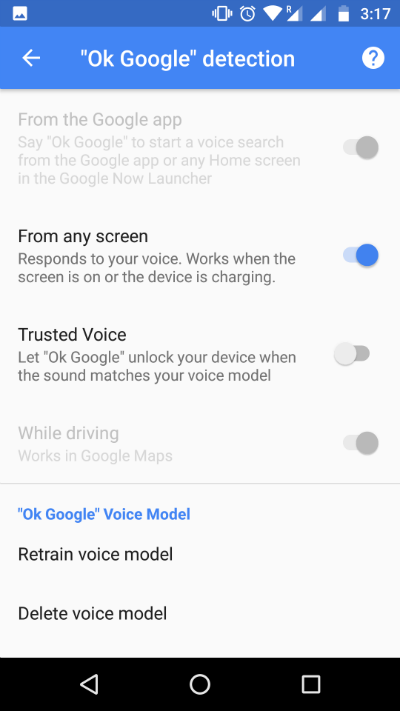 Other people might have trouble unlocking your device using their voice as Google matches your voice model for authentication.
Also Read: 8 Useful "Google Play Store Tricks" And Features For Every Android User
Some other unlocking methods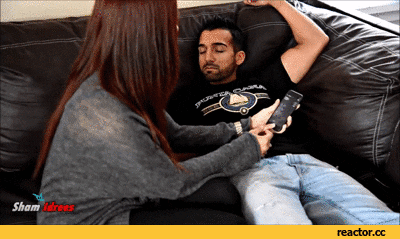 There are other ways to unlock and Android device. These are not a part of Android Smart Lock but we may find them as an inbuilt feature on various Android smartphones and tablets.
6. Double Tap
Double Tap to unlock method for Android devices initially debuted with the LG G3. But now it can be found on different Android phones. Double Tap is inbuilt in LG, HTC, and Mi phones.
If your phone doesn't have the feature, you can download an app called KnockON or Double Tap Screen On and Off from Google Play. Although the two apps worked, they aren't good enough for regular use.
The double tap features the proximity sensor of your smartphone. So, it may drain your battery a little bit faster if you use it regularly.
7. Android Gesture Unlock
This involves unlocking an Android phone by drawing gestures (alphabets or other shapes) on the lock screen. Gesture lock was gained popularity when the CynogenMod was sailing the success boat.
If the gesture lock feature is not present on your phone by default, you can use a bunch of Android apps including Gesture Lock Screen and Pi Locker.
8. Twist to unlock your Android
The Android unlocking method is slightly different than the ones we have known. Various phones do include the camera unlock functionality by twisting the device.
You need to twist your phone to unlock it. I haven't seen this one on any Android phone yet but I came across an app on the play store called Twist to Unlock. I was able to unlock my device but the developer hasn't pushed any update since 2014.
So, did you find these methods helpful? Drop your thoughts and feedback.
Also Read: 5 Best Alternatives To Microsoft Office Suite — 2017 Edition