Google today announced several new changes coming to Android and introduced a bunch of Google Assistant features as well.
These new features are not Android 11 exclusives. They'll work on older supported Android versions as well since most of the are related to Google apps and services.
Also Read: Android 11 Smartphone List: When Will My Device Get Android 11?
You'll find these changes on your Android phone straight away. If you don't, go to the Play Store and check if the apps are updated. Here are the new features on Android:
Google Assistant: App Shortcuts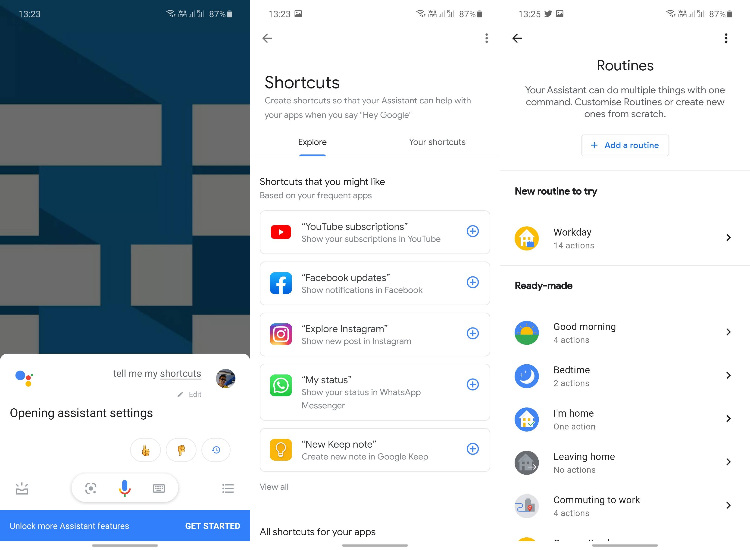 Google Assistant can now do more than setting reminders. You can use it to open apps or assign a custom command for the apps on your phone. You can ask the assistant to search for things within an app, create new notes, or open specific profiles on Snapchat.
To get a list of all the shortcuts, summon the Google Assistant with "Hey Google" and say, "Show my shortcuts." You'll get a list of shortcuts that work with compatible apps on your phone. You can scroll to the bottom of this page and also set Routines. Routines let the Assistant fine-tune your phone to your daily schedule.
Google Duo and Phone App
The video calling app from Google now allows you to share your screen when on a video call. If you can't take a call, Duo will let callers record a video message for you to watch later. The recorded video will have automatic captions for people with hearing disabilities.
Apart from that, the default phone app is getting a 'Verified Calls' feature. Google says it is adding the feature to safeguard users against spam calls. Businesses can get verified by Google, so they're not automatically blocked.
Sound Notifications and Action Blocks
These are the new features in Android that will aid the differently-abled. A new Sound Notifications feature can be turned on from accessibility settings. It is also available in the latest update of the Live Transcribe app. Once activated, your phone will show a notification, flash, and vibrate when detecting certain sounds.
Android will alert you if it hears the sound of a door, fire alarm, pets, kids, and much more. The feature also works on WearOS, letting your smartwatch send you a message when the phone senses activity. If you're wearing headphones, it'll lower the sound upon hearing an alert.
Coming to Action Blocks, it's a feature for people with cognitive disabilities. Action Blocks can be used by people to communicate with others. Google has added support for short phrases in the app, so people with speech disabilities can communicate more seamlessly using it.