The news about Android Q and its features has already started flowing in; it's the next major Android version that's going to release later this year.
I know it's a bit too early to talk about Android Q, or Android 10, but thanks to all the leaks happening around, we do have something to discuss.
Obviously, there are a lot of questions that need an answer. Like when will Google release the next major Android? What dessert will the company pick for the name? And the most important one, what are the biggest Android 10 features we're going to see?
Android 10 Name: What are we calling it?
Now when it comes to naming Android every year, people give tons of suggestions, but you can never know what Google picks. For Android 10, these are the desert possibilities that we have:
Android Quesito (ke-see-toe)
Android Quindim
Android Quiche
Android Qottab (Ghottab)
Quince (kwins)
Queen of Puddings
Quarabiya (Kurabiye)
Queijadas
I know all of these names are no less than tongue twisters, but still, if I talk about my choice, it is Android Quince as it's the easiest to pronounce.
However, due to a scarcity of good names, people are also saying Google might not pick a dessert name at all this time.
Android 10 Release Date: When is it coming?
Android's release schedule has been almost the same in the last couple of years. So, I guess it won't be much different for Android 10 Q, unless Google has some reason.
Usually, we have seen the first developer preview rolling out some time in March. Then at I/O, Google releases another developer preview with some more information about new features and changes. And then finally in the first week of August, we have the freshly baked Android version on our phones.
If I talk about the release date, right now we don't have any official confirmation. But if we look at the release dates since KitKat, Google has been pushing them ahead for every new Android version. So, if this trend continues, then I think we might get Android Q on or before August 6.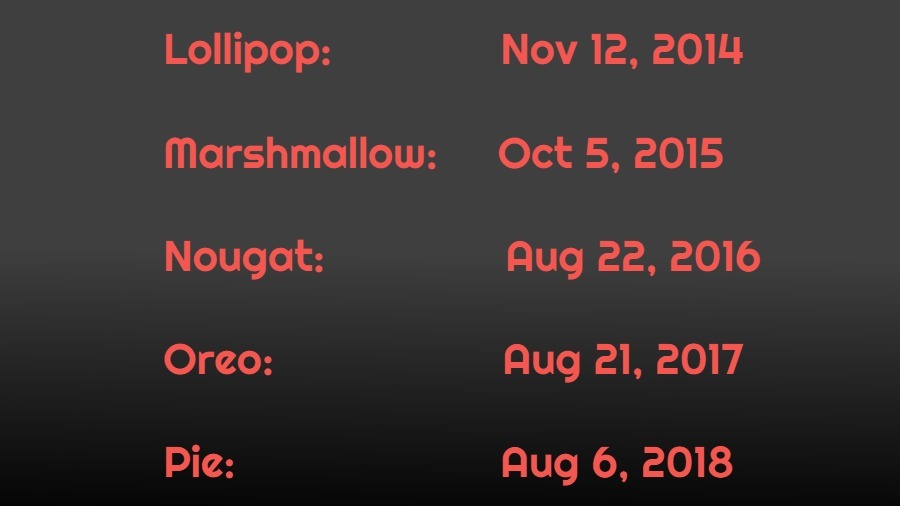 Top Android 10 Q Features: What to expect?
Now when it comes to Android Q features, currently, the most significant source of information we have is XDA Developers. They recently managed to get hold of a super early build of Android Q with February 2019 security patches. However, this is not going to be the Developer Preview that Google will release a couple of months later.
With that said, here are some features and changes that you might see on Android Q and are worth waiting for:
1. Dark Mode
First of all Android Q is getting a system-wide dark mode, that we all have been waiting for ages. Unlike Android Pie where the dark mode is somewhat inconsistent, here, it won't matter what screen you're on; it'll work everywhere. For the apps which don't support it, Android 10 will include an option to force the dark mode on them. However, doing this might break some apps.
2. Desktop Mode
We can also expect Android 10 to get a Desktop Mode which will be on the likes of Samsung Dex and Huawei's Projection Mode. It will provide a PC-like experience, complete with a standard desktop and full-sized apps. There's no denying the fact that smartphones give us convenience, but sometimes we really need a PC to get things done faster.
3. Boosted Privacy
Android Q is also expected to build more on the privacy features that Google rolled out with Android Pie. Now, you'll be able to choose whether or not the apps can access the location while they're running in the background.
Also when an app uses your location data, microphone, or camera, you'll see an icon for that in the notification bar. It'll tell you which app is using a particular sensor.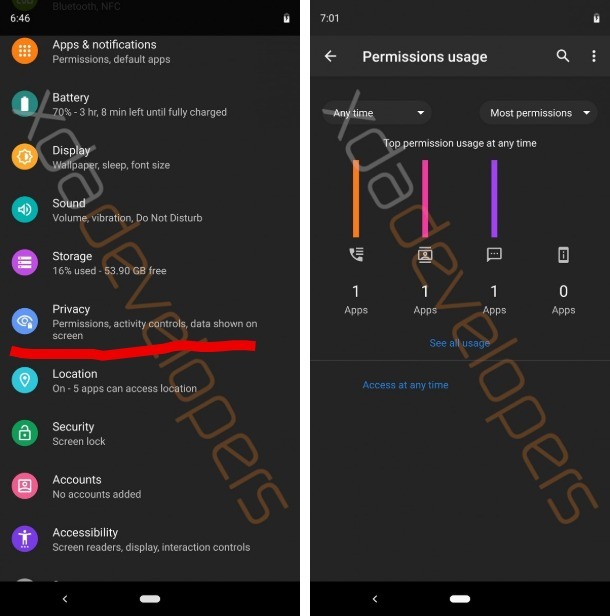 The leaked Android 10 build also reveals a new dedicated Privacy Page in the Settings menu. It shows the exact number of apps that are accessing your contacts, SMS, and other sensitive information.
4. Turn off every sensor
Now, Android Pie has a lockdown mode which can disable the fingerprint sensor, but I guess Android Q is going to have some kind of a super lockdown mode.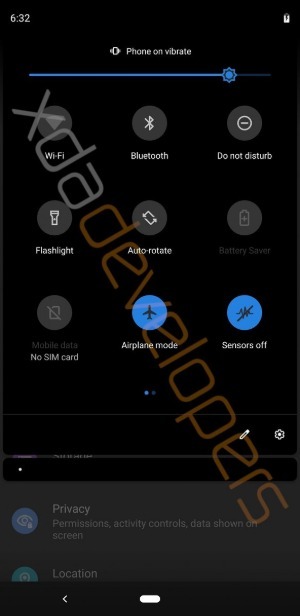 The leaked build includes a 'Sensors Off' toggle button which puts the device into Airplane mode and disables all the sensors on the phone. I hope it'll also let us disable sensors like Accelerometer and Gyroscope that are not visible to naked eyes.
5. Screen Recorder built-in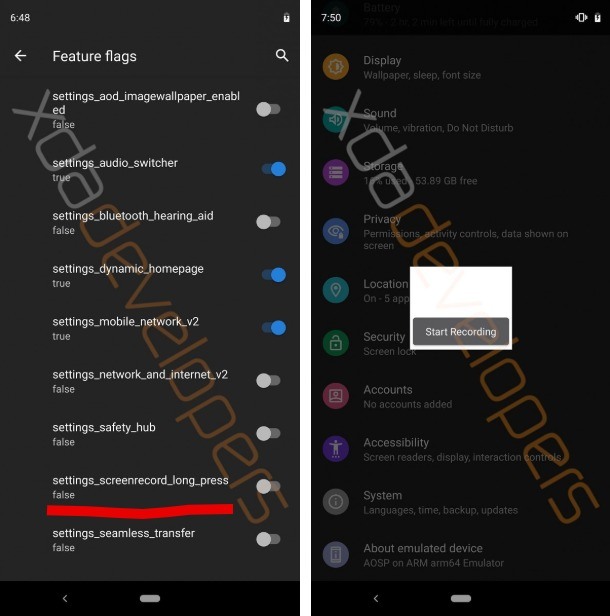 Talking more about Android Q features, we might also see a built-in screen recorder tool just like iOS. In the leaked build, the screen recorder tool which is incomplete can be accessed by long pressing the Screenshot button in the Power menu. This is after a flag called settings_screenrecord_long_press is toggled on.
6. Android Beam removed
Also, one more thing to note is that the Android Beam option that is used to share files between devices is, somehow, now gone. The feature is already crippled, so I don't think it will concern many people even if it's removed.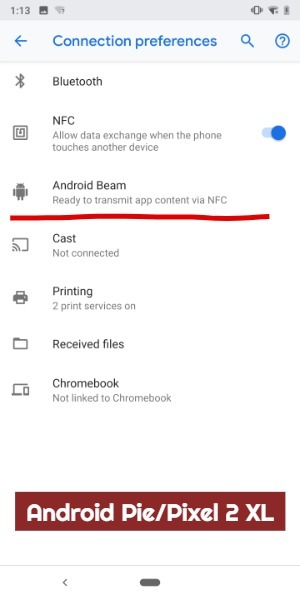 But if what I am assuming is correct, then it could be possible that Google is working on a new file-sharing feature for Android, similar to Apple's AirDrop and Nearby Sharing on Windows 10. And it won't be surprising if we see it on Chromebook's as well.
7. Carrier Lockdown
Now the story is not all good-good, and Android Q might bring some restrictions into your life. If you buy a locked Android Q device from a carrier, they'll have the capability to stop you from using SIM cards of specific others carriers by created lists for 'allowed' and 'excluded' carriers.
8. Face ID like Facial Recognition
The XDA team discovered a bunch of strings which indicate that Android 10 will have an in-house facial recognition feature. It means that smartphones that already sport a face unlock system will get native support form Google.
Moreover, in-built facial recognition support could also mean app and payment authentication through the face and added security.
9. No more stealing passwords
The Android Q 10 build is including new permission called "READ_CLIPBOARD_IN_BACKGROUND". As the name suggests, the new permission will hamper random background apps from accessing the clipboard content. Above all, apps would be asked to get a "signature" form the OEM.
10. Downgrading app updates
Often, you update an app and then immediately reget the action, possibly because of new bugs and glitches. Now, many permission and command lines on the leaked build suggest that Android Q will have the ability to roll back apps to their previous version.
11. New fonts, icon shape, and accent colors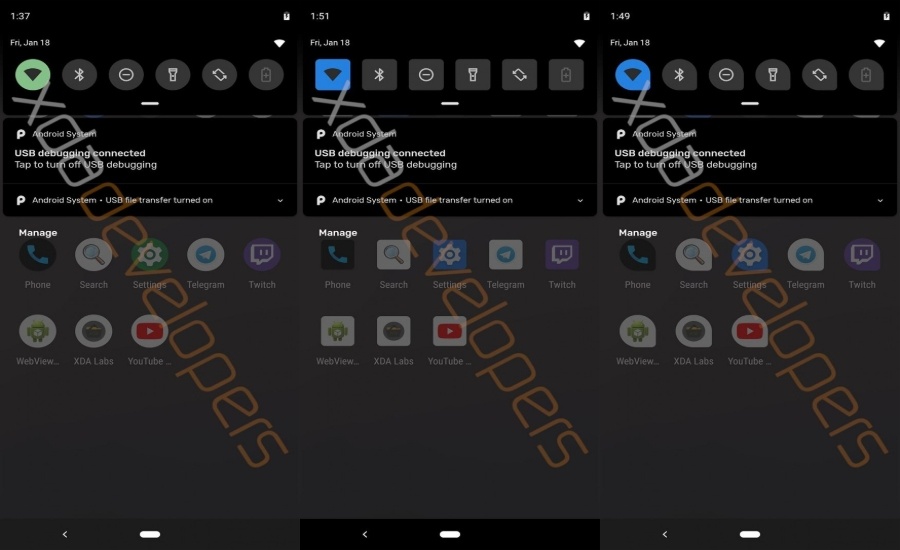 One of the features of Android Pie is the ability to change the background theme. With Android Q, Google is planning to add more customizations. The leaked Android build shows off new two new fonts; icon shapes such as  Square, Squircle, Teardrop; new accent colors namely black, green, and blue.
What do I want from Android Q?
Now as far as my wishlist is concerned, what I want is Google should improve on the gesture navigation they added to Android Pie. They at least need to make it easier to switch between apps. Just like it happens on iOS where you can simply swipe along the bottom edge to change apps. Yes, in Android Pie, you can slide the pill to do the same, but seriously it is good for nothing.
Will my phone get Android Q?
Another big question about Android 10 is what devices will receive it. Obviously, first, it'll land on the Pixel series except on the original Pixel phones as their upgrade period ended in October 2018.
Last year, many non-Google devices got Android Pie Preview builds because of the Project Treble in action. For now, there is no list of confirmed smartphones, but this time we can expect even more non-Google Android phones to get the preview builds of Android Q.
For the users who want to test the latest OS, Google will soon provide Generic System Image, or GSI for short, for Android Q. It is a very basic Android Q ROM that doesn't have any customizations like third-party apps, or even the Pixel launcher.
So, any device that supports Project Treble will be able to run the GSI ROM it passes the compatibility test. And yes, flashing the GSI on your phone would require some extra effort on your part. Such as unlocked bootloader and verified boot disabled. So be prepared for it.
Now, as you know, we should take all of this with a grain of salt because Google hasn't officially confirmed anything. Anyway, I'll wait and see how many of these features end up on the official Android 10 release. Also, keep reading Fossbytes for any further updates on the next Android version.