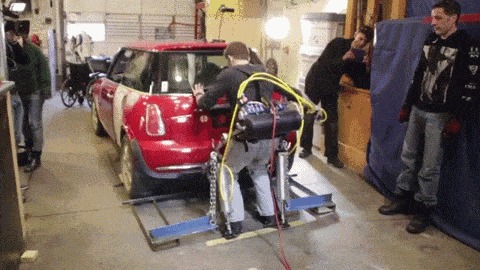 Short Bytes: Turning the concept of exoskeletons into a reality, a mechanical engineer has devised a homemade exoskeleton that allows him to lift up the back of a 2,524 lb Mini Cooper. He aims to make a full-body exoskeleton in near future.
E
xoskeletons aren't something we see in the Hollywood action flicks, powering the super-soldiers. Researchers have been working on this concept for a long time for increasing the physical strength of human beings.
Along the same lines, inventor James Hobson, also known as The Hacksmith, has built an exoskeleton that allows him to pick up the back of a 2,524 lb  Mini Cooper.
Earlier, inspired by the movie Elysium, this mechanical engineer made an exoskeleton that allowed him to pick up 275 lb-Olympic weights.
The Hacksmith mentions that he wishes to make a full-body exoskeleton. "While advancing battery technology will expand powered exoskeleton suits' potential greatly, I believe the next breakthrough in functional exoskeletons is much more simple. It's all about mechanical advantage," he says.
Watch this real world exoskeleton in works below:
Did you find this video interesting? Tell us your views in the comments below.
Also Read: This Guy Made A Homemade Laser Lightsaber And It's Dangerous Enough