AMD has unveiled Ryzen Threadripper 2990WX which is touted as the most powerful desktop processor in the world. The powerful 32-core/64-thread second generation processor lineup consists of three more processors along with the flagship Threadripper 2990WX. The other processors have fewer cores and threads.
The processor would launch in the months of August and September, and would carry the price tag of $1,799 which is a bit costly. But given the fact that it has blown Intel Core i9 out of the water in terms of performance, the price tag seems plausible.
2nd Gen Threadripper comes in two series: X Series is designed for gamers and WX series is meant for creators and innovators.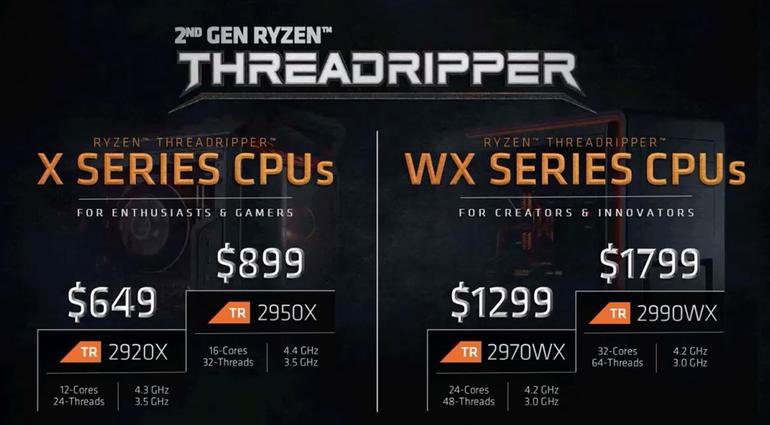 The unveiled processor chips are as big as iPhone 5 and are built using 12-nanometer Zen core architecture.
AMD's France webpage also posted the Cinebench benchmark performance of Ryzen Threadripper 2990WX and Intel Core i9 mistakenly. The data that was soon taken down by AMD showed that Core i9 bagged 3,353.2 points in the tests, whereas AMD Ryzen Threadripper 2990WX scored impressive 5,099.3 points making the Threadripper 53% faster than Intel's flagship processor.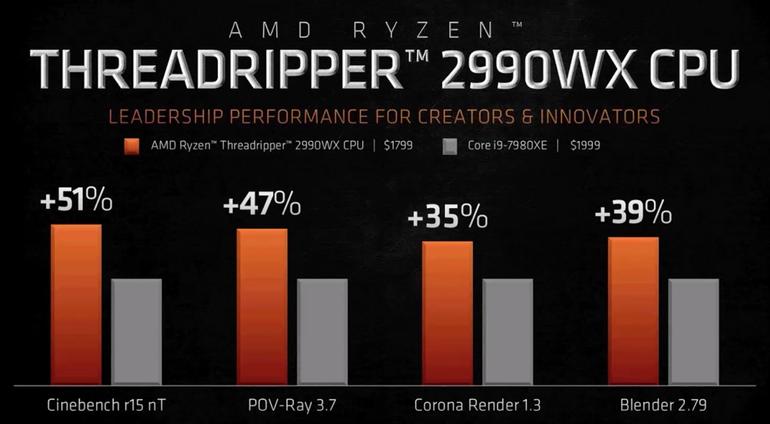 The Ryzen Threadripper 2990WX processors feature 32 cores and 64 threads. It is expected that the base clock would be 3.0 GHz and the maximum boost clock would be 4.0 GHz. Every single chip would include 16 MB of L2 and 64 MB of L3 cache, making the total of 80 MB of cache on each chip. The newly launched processors would be compatible with TR4 socketed boards as well.