A leaked Geekbench score has revealed the AMD Ryzen 9 3950X CPU to be the fastest desktop-based CPUs on the market. With a Geekbench score of 61,072, it obliterates the Intel Core i9-9980 XE in multi-core performance.
On the other hand, Core i9 9980 XE has a Geekbench score of 46,618 in multi-core performance. Not only that, the AMD R9 3950X became the fastest desktop CPU by winning in the Single-core performance with a score of 5,868. Meanwhile, Intel's chip only scored 5,395.
AMD Ryzen 9 3950X Beats Intel Core-i9 9980 XE in Price And Performance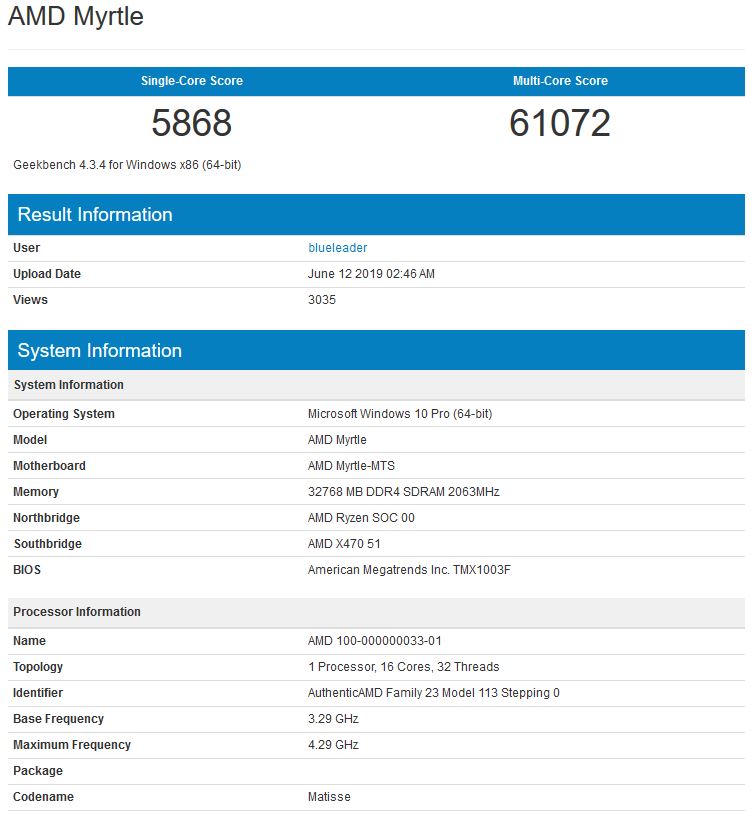 The leaked Geekbench score does prove that the $750 AMD Ryzen 9 3950X is faster than the $2000 Intel Core-i9 9980 XE. However, we still don't know of the precise conditions in which the tests were conducted.
For example, in the case where the AMD Ryzen 9 3950X is tested, we can see the system memory is 32GB DDR4 SDRAM running at 2063MHz. While on the Intel Core-i9 9980 XE side, there is no such information given.
Furthermore, the base and boost clock of the AMD processor is less than what Lisa Su unveiled during E3. Meaning that the leaked Geekbench scores could be from an early engineering sample. In the leaked Geekbench score, the Ryzen 9 3950X has a base clock of 3.3GHz and a boost clock of 4.3GHz.
This means that in the commercially available AMD Ryzen 9 3950X CPU with a higher 3.5GHz base and 4.7GHz boost the score could be even higher.
What's interesting to see here is the TDP of both the CPUs. Intel's chip is consuming 165W while AMD's CPU is using 105W. Furthermore, Robert Hallock from AMD has confirmed that users will be able to overclock the boost clock by 200MHz using the Precision Boost Overdrive Mechanism.
To further enhance the performance of AMD CPUs, Microsoft is also playing nice for a change. Windows 10 1903 comes with an improved Scheduler which allows Ryzen CPU core complexes to communicate efficiently between themselves.
AMD is putting a lot of pressure on Intel to innovate. The Ryzen 3000 series CPUs have better performance, more efficiency, and even better thermals thanks to the soldered design. When we combine this performance with the PCIe Gen4 offered on the new X570 platforms, we clearly have a winner.