If you thought classic betrayals only occurred in WWE storylines, check this one out. WWE's rival company, All Elite Wrestling (AEW), has just announced that it is making a foray into videogames with former WWE game developer, Yuke's.
Paying homage to the "count of three" jargon in the wrestling industry, AEW plans to release three different games in the future. The main game in this lineup, expected to compete with WWE's 2K franchise, will come out on PS5, PS4, Xbox One, and Xbox Series X/S.
For those who don't follow wrestling, AEW is arguably the second most popular wrestling promotion globally. It boasts a star-studded roster of famous wrestlers such as Chris Jericho, Kenny Omega, Jon Moxley (Dean Ambrose), and Cody Rhodes.
In an event streamed on YouTube, Kenny Omega announced AEW's first-ever videogame — untitled as of now — while also pulling off a very accurate Steve Jobs impersonation. The thing that piqued viewers' attention the most was Yuke's involvement, a developer who has a history of making WWE games.
Yuke's Turns Heel On WWE, Sides With AEW
After a run of poor games that peaked with the ridiculously buggy WWE 2K20, publisher 2K Sports cut all ties with Yuke's. The Japanese firm's WWE 2K series was replaced by Saber Interactive's WWE 2K Battlegrounds, which has toned-down realism and falls more on the arcadey side than its predecessor.
As it turns out, Yuke's is now working with AEW for its first major release on the current and next-gen consoles. Comparing the untitled game to NBA Jam and NFL Blitz, Omega revealed that the game would be "easy to pick up" but "hard to master."
The brief footage shown during the event gave us a glimpse of what we could expect from the game. It didn't reveal much apart from the cartoonish graphics that hint that the developer has taken inspiration from WWE 2K Battleground. Or, it could just be really primitive work-in-progress graphics.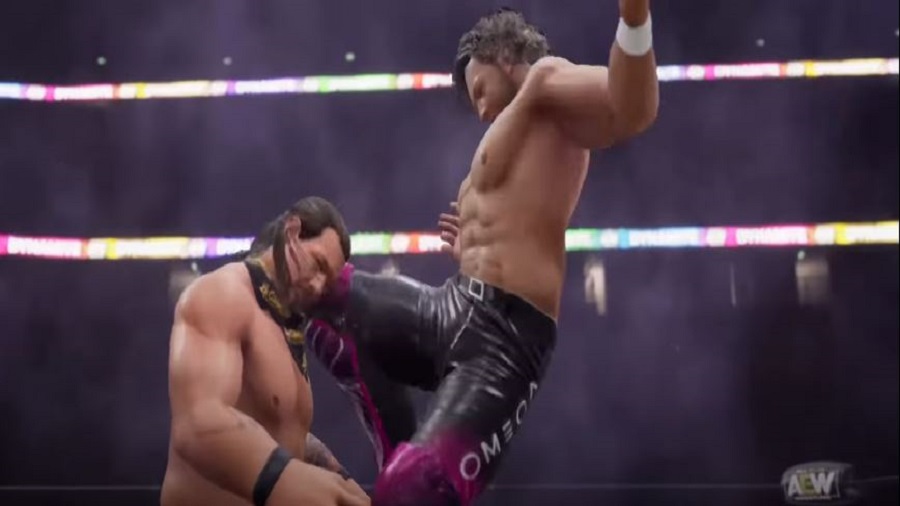 Moreover, two additional games, "AEW: Elite General Manager" and "AEW Casino: Double or Nothing," are also in the pipeline. In the Elite General Manager, you will take on a general manager's role on your smartphone. On the other hand, Casino: Double or Nothing will be a virtual gambling game with AEW merchandise as the jackpot.
Besides Yuke's, the veteran game director Hideyuki Iwashita, who worked on the "WWF No Mercy" game, also plays a significant role in AEW's gameplan. So, what these two bring to the table could give a huge boost to the company's ambitions of competing with WWE on the gaming front.
Hopefully, for WWE, AEW's partnership with its former allies will act as a wake-up call and, ultimately, lead to better WWE 2K games than what we have seen over the years.