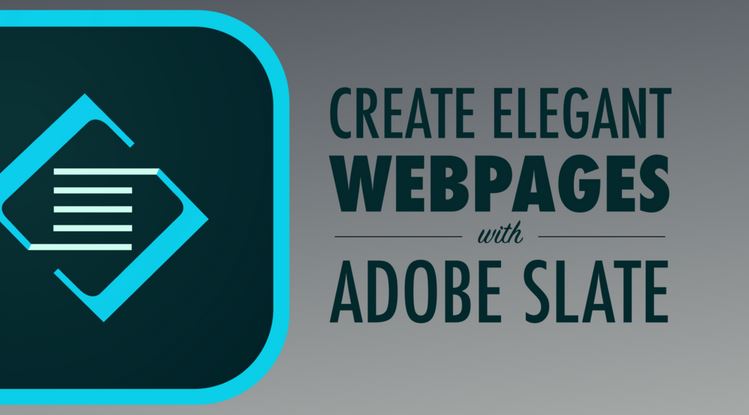 Adobe recently introduced its new, free image and text-based storytelling app, Adobe Slate, for the iPad. The app lets users to quickly create, edit and publish content on web. Moreover, it complements Adobe's voice app launched in the past year.
Brian Nemhauster, director of Product Management at Adobe explained that where the Voice helps the user take narration to record an animated video, Adobe Slate is helpful at taking your written words and images to create a visual story viewable on any device. He added that if you are having some photos and want to wrap it in a story, Slate can work wonders for you.
May it be a school project, newspaper report or a magazine, Adobe Slate simplifies the process as all, including- image search, layout, typography, and coding, is done through the app. The app guides the users all through the easy process of building a project and more interestingly, the users need not have any design or earlier website creation experience. In fact, it is best suited for beginners and is a great comfort and ease for all others. Ideal users for the app include students, teachers, small businesses, corporate employees, photographers, sales persons and all other such people who want a way to reach out to the masses but may lack resources, capital, experience, knowledge, and time.

Adobe Slate sets you free from all worries and beautiful presentations are all that you get in return. Adobe Slate lets the users create professional-quality content which would normally eat up lots of time and include use of multiple complex apps but all that is paper in the bin for you. With this app, users can conveniently pick themes that appeal most to them and it also ensures that all the typography, photos and styling are uniform, providing your creation a professional edge. The user needs to place and arrange images, type captions and body text and finally publish the content to the Adobe Slate site. Each project on the site gets a unique link and can be shared quickly and easily. Moreover, it is viewable via any web browser.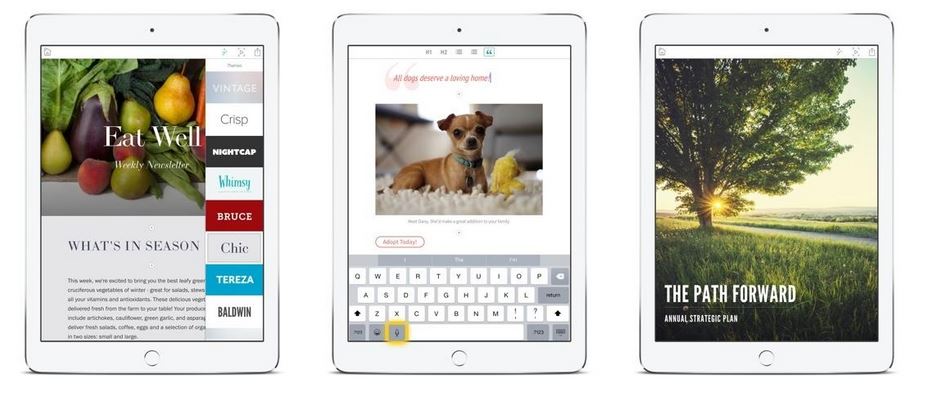 Using Adobe Slate, you will be creating content suitable for web just in the way you create something in WordPad or notepad or in MS Word.
When you first launch the app, you are duly presented with an Explore screen which lets you go through other published Adobe Slate projects that serves best as inspiration or sample. Each project starts off with a cover, a title and a subtitle. Now, you need images. You can use any image from your mobile phone or camera or maybe from Dropbox, Adobe Creative Cloud, or Adobe Lightroom. The wonders don't end here. Another wonder of the app is Slate's ability to find public Creative Commons Imagery. All you have to do is type in a keyword and Slate will show you available photos, and it'll automatically credit the photographer too. However, scrolling through the images might seem tedious to many.
You may also like: How to Build a Website – A Complete Guide
Then, you can create your project by adding additional pages and organizing them in whichever way you prefer. Adobe Slate will look at the order, number and orientation of the photos and make some suggestions on how to lay them out in the best way possible and also it will decide which photo to put at the forefront.
Are you already impressed with Adobe Slate? Great, but just stick on, I have still lot to tell about it.
Typing on phone might be sometimes cumbersome and troubling. No worry, Slate supports voice dictation. Moreover, you can add "action" buttons which link to other web sites for additional information or else if you belong to an NGO or business, you can add "donate now" or "buy now" buttons.
While Adobe Slate projects can be on an iPad, they can be viewed from any device. Using adaptable design, it ensures that each layout is scaled up appropriately for the screen size no matter it's a 15-inch laptop or 5-inch smartphone screen.
Coming to the bad news. Until now, there are no collaborative tools, so one can't share a project with the other user unless they are working on the same device. At the present moment, it focuses only on an individual but it is expected that in future the app will surely grow and it may allow multiple users to work on a single Slate layout. The possible passage is via Creative Cloud.
Slate was formally known as Project Luca. It has been in use for over six months but its development dates back to two years ago.
Adobe Slate is an appreciable step forward by Adobe to bring a web-publishing platform at the footsteps of the masses. It is commendable and an impactful way of communication for the people with limited skills in tech and design. This app is definitely going to make people stand alone in the midst of all the hustle on web and will bestow them a chance of not losing their individuality and uniqueness in the crowd.
Download Adobe Slate below:
Adobe Slate
Recommended for you: How to Build Your Own Social Networking Website
---
 If this story interests you, do tell us through comments. We'll be here with more tech updates and scientific sensations.
Keep reading fossBytes to give your brain and your nerves some thrilling treat.
---