Adobe revealed its camera app back in November at the Adobe Max conference, and now the "Photoshop Camera" app is finally available for Android and iOS platforms.
The camera app doesn't come with DSRL functions you would normally expect from Adobe; instead, the app is home to camera filters and multiple effects, like Instagram or Snapchat.
It suffices to say Adobe's new camera app is not for photography enthusiasts, but for Insta-generation — people who like to play with photo filters and upload selfies frequently.
Adobe Camera app features
As soon as you open the app, you will see dozens of filter options, choose one, and you will have another set of filters within the main filter. Adobe says it has more than 80 custom filters.
Some of them are really good. Adobe says it uses its Sensei AI to recognize the subject in the picture and apply the best adjustments automatically, like the dynamic range, scene type, face regions, etc.
Apart from default filters, users can choose to download multiple camera lenses from the Lens Library. From the first look, the filters in the library appear more majestic than I am used to seeing in the Instagram app.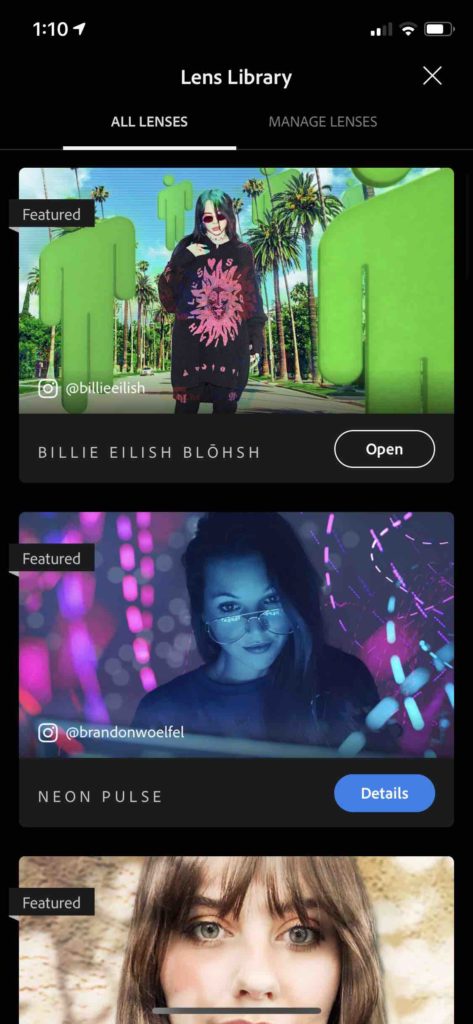 Then, there are a few partner content filters like the Billie Eilish one that does some weird things to the sky. Adobe says it will bring more such filters in the future.
The best thing about the app is that all filters can be applied before as well as after you shoot an image. As for post-editing, the magic wand tool can fix any extra shadows or blacks. The app also features some basic editing tools such as fixing contrast, highlights, saturation, and more.
Overall, the free camera app from Adobe is more suited for social media people, or as Adobe says, "Built for social." However, it can get quite useful for landscape photographers, with the right filters.
But if you are more into changing the ISO, shutter speed and exposure, then our list of best Android camera apps is something you should check out.
Photoshop Camera supported devices
Given the usage of intense graphic filters, it makes sense that the app is restricted to only a few devices. According to Adobe, iOS users need to have iPhone 6s and above, along with iOS 12, 13.
On the Android side, the supported devices include —
Pixel 3/XL, Pixel 4/XL
Samsung S9/S9+, Samsung S10/S10+/S10 5G, Samsung Note 9, Samsung Note 10/10+/10 5G, Samsung Galaxy S20 5G/S20+ 5G/S20 Ultra 5G
One Plus 6/6T and above
Please note that the device should be running Android 9 or Android 10 to run the Adobe free camera app.