Short Bytes: Renderforest has launched Explainer video toolkit for self-made production. Explainer video toolkit contains over 300 scenes, which help to build high-quality explainer animations, promotional videos for products or services, infographics, kinetic typography and a lot more. Template features ready-made presets, which can be used to build stories even faster.
Hear a piece of information, and three days later you'll remember 10% of it. Add a picture and you'll remember 65%. Now you can simply imagine what happens with human's brain when it gets information through video, which affects both on sensory and iconic memories simultaneously. Basically, explainer videos are the texts which are converted into videos for conveying valuable information and being understood by anyone quickly.
If you're working with a reputable animated video producer, expect to spend $5,000 – $10,000 per minute. However, normally it's possible to create explainer videos with $1000-$2500 as well. According to the latest researches made among 10 video maker companies, the average market cost of 1-minute explainer video is $1485$ and its production process can take in average one month. See the chart below: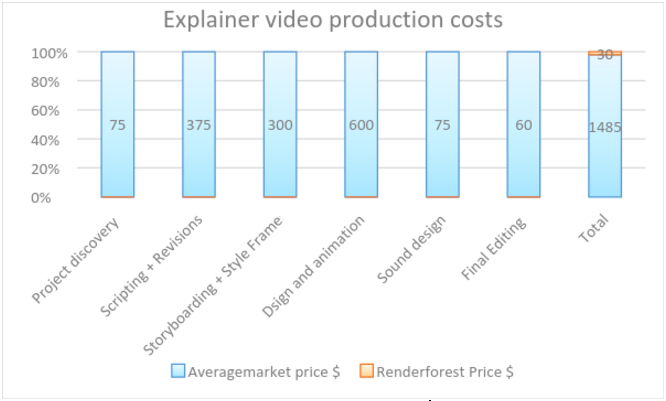 If you are working with Renderforest's Explainer Video Toolkit your expected costs are $10-$30 depending on the quality of the video that you want to export. Besides low definition options, both HD ready and Full HD options are available. Here you go…
Research – You do not need to explain the studio what kind of product you need, as your ideas get visualized with the help of the accessible template.

Scripting – You can create your own scripts or use pre-made presets from the available directory and add your information there.

 

Your revisions will not take a single penny and you can amend your script unlimited times.

Storyboard/Animatic – You can easily combine the Characters, Challenges, Logo animation, Environments and interiors, Sign and ticks, Kinetic typography, Technologies and devices, Custom icons and video holders, social scenes and contact forms, Real estate, office and education, Internet, Finances, Ribbons, Testimonials and any Food and Health-related scenes in one Video.

Design and Animation – Design and animation just a matter of choice from the range of scenes available on the workshop of the template. Colors are adjustable to match any branding needs.

Sound Design – there is a large library of high-quality Music, which is available for free and it takes several minutes to find the right one. Otherwise, you can upload your own music and voice over to your project.
As it is seen, explainer videos are more available now on Renderforest, as anybody can create it without putting out financial resources. Once you are satisfied it is your right to use your video for free at web quality or pay $30 and export the new-made Explainer video at HD 1080p resolution.
As a conclusion, if the one minute Explainer video in average costs $2500, Renderforest challenges and spreads an opportunity to produce Explainer videos just with $10-$30. Moreover, you can save in average a month from your life and $1455 in case you choose Renderforest's Explainer Video Toolkit, as it is the most time-consuming way for creating your explainer video in accordance with your needs.
Note: This post is sponsored by Renderforest.