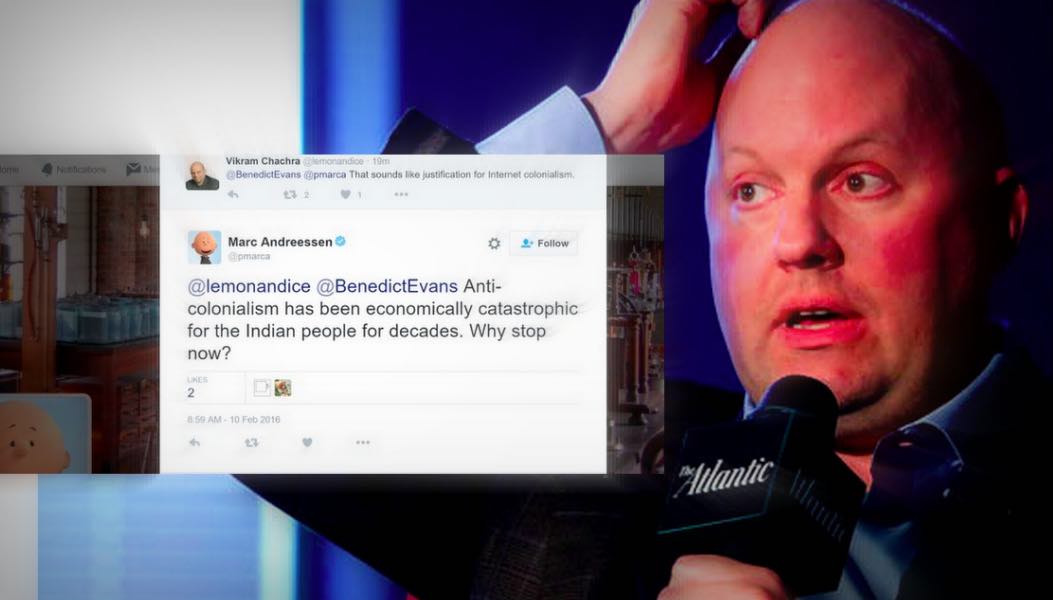 Short Bytes: Facebook board member and Silicon Valley luminary Marc Andreessen offended India with his colonialism tweet. He suggested that India should embrace Free Basics as the denial will harm the country is a big manner. He suggested that India's anti-colonialism mindset has hurt the country's economy and the government is repeating the same mistake by opposing Free Basics.
I
ndia's ban on Facebook's controversial Free Basics service attracted numerous responses from different people. While Facebook co-founder and
CEO Mark Zuckerberg reiterated his commitment
towards Internet.org, Facebook board member and Silicon Valley luminary Marc Andreessen offended 1 billion Indians with his bitter-tasting tweet.
Via his Twitter handle, he criticised the opponents of Free Basics and said, "Anti-colonialism has been economically catastrophic for the Indian people for decades. Why stop now?"
His comparison of Free Basics opposition to anti-colonialism has triggered a series of furious attacks on social media platforms like Facebook and Twitter. In his tweet, he suggested that Indians are destined for economic catastrophe because they rejected Facebook's charitable initiative Free Basics.
Andreessen was quick to respond by deleting his controversial tweet. He tried to finish the arguments by saying, "I hereby withdraw from all future discussions of Indian economics or politics. Carry on…" and then,"For the record, I am opposed to colonialism in any country."
But, this didn't calm down the anger of people. Here are some tweets.
Now @facebook Board Director @pmarca suggests being colonized was good for India & we should've let Fb do so:) pic.twitter.com/kq7ZsNTQGl

— Mahesh Murthy (@maheshmurthy) February 10, 2016
@pmarca Being an investor in internet tech companies, one would assume you know deleting a tweet doesn't mean it's off the internet, right?

— Aniket (@ShAniket91) February 10, 2016
If ANYONE in Silicon Valley cares about @pmarca come and get your boy bc he's abt to yell "We gave those ungrateful natives the railroads!"

— Caille Millner (@caillemillner) February 10, 2016
@pmarca Did Donald Trump infect you ?

— AMIT AGARWAL (@amitag25) February 10, 2016
@pmarca on your tweet on india,American Colonialism was great for the native Americans and so was the East India colonialism great for India

— Dev Ashar (@DevAshar85) February 10, 2016
@pmarca what you call partial internet connectivity, is as good as no internet. It serves no real purpose. https://t.co/iV5d0hkCtA

— Manish Sharma (@manishi01) February 10, 2016
One tweet of @pmarca attracted much backlash. No wonder, high profile Free Basics was shot out of the park. India doesn't like to be told.

— N Shekar (@n_shekar) February 10, 2016
Become a part of the discussion. Share your views in the comments below.