Short Bytes: Facebook is world's most dominant social network. But, it's also infamous for copying Snapchat's features from time-to-time. After failing with copycat apps like Clone and Slingshot, the company decided to copy individual features like Stories, face swapping, camera filters, photo editing, scannable QR codes, etc. These features have been integrated in Facebook's main app, Messenger, and Instagram.
W
hy indulge in research and innovation when you can copy your competitors' features, and make tons of money out of them? The same ideology has been followed by Facebook–the
black hole of the Internet
–and its CEO Mark Zuckerberg. There's a long list of Snapchat Features that were copied by Facebook
Few of you might be knowing that Snapchat CEO Evan Spiegel rejected a $3 billion offer from Zuckerberg in 2013. After that, Facebook went on a feature-copying spree and integrated Snapchat's major features in Facebook, Messenger, and Instagram. So, let's take a look at all the major Snapchat features that were copied by Facebook:
9 Snapchat Features That Were Copied By Facebook
1. Facebook launched Poke
Soon after Snapchat was launched, Facebook launched Poke. It happened in December, 2012. It looked like a direct copy of Snapchat that was loaded with pictures, videos, and disappearing chats. Well, it didn't become another hit product by Facebook.
2. Facebook tried better with Slingshot
Slingshot was Facebook's second, and better, attempt at copying Snapchat. Launched in June, 2014. It allowed the user to send disappearing pictures and videos. However, before seeing a message, you had to send a message back. This lured the users to keep using the app and texting each other back. Ultimatley, it failed. Good for Snapchat.
3. Snapchat's photo editing copied by Facebook
While Snapchat's photo editing might not be the best in the world, people use it very often. Facebook copied this feature entirely, adding photo filters, text, emoji, colors, etc. I've never seen anybody in my Facebook News Feed using this feature. Have you?
4. Facebook acquired MSQRD
Facebook copied Snapchat's face swap feature by buying the startup MSQRD. This feature hasn't appeared yet in Messenger but it might arrive soon.
5. Snapchat's disappearing messages came to Facebook
Facebook keeps testing this feature from time-to-time. If I'm not wrong, the company tried it most recently in July, 2016. It was launched alongside Messenger's end-to-end encryption feature.
6. Messenger Codes
Just like Snapchat's Snapcodes, Facebook brought Messenger Codes, which were basically scannable patterns and dots. It allowed the users to start a chat with other people. This happened in April, 2016.
7. Facebook's Instagram copied Snapchat's biggest feature — Stories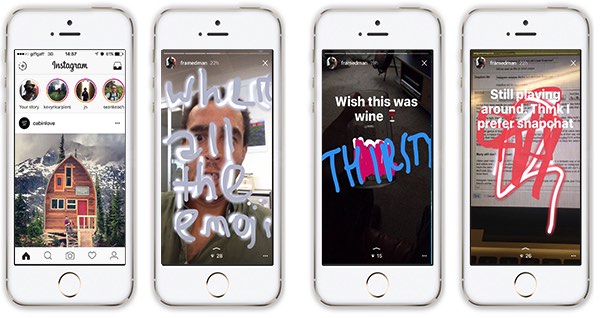 Mark Zuckerberg's biggest attack on Snapchat came in August, 2016, when Instagram unveiled Stories, a clone of Snapchat's iconic story format. This Instagram feature has been a great hit and it reached about 150 million daily active users in just 5 months. We don't know yet, but this move has certainly hurt Snapchat.
8. More Snapchat features in Facebook camera
Facebook integrated a new camera feature in its Messenger app that comes with lots special effects like facial masks, texts, etc. To be precise, another carbon copy of Snapchat's major feature.
9. Stories soon coming to Facebook's main app
In order to completely destroy Snapchat, Facebook is planning to bring Stories to Facebook's main app. This feature is in the testing phase and soon it'll be rolled out to everyone.
Are there any other Snapchat features that were copied by Facebook that we forgot to mention? Do tell us your views and feedback.
Also Read: Facebook Will Soon Pay You Money For Your Videos, Trying To Become "Next YouTube"