Even with cyberattacks and large-scale ransomware attacks becoming commonplace, 83% of U.S. businesses encrypt less than half of their sensitive data in the cloud. This information came thanks to a recent report by Thales Cloud Security. According to their survey results, only 17% of respondents indicated that they encrypt more than 50% of sensitive data they host on cloud environments.
Organizations moving towards cloud
This is quite concerning since more than 24% of organizations have most of their workloads in the cloud. This opens up the field to a lot of cybersecurity attackers who target businesses with ransomware attacks. Due to the current pandemic, many organizations have already shifted to storing their data on the cloud. According to 57% of the respondents, multi-cloud is one of the more widespread options being used just behind hybrid.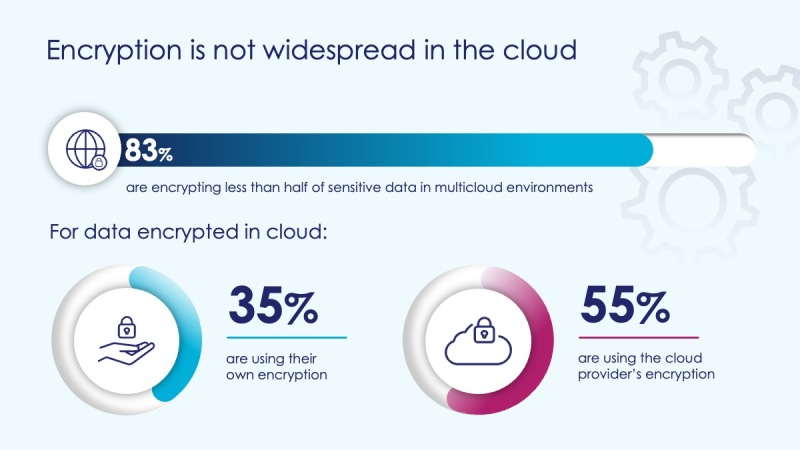 But this change brings in a lot of risks and security challenges for organizations new to this system. Nearly half of global respondents agreed that within their organizations, it is more complex to manage privacy and data protection regulations in a cloud environment than on-premises. With 66% of the respondents considering securing data on both premises and the cloud "challenging."
What's surprising is that most businesses are leaving the control of keys to service providers (55%). Only some organizations prefer to protect their data using encryption (35%). Researchers have also found that breaches in the cloud are quite commonplace. 40% of the respondents have experienced some breach in their cloud environment.
It's time to take cybersecurity seriously
It was only recently that thousands of businesses had their data stolen by ransomware on the fourth of July. The attack even left some major companies completely vulnerable. Some companies even had no choice and had to pay the ransom amount to secure their data. So it is high time that organizations start taking cybersecurity more seriously.