Just a few days back, Call of Duty Mobile introduced the 'Rust' map in the Season 6 update, and players instantly rushed to try out the new map.
Initially, the Rust map first appeared in Call of Duty: Modern Warfare 2, and then it was brought back in Modern Warfare 2019. Now, the game developers decided to introduce the dusty map in Call of Duty Mobile.
Call of Duty Mobile is known for map choices in Multiplayer; however, in my opinion, Rust is by far the best Multiplayer map in Call of Duty Mobile. Well, there are a few reasons for that.
Why Rust Is The Best Multiplayer Map In Call of Duty Mobile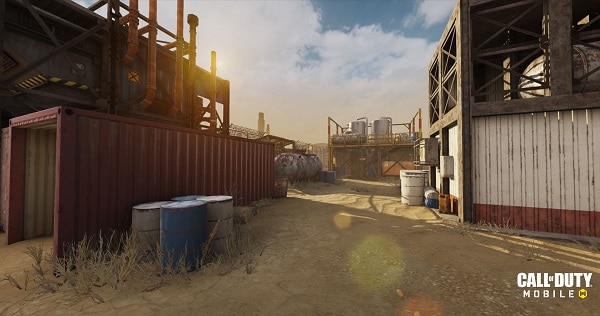 1. Small Size
When you compare Rust with other multiplayer maps such as Crossfire, Crash, Nuketown, etc., you would realize that Rust is pretty small. And that's the first thing to love about Rust map. 
Very often, in other multiplayer maps, players struggle to find the enemies because of the map's large size. Multiplayer matches are about close-range combat and fast-paced gameplay. However, in almost every multiplayer map except Rust, sometimes players have to roam for around for an unreasonable amount of time looking for enemies. Especially if the enemies choose to use a sneak attack strategy.
In this regard, the only existing map that stands against Rust is Killhouse. That is because Killhouse is also a small-sized map that offers us fast-paced gameplay.
2. Higher Ground
In Rust map, players get a large tower right in the middle of the map that serves as the higher ground. There are tall buildings and structures in other multiplayer maps as well; however, because of the large map size, it's common for players to not see enough enemies despite taking a higher ground.
When it comes to the large central tower in the Rust map, players can see the entire map from the top. This further means that if there's a map perfect for 'snipers only' match in Call of Duty Mobile, then it's Rust. Also, as it's the only tall structure standing on the map, players have to put up a fight to maintain their position at the tower.
3. Enough Hiding Spots
It's the sheer brilliance of Call of Duty mobile Rust map that despite being small in size, the new Call of Duty Mobile map provides players with more than enough hiding spots. Players can easily use the shipping containers and other industrial features in the map to their advantage. They can find a safe place to lay low for a while and heal themselves before charging one more time against the enemy.
What's more, is that players can also hide and change their positions within the central tower.
4. The Dusty Feel
It is one of many things I love about the Rust map in Call of Duty Mobile. The map looks more realistic and appealing to Call of Duty Mobile players. When you look at some of the old multiplayer maps like Nuketown and Hijacked, you will find that they feel a little bit cartoonish.
The extremely bright and clear theme doesn't really convey the real Call of Duty feel. For instance, Nuketown, which was picked initially from Call of Duty Black Ops, had more detailed textures, which made it look like a place that is about to be nuked. On the other hand, Nuketown in Call of Duty Mobile feels more like some housing location in California.
Whereas, the graphics in Call of Duty Mobile Rust map does justice to the original Rust map in Call of Duty Modern Warfare 2.
Call of Duty Mobile Rust Map Is Not Meant For

Slow

Players

Rust is best for Call of Duty Mobile players who are good at close-range combats. Players who aren't good at handling two or more enemies at once are going to die a lot of times in this new multiplayer map. 

In other multiplayer maps that are huge, players often go against one or maybe two enemies at a time. That is because all the enemies are scattered throughout the map. However, that isn't the case with Rust.

In Rust, your enemies will often rush towards you from both sides of the map to get you before you even realize. Teamwork is more critical in Rust because to win, the entire squad has to maintain its stronghold at all advantage points within the map. So, it's safe to say that Rust can be overwhelming for players who are new to Call of Duty Mobile.
Rust Is Making Me Love COD Mobile Multiplayer 

I personally love Battle Royale more than Multiplayer in Call of Duty Mobile. Of course, there are different exciting modes and maps in Multiplayer, but they weren't enough to make me stick to Multiplayer.
However, that has changed ever since the Rust map arrived in Call Of Duty Mobile. Every mode has become more fun and exciting in the Rust map. In fact, some of my friends have also started playing Multiplayer after experiencing the grandeur of Rust map.